The Recording Sessions
When we made our first deal with Warner Bros. to distribute Bizarre, the budget they gave me for albums was $22,500 up to $27,500, and that increase was based on union costs going up. Imagine doing some of those albums for that amount of money. Try Hot Rats for $22,500 today, would ya? No way, buddy.
October, 1967-February, 1968—Apostolic Studios, NYC
Liner notes by FZ, 1969
The music on this album was recorded over a period of about 5 months from October 1967 to February 1968. Things that sound like a full orchestra were carefully assembled, track by track through a procedure known as over-dubbing. The weird middle section of DOG BREATH (after the line, "Ready to attack") has forty tracks built into it. Things that sound like trumpets are actually clarinets played through an electric device made by Maestro with a setting labeled Oboe D'Amore and sped up a minor third with a V.S.O. (variable speed oscillator). Other peculiar sounds were made on a Kalamazoo electric organ. The only equipment at our disposal for the modification of these primary sounds was a pair of Pultec Filters, two Lang Equalizers, and three Melchor Compressors built into the board at Apostolic Studios in New York. The board itself is exceptionally quiet and efficient (the only thing that allowed us to pile up so many tracks) and is the product of Mr. Lou Lindauer's imagination & workmanship. The material was recorded on a prototype Scully 12 track machine at 30 ips. The whole project was engineered by Richard Kunc or Dynamite Dick, as he is known to the trade.
By late 1967, Apostolic Studios had installed a prototype Scully 12-track recorder, and the overdubbing opportunities it afforded, together with a variable-speed oscillator used to modify the machine's 30 ips tape speed, allowed for the creation of a completely new sound palette.
When we did Uncle Meat, we had a 12-track Scully recorder, a humungous piece of furniture as big as my fireplace. What we tried to do was play all the individual lines in this orchestral score. We had two wind players, Ian Underwood and Bunk Gardner, who could read. So they would be playing those parts two at a time and we'd be stacking them and bouncing them together. It took days just to do a few seconds of music that way. But it was an experiment that needed to be done.
It is 1 A. M. on a Friday night and the Mothers of Invention are recording part of the soundtrack for their forthcoming movie. Ian is playing the harpsichord and Bunk is playing the flute. They huddle together in a cluster of microphones, Bunk leaning over Ian's shoulder to read the music propped up on the harpsichord stand. [...]

Inside the control booth Frank Zappa, wearing a T-shirt bearing the legend "Herzl Camp, Garner, Wisconsin," is fiddling with knobs on the control board. "You're going to have to do the parody notes more staccato, Ian," he says through the intercom. "You want a little bebop vibrato on that too?" calls Ian.

"Yeah, a little bebop a go go," says Frank. Dick Kunc, the engineer, flips the "record" switch. [...] Frank Zappa is bent over a music sheet, writing out the next piece.

[...] The Mothers have rented Apostolic Studios on Tenth Street for the entire month of January. "One hundred and eighty hours—not as much time as the Beatles use, of course, we can't afford that"—and that is where Zappa spends most of his time.

[...] The studio, when he arrived, was nearly deserted, except for Mother Don Preston, who sat at the organ wearing earphones and playing a piece audible only to himself. "Can you run a playback on the violins?" he asked when Frank came in.

"Sure," said Frank. "We recorded this thing last night. I found some violins in a closet and I gave them to three of the guys. None of them had ever played a violin before. They were making all these weird sounds on them, and then in the middle I got them to add some farts. It's a concerto for farts and violins."
The Mothers are currently spending many hours recording the soundtrack for the film "technicolor extravaganza" Uncle Meat—"The Mothers' Movie, a surrealistic documentary on the group," as Frank described it. "We're trying to get it done before The Mothers move back to California in May, to Los Angeles."

[...] All instruments played and sounds made on the soundtrack are done by The Mothers themselves. There's one sound that appears to be a trumpet, but is "really a clarinet. There's this box that Gibson makes. 210 tracks have been made and are being mixed on a l2-track machine."
We have two albums in the can. We've been working on this for the past five months. We bought a huge block of time in a studio in New York with our own teenage money, secretly knowing all along MGM would bite the dust ... because good guys always win. Two albums. One is "Whatever Happened to Ruben and the Jets?"—a secret project. The other is "No Commercial Potential," a three-record set. Six sides. It has such eight-minute tidbits as police busting our recording session. New York cops! Live! In person! You can't dance to it. It also has it piece where Jimmy Carl Black, the Indian in the group, is bitching because we are not making any money and it's taking too long for the band to make it. Two songs about El Monte Legion Stadium. A song about fake IDs. Another song about teats. A surrealistic R&B song called "The Air Escaping from Your Mouth." Two other surrealistic things: "Mr. Green, Genes" and "Electric Aunt Jemima." Lots of instrumentals. On one song we used 40 tracks and the tune lasts 90 seconds. That one took us four days to put together. It'll probably be released in the fall.
One time, [Zappa] was listening to the group record parts for Uncle Meat and writing a harmony part for the song also, and if somebody made a mistake, he'd stop them and make them go over that. I always thought that it was quite amazing that while he was writing another piece of music that he could still be listening to the one being recorded. Frank had the stamina of a bull. We'd do 50 takes of eight bars, and then 50 takes of another eight bars. I always liked to say that he was a compulsive editor. I saw him three months after an album was released, put that same album together in different ways, and re-editing the album when it's not even going to come out. He used to love to sit there and edit anything.
During those wonderful Apostolic days we made and released We're Only In It For The Money, Lumpy Gravy, Uncle Meat, and Cruising With Ruben & the Jets. Two of my personal favorite album projects, however, were No Commercial Potential and Ever Shall It Be, both completely amazing six-sided beasts. Outside of me and Frank and the Mothers and other musicians involved, I doubt if anyone has ever heard either one of them. They probably don't exist anymore. Frank was forever pulling apart unfinished albums and rearranging and redistributing the component parts.
Calvin Schenkel, Cal Schenkel Magazine, September, 1981
Early in 1968 Frank flew to L.A. to do a bit in the Monkees' movie Head. Returning to the snow in New York, I think he decided it was time to make plans for an exodus. Meanwhile he was working in the studio on the new Mothers album—tentatively titled No Commercial Potential, an album which essentially became Uncle Meat (with many changes). He was also recording material for Ruben & The Jets. I was busy on a bunch of makework projects like building a model of the Uncle Meat 39 Chevy. There must have been some rumblings of the "Uncle Meat Movie" as well, because I made a cast of Frank's nose to use as a base for designs for the rubber noses in the story (see "The Story of Uncle Meat" in the booklet included in Uncle Meat. I also designed the album cover for Sandy's Album Is Here At Last, which Frank produced, and began "United Mutations" fan kit paraphernalia.
Ruth Underwood
Liner notes
special thanks to:
RUTH KOMANOFF who plays marimba and vibes with Artie on many of the tracks
One night my brother and I went to the Village Gate to hear Miles Davis. We were standing around waiting for show time and Frank was just walking down Bleecker Street. This was before bodyguards; he was just a guy on his way to work. My brother accosted him and said, "You should hear my sister play! She's a great marimbist!" I was totally embarrassed. Frank turned to me and said, "Fine. Bring your marimba backstage and we'll check ya out." The next thing I knew I was recording Uncle Meat at Apostolic Studios on East 10th Street.
I learned that [Ian] had a girlfriend, Ruth, who lived in New York. A classically-trained percussionist, she had also worked with Frank in New York on his album Uncle Meat.
Charles Ulrich, June 24, 2006
Art didn't specify where, but he did make it clear that he and Ruth were recorded together, vibes and marimba at the same time.
1968—Sunset Sound, LA
Liner notes by FZ, 1969
Special engineering credits go to Jerry Hansen for the percussion effects added later at Sunset Sound in L.A.
Charles Ulrich, June 24, 2006
Art did mention getting the score for the Uncle Meat Main Title Theme and rehearsing the snare drum in Laurel Canyon. So that was probably recorded at Sunset Sound.
The Cover Art
Calvin Schenkel interviewed by Steven Cerio, Seconds #32, 1995
Uncle Meat was entirely my design and I showed [FZ] what I did and he liked it.
winter 68, 69 -LA. Assemblage, collage. After everybody moved out of the Log Cabin, I found a space over this blood-testing lab next to a famous hot dog stand on Melrose avenue that used to be a dentist's office (need I say more?) Well yes actually, but at a later date. (This is also the place of genesis of many other gems of albumcoverdom including Captain Beefheart's "Trout Mask Replica" & "Wild Man Fisher Pretties for You With A Real Knife!!")

95RR-inlay: 2 of the found Dentoid elements that were used in the cover assemblage (turned into mush when they printed it with a scan instead of a simple line shot.)
I rented a studio on Melrose that was an old dentist's office, which was where a lot of the Uncle Meat source material came from. Uncle Meat was a rush job for the cover, but the book that came with the record was more collaborative, and a lot of dentistry visuals crept in.
Back Cover Mothers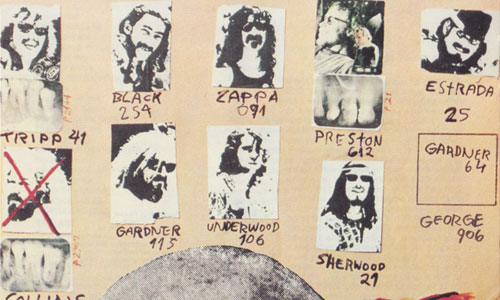 Mystery Disc (Rykodisc, 1998) booklet, p. 26-27

Laurel Canyon, 1968. [Photo] by Ed Caraeff
Cal Schenkel, alt.fan.frank-zappa
To illustrate the ever-changing MOI it was necessary to make last minute changes (3 times) to the back cover art after it was finished:

1. Ray Collins quit the group (this was an on&off occurance), hence the X over his pic.

2. Buzz Gardner joined—I scrawled his name in a box, on the artwork (there was no time for a photo).

3. Lowell George joined—At this point the artwork was already at the printers and color separations were completed, so it was necessary to add his name to the negatives. If you look closely at the writing on the album back cover, you will see a distinct difference in the way it was printed (from the other names) in that it was inserted photo-mechanically (this is on the vinyl jacket—the CD separation was from a proof of this vinyl edition, so it is not so evident—you might see a difference, it has a harder edge to it).

Presumably, neither is on the album (?) or they would have been listed inside.
Here's what happened here, now—I put this together—I drew everybody's name—I wanted it to look funky and weird, and then Ray quit, so I crossed him off. And then [Buzz] Gardner joined the group, Bunk's brother . . . I added Buzz—had no photos, so I drew a little box, wrote—drew this on the artwork, this is all on the artwork—and then it went to the printer—and then Lowell George joined, and we added this—but this was added mechanically, and you can actually see it, if you look closely you can see how it's slightly different, it's flatter looking, 'cause it was added on the film, it wasn't on the artwork. This is the way things were constantly changing, evolving.
The Booklet
The Storyboard
Zappa Records CDD ZAP3, 1987
1. AUDIO
MEAT THEME

OPEN ON BLACK

2. AUDIO
(MUSICAL VAMP)

FADE IN TO LONG SHOT OF HANGER STRUCTURE SHOWING 20' HIGH MOUND COVERED WITH TARP. ALSO SHOWING SOLDIERS GUARDING IT.

3. AUDIO
(VAMP TO JINGLE)

PAN TO MS OF BLEACHERS

4. AUDIO

CUT TO MS OF MOUND FROM ABOUT 30' OFF GROUND

5. AUDIO

CAMERA POSITIONS LEFT PASS RIGHT SOLDIER ENTERS FRAME

6. AUDIO

PAN TO MOU OF SOLDIER MOUND IS VISIBLE IN BACKGROUN FROM HIP

7. AUDIO

DISSOLVE TO BLEACHERS WITH GOV'T SEATING IN THEM

8. AUDIO

DWARFS DRESSED AS CHEARLEADERS ENTER THROUGH DOOR AT RIGHT

9. AUDIO

PAN TO OU OF DWARFS FACES AND RAPID CUTS OF CU'S OF VARIOUS PARTS OF DWARFS AND SHOW TRAYS OF GLASSES DWARFS ARE CARRYING

10. AUDIO

REVERSE PAN FOLLOW ACTION OF DWARFS TO BLEACHERS

11. AUDIO

DWARFS DISTRIBUTE COCKTAILS TO SENATE IN BLEACHERS

14. AUDIO
CUE FROM SENATE

CUT TO MLS OF ARMY POLICE ETC. RUSHING THROUGH DOOR TO RIGHT OF MOUND ON CUE FROM SENATE

15. AUDIO

PAN TO FOLLOW ACTION OF ARMY TO FIRING LINE ON FRONT OF MOUND

16. AUDIO
CUE FROM SENATE

CUT TO MS OF MOUND. ON CUE FROM SENATE TARP COVERING MOUND IS RAISED TO REVEAL A GIANT VEGETABLE WHICH IS A CROSS BETWEEN A CAULIFLOWER, AN EGGPLANT AND A ARTICHOKE

17. AUDIO
WHISTLE

18. AUDIO
GUNFIRE, EXPOSIONS, ETC.

FAST CUT TO ARMY, ETC. FIRING UPON VEGETABLE, INTERCUT WITH NEXT SCENE

19. AUDIO
GUNFIRE, EXPLOSIONS, ETC.

MS OF VEGETABLE BEING DEMOLISHED

20. AUDIO
GUNFIRE, EXPLOSIONS
GRADUALLY SUBSIST

HOLD SHOT ON VEGETABLE AS IT BEGINS TO TAKE ON THE SHAPE OF A PERSON. THE VEGETABLE BEGINS TO SPEAK WITH GENUINE ANGUISH . . . . .

"I HAVE JUST BEEN KILLED BY THE GOVERNMENT BECAUSE I KNEW TOO MUCH"
Tony Reay, "Mixed Mead-Ear," The Fifth State, November 28-December 11, 1968
Granada TV, a semi-national TV station, has asked Frank to produce an hour for their station to show.

Frank, when asked of the proposed idea for the show, said:

"Visualize: a huge aircraft hanger with at one end, a huge form, 15 feet high, completely concealed by canvas and screened off with velvet ropes, with armed sentries pacing up and down in front of it.

Enter three midgets, in full drag, as cheerleaders with briefcases instead or batons. Then gradually enter members of Congress who take their seats in front of the mysterious form and are served with bourbon and water by white-coated Negro waiters.

Then march in teams of underwater demolition experts, a squad of green berets and a section of Chicago police, armed with sticks, dogs, guns, Mace and teargas.

The little army forms up around the covered object and, with cheerleaders yelling encouragement, the canvas is lifted off to reveal a 14 foot high vegetable—a cross between a red cabbage, an eggplant, and a giant asparagus.

On a signal, the army attacks the vegetable viciously with machetes and flame throwers; the frogmen drill holes in which they plant dynamite charges.

Then suddenly a face appears on the vegetable; a really agonised face in terrible pain, whereupon the Chicago police move in and spray the face with Mace nerve gas. The vegetable eyes start to bleed and it vomits a stream of peas and carrots, which are immediately pounced upon and atomized. Meanwhile Congress goes wild—loving every minute. Then the battle sounds die out and the vegetable screams "I have just been killed by the government because I know too much!"

The rest or the show is told from the viewpoint of the injured vegetable, and then it all starts getting kind of strange."

[...] Zappa on the TV show:

"These two guys came to me, asked me to do an hour-long show for Granada TV, and they said I could do anything I wanted to. It's difficult to turn down a chance to go completely wild on someelse's money—and the budget is pretty hefty. I'm thinking of making it a musical—after all, who's to say vegetables don't perceive music."
MOI Pictures
Uncle Meat (1969), booklet, p. 4

[JCB, Lowell George, Don Preston, Ian Underwood, Roy Estrada, Art Tripp]