1994—The Advance Promo Cassette
Internewt aka Zom B. Woof, August 17, 1994
I received the following info from a source whose identity I will not reveal here. Here are song lists from soon to be released albums of Mr. Zappa. Apparently advance cassettes have been made.

Dance Me This -

Dance Me This
Pachuco Gavotte
Wolf Harbor Movement I
Wolf Harbor Movement II
Wolf Harbor Movement III
Wolf Harbor Movement IV
Wolf Harbor Movement V
Goat Polo
Rykoniki
Piano
Calculus
PBA, April 2, 2015

SRu-301-802
Title: Dance me this.
Description: Sound cassette.
Claimant: (p) Zappa Family Trust
Created: 1993
Registered: 25Aug94
Author on © Application: recording; Frank Zappa , 1940-1993.

PAu-1-909-987
Title: Dance me this.

PAu-1-909-988
Title: Pachuco Gavotte.

PAu-1-909-989
Title: Wolf harbor : movement 1.

PAu-1-909-990
Title: Wolf harbor : movement 2.

PAu-1-909-991
Title: Wolf harbor : movement 3.

PAu-1-909-992
Title: Wolf harbor : movement 4.

PAu-1-909-993
Title: Wolf harbor : movement 5.

PAu-1-909-994
Title: Goat polo.

PAu-1-909-995
Title: Rykoniki.

PAu-1-909-996
Title: Piano.

PAu-1-909-997
Title: Calculus.
December 30, 1992-February 16, 1993—The Tuvans In California
Ralph Leighton [...] plans to send a trio of yodeling Russian cowboys clip-clopping and khoomei -ing down Colorado Boulevard. They are Tuvans, members of a small band of nomadic Asians who live in southern Siberia and are known for their unusual ability to sing two notes at once. [...] On Wednesday, Kaigal-ool Khovalyg, Anatoly Kuular and Kongar-ool Ondar had barely collected baggage containing the fur hats, shiny silk robes and curved-toe boots they will wear in the parade when Leighton rushed them to a stable to introduce them to the horses they will ride.
Three Russian singing cowboys who rode in last week's Rose Parade to the sound of a high school band plan to march to their own beat back to Pasadena today. Singing horsemen from the remote Russian area of Tuva—who were unexpectedly drowned out by a band marching behind them on New Year's Day—will stage free concerts at noon and 7:30 p.m. at Caltech. [...] The noon concert will be at Caltech's Olive Walk; the evening performance will be in Baxter Hall.
The highlight of the Saturday performance at the Bowers Museum of Cultural Art will be the exotic vocal performance known as "throat singing," in which the singer lets out a light whistle and a deep chant at the same time. [...] The Tuvans are in the United States on a two-month mission designed to expose the West to their unfamiliar culture. Last week, the group participated in the Rose Parade. On Saturday they will dress in traditional costumes, recite folk stories and sing.
Rada Chakar, a Tuvan woman who is serving as translator for the singers, who arrived in the United States on Dec. 30 after a two-day flight from Tuva to Moscow to Los Angeles International Airport.
Rada Chakar has been in LA for several months, as she works to pioneer trade between Tuva and the USA. She has been acting as a translator for the three singers, since she was formerly a teacher of English in Tuva and speaks impeccable English. She rode in the Rose Parade with the singers, although she does not normally ride a horse. When asked her opinion of sitting on a horse for upwards of three hours without the benefit of prior experience, she admitted only that the fol-lowing day she felt much better than she had predicted.

Rada's younger brother, Sayan, arrived with the three singers to join his sister in her business efforts. He is husky, as Tuvans go, and his French is on a par with that of your humble reporter, which is to say "not all that great". Sayan is enamoured of the American way of life and is eager to learn English—he brought over a Russian/English translation dictionary to speed the process.
January 5, 1993—Matt Groening meets the Tuvans
The most unbelievable aspect of my view of the Tuvan trip to LA (history as I see it... :-) ) occurred as Ralph Leighton and hardcore volunteers set the stage before last Tuesday's [January 5, 1993] concert at Caltech.

As Ralph describes it, he was struggling to arrange the stage quickly before the audience arrived, when a dishevelled man approached and persistently asked to speak to Ralph. Ralph relented, and the man produced his business card....Matt Groening. Matt then explained that he had heard the Tuvans on the radio and his friend Frank Zappa wanted to attend the concert but couldn't make it (is this getting unbelievable yet?). Nevertheless, Zappa was having the Irish band The Chieftans over to his place on Friday (that would be last Friday) [January 8, 1993] and wanted to invite the Tuvans to come over to his home recording studio at the same time. (Note that I am NOT making this up...:-)) . Anyway, Ralph and the Tuvans went, and we'll have to wait for the next Friends of Tuva newsletter for the outcome.
Incidentally, the Tuvans (and Ralph) had a fantastic time at Zappa's home/recording studio. The BBC was there, so it might show up on a documentary.
Matt Groening, 2003 DVD Commentary Track for Futurama, Season 3, Episode 10, "Where The Buggalo Roam," 2002
When the Tuvans came to Los Angeles for the first time they performed at Caltech. I heard them, they were singing live on KPFK, and I called Frank Zappa, I knew he would love that kind of music, and I said, "Hey, turn on the radio! You wanna go see 'em? Let's go se 'em." And he said no, he wasn't feeling well enough, but invited the Tuvans over to his house. And I did, I admitted my mission, I went to Caltech and I banged on the auditorium door, 'cause they were rehearsing. "Let me in! Let me in!" And I said, "Frank Zappa would like to meet you." They knew who Frank Zappa was. Anyway, so they came over and Frank recorded them and he put some stuff out with them. Yes, really cool.
January 8, 1993—Salon Evening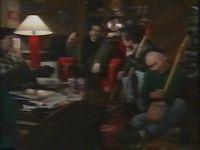 Despite his illness, despite no longer performing live, Zappa has lost none of his relish for experimentation. He recently held what he called a Salon at his house, where he recorded the combined sound made by the Chieftains from Ireland, a Tuvan throat singing group from Mongolia, and his old friend Johnny Guitar Watson.
One of the most spectacular salon evenings produced what might just have been the most peculiar recording session in history—peculiar, that is, for the disparate styles of the participants: The Chieftains (the Irish folk music ensemble non pareil ), the magnificent drummer Terry Bozzio, blues guitar legend Johnny "Guitar" Watson, jazz/fusion violinist L. Shankar, and several Tuvan "throat" singers from northern China. The Chieftains piped and plucked, Bozzio thumped, Shankar fiddled, the Tuvans whipped up a Mongolian folk ditty in their unique, nasally, double-toned drone (the song concerned their nomadic life as herdsmen), and Watson strummed minor chords, periodically offering the Tuvans chuckling, pithy encouragements like "Sing about them sheep, now." The master of ceremonies particularly relished recounting that eclectic night, despite the fact that pain forced him to retire early (some of that session will be released on "Dance Me This," one of several forthcoming albums Zappa managed to complete.)
See also:
February 15, 1993—Last UMRK Visit
On Monday afternoon I pulled up at the house of Frank Zappa. [...] About 20 minutes after the Tuvans arrived, a very pale Frank Zappa came into the room we were all milling around in. Present were Gail and Moon Zappa; Phil Abrams, the Amazing Bubble Man; Chris Sykes, who did the NOVA documentaries on Feynman (and a new two-part documentary on Feynman that just aired in Britain); Ralph's family; all Tuvans except for Rada, the translator (who showed up later); Darryl and Brenda Henriques, who were preparing the food; and Natasha, an expatriate Russian musician, who served as translator; and a couple of people I didn't get introduced to.

Zappa presented the Tuvans with a tape of the performances they did for him during Zappa-Tuva I, and a little "extra something." The performances were very good, and the tape (to my ignorant ears) sounded well engineered. The "extra something" turned out to be a solo track by Anatoly Kuular, to which Zappa's engineer had overdubbed some funky bass and rhythm ("using calculus!" Zappa repeated many times).

[...] Zappa explained that in addition to sampling the Tuvans singing, he wanted to have them improvise something to a rather heavy piece of heavy metal that he had created.

[...] Matt Groening (of Simpsons fame) turned up a little later. It was his 39th birthday [Monday, February 15, 1993], so we converted a half eaten chocolate log cake to a birthday cake and sang "Happy Birthday" to him, complete with throat-singing. The Tuvans followed Zappa to the studio to begin the musical experiments that Zappa wanted to try. [...] The recording seemed to go well, although the improvisation experiment with Heavy Metal that Zappa was trying wasn't working to his satisfaction, so he called it off. [...]

The next day the Tuvans boarded a plane to Amsterdam to begin their four day journey home.
Charles Ulrich, April 2, 2011
In the booklet of Huun-Huur-Tu's 60 Horses In My Herd (Shanachie 64050), "Song of the Caravan Drivers" is "In honor of Frank Zappa, who loves this song."
Tuvans & Surround
Theodore Levin, Where Rivers And Mountains Sing: Sound, Music, And Nomadism In Tuva And Beyond, 2010, p. 60
"Bring me stones," Sayan [Bapa] ordered. "We need to do some construction work." The rest of us fanned out along the length of the stream, collecting stones to bring back for Sayan's and Tolya's inspection. Sayan chose a few stones of different sizes, placing them strategically in the flow of the brook to create various sound effects, and in one spot he fashioned a small cascade. When he was done, we all listened attentively ot the results of Sayan's craftmanship.

"That's it!" said Tolya at last. "That's the sound Tuvans like. It's when you can hear sound coming from all directions at all levels—when sound maximally fills a space." Or something like what audiophiles would call "surround sound."
Release Story
Joachim Ott
Now look at the html-source of that page. (http://www.zappa.com/)

In the keywords, they didn't mention "Freak Out" and "Absolutely Free" and "Lther". Otoh, there is "Dance Me This", "Trance-Fusion", "The Rage And The Fury".

Wtf?
kio, January 31, 2002
Subject: Re: new release in febuary

just trust me
"dance me this"
1 disc
details soon
Record Collector, February, 2004
The Zappa Family Trust plans to issue several archive audio and video recordings by Frank Zappa later this year, overseen by Frank's wife, Gail, and his son, Dweezil Zappa. A documentary film about Zappa's classical music, directed by Frank Scheffer, should emerge by Christmas. Remastered reissues of the Dance Me This and Trance-Fusion albums are planned too, along with two films and their soundtracks. One is about one of Zappa's inspirations, Edgard Varese, and the other a revamp of the 1974 in-concert film, Roxy And Elsewhere.
Gail revealed [...] that Dance Me This and The Rage And The Fury should be out by 2012.
Dance Me This?—2011
Within the year from now.
The 100th [album] will actually turn out to be the one Frank actually made which is "Dance Me This."
Dance Me This

FZ's last album.
#100.
Tap your foot algorithmically to this!
We expect this item to ship on or around Monday June 1, 2015.
We expect this item to begin shipping on or around Friday June 19, 2015.
Barfko-Swill, June 19, 2015
Thank you for ordering from Barfko-Swill store. One or more of your items has shipped. [...]

PRODUCT(S) SHIPPED: [...]
ZPCD170 PRE-ORDER Frank Zappa—Dance Me This (CD) 1 1
8. Goat Polo
FZ, interviewed by Rob Samler, WROQ Anderson, SC, June 6, 1993 (transcription by Bill Lantz)
It's an instrumental that uses the voices of 3 Tuvan singers. Tuva is a place near Mongolia and Tuvan throat singing is a very unique kind of a sound and these musicians came to Los Angeles recently and we did a sampling session with them and uh, I've uh, used the individual tones of their voices to make uh, music.
While on the subject of the sources for track titles, would Buzkashi, the national sport of Afghanistan, be the inspiration for Goat Polo.

It is a game where teams of horsemen compete to score goals using the carcass of a goat, or even a calf. Recently introduded rules have made it less extreme, but in earlier times dozens of riders could have been involved in games that lasted for days.
Tuvan Samples
This track uses different samples from Tuvan throat-singing performances, with some pitch manipulation during the iterations.
| Timing | Sample |
| --- | --- |
| 0:00-0:12 | sample #2 ("Dance Me This") |
| 0:15-0:27 | sample #3 |
| 0:28-0:39 | sample #4 |
| 0:47-0:49 | |
| 0:50-0:51 | |
| 0:53-0:55 | |
| 1:32-1:44 | sample #5 |
| 1:49-2:02 | sample #3 |
| 2:09-2:21 | sample #3 |
| 2:28-2:40 | sample #4 |
| 2:40-2:51 | sample #4 |
| 2:51-3:04 | sample #6 |
11. Calculus

[Anatoli Kuular performing the Borbangnadyr used in "Calculus" at UMRK, January, 1993.]
C. F. Ekman
There's an '93 Irish Times article on Zappa (on one of the better FZ web sites—Evil Bob's, I think) in which Zappa mentions the Chieftains/Tuvan tapes—one of the pieces, he stressed, was based on calculus. And there is a track listing on Dance Me This (not released yet—who knows when?) called "Calculus." Maybe that's it.
Paul Hinrichs
I wonder if that would be integral or differential calculus?

If the latter, you could make a case that all music is based on calculus, because something changes over time. Not to be condescending or anything, but a mental picture of the Tuvans crouching over a table scribbling squiggly integral lines and sigmas, and arguing whether the limits should be from negative infinity to 0 or from negative infinity to positive infinity, strikes me as unlikely. And then, even if they do it, how do they explain it to the Chieftains?—"Okay, man. like here—we've calculated the spectral density of a saturated saline solution and mapped it across a mobious toroid whose surface degenerates over time according to a formula based on the Heisenberg paradox, so that means you guys start out in D-flat minor and we'll start chuggin away in 7/8—Everbody ready?"
Zappa presented the Tuvans with a tape of the performances they did for him during Zappa-Tuva I, and a little "extra something." The performances were very good, and the tape (to my ignorant ears) sounded well engineered. The "extra something" turned out to be a solo track by Anatoly Kuular, to which Zappa's engineer had overdubbed some funky bass and rhythm ("using calculus!" Zappa repeated many times).
Brandon Amison
The Tuvans sang in "Free Time" (no click track for reference). Todd Yvega wanted to show FZ how it is possible to have the Synclavier match a constantly changing external tempo. Todd wrote a neat musical sequence in Script (a music/computer language in the Synclavier).

Tempos were approximated at every realistic interval. Todd then used Cubic Splines (something used in Calculus) to "fill in the spaces" (speeding up and slowing down in a non- linear manner). The Synclavier now accurately followed the Tuvans.
The late Frank Zappa's last work, "Civilization, Phaze III", has just been released. The two CD set features an amazing composition featuring the throat-singing of Kaigal-ool Khovalyg and Anatoli Kuular, recorded at Zappa's studio in January, 1993. The composition is awesome—when I heard it, I imagined Frank Zappa out in the cosmos, tapping into the energies of the universe.

PostScript: As it turns out, the only throat-singing apparent on the "Civilization, Phaze III" CD is some sampled kargyraa at the start of the track "Dio Fa". The amazing composition referred to is actually scheduled to appear as part of "Dance Me This", which has not yet been released. —October, 1998.
Rip Rense, Denver Post, February 28, c. 1998
"Dance Me This"— An album of Synclavier works in the tradition of Zappa's Grammy-winning "Jazz From Hell." It was named for a remarkable track featuring Tuvan "throat singers," members of a northern China tribe able to sing in nasal multitones. A group of Tuvan musicians visiting L.A. paid Zappa a visit in 1993 and promptly was recorded. A Synclavier piece was later added to the Tuvans, with the aid of a computerized "tempo map" to match it with their changing, imprecise rhythms—yielding a sort of avant-garde Tuvan hiphop. Zappa reportedly was "tickled" with the result.
Regarding Dance Me This, Todd [Yvega] spoke about the final track, which came about from what Frank referred to as 'burglar music'; he'd frequently ask Todd to use algorithms to create new pieces, but told him not to spend more than five minutes on them (a quick in-and-out, see?). Calculus is one such piece.
Type of Work: Music
Registration Number / Date: PAu001959058 / 1995-02-06
Supplement to: PAu001909997 / 1994
Title: Calculus. By Frank Zappa, 1940-1993.
Notes: Statement re transfer.
Copyright Claimant: Todd Yvega d.b.a. Propeller-head Publishing (on original appl.: Zappa Family Trust)
Authorship on Application: Todd Yvega (additional author)
Supplement to Registration: PAu 1-909-997, 1994
Variant title: Calculus.
Borbangnadyr
Borbangnadyr (Борбаңнадыр) is a trill reminiscent of birds and traveling brooks, made by a light rapid quivering of the lips.