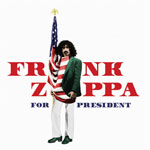 Frank Zappa For President
(Frank Zappa, CD, Zappa Records/UME ZR 20021, July 15, 2016)
Produced for release by Ahmet Zappa & Joe Travers
Vaultmeisterment, transfers and compilation by Joe Travers
Mastering: Gavin Lurssen & Reuben Cohen
Art direction: Ahmet Zappa
Art, layout: Keith Lawler
Production management: Melanie Starks
1. Overture To "Uncle Sam"
15:16
UMRK, 1993
Engineer: Spence Chrislu
FZ—Synclavier
2. Brown Shoes Don't Make It (Remix)
7:27
includes a quotation from Little Deuce Coupe (Wilson/Christian)
T.T.G. Studios, LA
November 18, 1966
Produced by: Tom Wilson
Recording engineer: Ami Hadani
Remix engineer (1969): Dick Kunc
FZ—guitar, vocals
Ray Collins—vocals, tambourine
Jim Fielder—guitar, piano [uncredited]
Don Preston—keyboards
Bunk Gardner—woodwinds
Roy Estrada—bass, vocals
Jim Black—drums, vocals
Billy Mundi—drums, percussion
+
Jim Getzoff—violin
Marshall Sosson—violin
Alvin Dinkin—viola
Armand Kaproff—cello
Don Ellis—trumpet
John Rotella—contra-bass clarinet
+
Lisa Cohen—Suzy Creamcheese
Brown shoes
Don't make it
Brown shoes
Don't make it
Quit school
Why fake it?
Brown shoes
Don't make it . . .
TV dinner by the pool
Watch your brother grow a beard
Got another year of school
You're okay—he's too weird
Be a plumber
He's a bummer
He's a bummer
Every summer
Be a loyal plastic robot for a world that doesn't care . . .
Smile at every ugly
Shine on your shoes & cut your hair
Be a joik
And go t' woik
Be a joik
And go t' woik
Be a joik
And go t' woik
Be a joik
And go t' woik
Do your job & do it right
Life's a ball
TV tonight . . .
Do you love it?
Do you hate it?
There it is . . .
The way you made it . . .
YARRRRRRRRRRRGH-H-H!
A world of secret hungers
Perverting the men who make your laws
Every desire is hidden away
In a drawer . . . in a desk
By a Naugahyde chair
On a rug where they walk and drool
Past the girls in the office
Hratche-plche
Hratche-plche
Hratche-plche
Hratche-plche
We see in the back of the City Hall mind
The dream of a girl about thirteen
Off with her clothes and into a bed
Where she tickles his fancy all night lonnnnnnnnng
His wife's attending an orchid show
She squealed for a week to get him to go
But back in the bed, his teen-age queen
Is rocking & rolling & acting obscene
Baby baby
Hratche-plche
Hratche-plche
Baby baby
Hratche-plche
Hratche-plche
And he loves it! He loves it! It curls up his toes
She bites his fat neck and it lights up his nose
But he cannot be fooled, old City Hall Fred
She's nasty! She's nasty! She digs it in bed!
Do it again and do it some more
That does it by golly, it's nasty for sure
Nasty nasty nasty, nasty nasty nasty
(Only thirteen and she knows how to nasty . . . )
She's a dirty young mind
Corrupted, corroded
Well she's thirteen today
And I hear she gets loaded
P-pum-m-mum-m-mum-m-mum
P-pum-m-mum-m-mum-m-mum
P-bum
If she were my daughter, I'd . . .
What would you do daddy?
If she were my daughter, I'd . . .
What would you do daddy?
If she were my daughter, I'd . . .
What would you do daddy?
Smother my daughter in chocolate syrup
And strap her on again, oh baby!
Smother that girl in chocolate syrup
And strap her on again
She's a teen-age baby and she turns me on
I'd like to make her do a nasty on the White House lawn
Gonna smother that girl in chocolate syrup—
And boogie till the cows come home
Time to go home—Madge is on the phone
Gotta meet the Gurney's
And a dozen grey attorneys
TV dinner by the pool
I'm so glad I finished school
Life is such a ball
I run the world from City Hall!
3. Amnerika (Vocal Version)
3:10
UMRK, c. 1982-84
Engineers: Mark Pinske & Bob Stone
FZ—Synclavier
Napoleon Murphy Brock—vocal
This is the new AM-NERIKA now!
(AMNESIA/AMERIKA—Better, somehow)
What cannot be fixed by a favor or bribe,
Should be dead or forgotten—it must not survive!
Those dreadful CREATIVES!
Those up-rising NATIVES!
They make us remember;
They cause us such grief!
My HOLY DISEASE is the only relief!
I looked into the Bible,
Yes! And so, I'm not liable
For guilt to apply!
Those dreadful CREATIVES
Have all got to die!
4. "If I Was President"
3:43
UMRK, 1985
Engineer: probably Bob Stone [uncredited]
FZ—Synclavier (1985); voice (1990)
If I was President? I think I'd do a fine job.
Because first of all I don't owe anything to anybody. And I don't believe in the platform of any of the parties. So I would start from scratch and make it up as it went along. And there's no way that anybody in any public office is gonna get 100% of the public liking his or her policies, and so you just take that as a given. And you can do things.
If I were going to run here's exactly what I would do. First of all I would file as a candidate of no party. And all I would do is raise enough money to get on the ballot in every state. And I wouldn't campaign.
And I happen to think that the news media would call me up to ask me what do you think about this. And I would tell 'em. And let the other guys spend their money and argue about it. But just being completely outside of the circuit I think you could get enough information into the marketplace of ideas to let them know what you thought about various things. And the day that they got to go to the poll, when they're just sick to death of next season's Willie Hortons or whatever it's going to be, there would be an alternative. There'd just be something that you could check on the box that would enable you to vote against the rest of what politics is.
Whether it's me or somebody else, I think that that is the key to breaking the way politics is conducted in the United States, 'cause it's going to be a long time before any of these practitioners really change the election procedure. They're not gonna make it fairer, they're not gonna make the expenditures lower, they're just gonna try and keep it going the way it is. And the only hope that this democracy—and I use the word advisedly in the case of the United States, 'cause it's almost evaporated—the only way that you can have a choice is for somebody to come up from nowhere and do it just the way I described, completely outside the system, as simply as possible.
And that would enable the voters that are fed up who are always saying one of the reasons why they don't go to the polls is 'cause there is no choice—if they know that this time they would have a choice, no matter whether— whatever the candidate is. Just to have a third box that you could check.
These guys with these— the helmet hair, these custom molded guys that have sprayed the hair never moves and they all do like this and like— have these terrible little hand gestures that they got out of a comic book someplace and they say the same things and . . . uh, it's boring and it's insincere. I find it hard to believe that 250 million people in this country really buy into that. I think that the reason why they're able to hang on to their positions or get into the office in the first place is because there isn't anybody willing to look at them and say, "You're fake! You're just— just that. I feel sorry for you that you have to live your life being a fake."
5. When The Lie's So Big
3:38
includes quotations from Bolero (Ravel), The Battle Hymn Of The Republic (Steffe/Howe) and Happy Days Are Here Again (Yellen/Ager)
Nassau Coliseum, Uniondale, NY
March 25, 1988
Engineer: Bob Stone
FZ—guitar, vocal
Ike Willis—lead vocal
Mike Keneally—rhythm guitar, synth
Bobby Martin—keyboards, vocal
Ed Mann—vibes, marimba, electronic percussion
Walt Fowler—trumpet, flugel horn, synth
Bruce Fowler—trombone
Paul Carman—alto sax, soprano sax, baritone sax
Albert Wing—tenor sax
Kurt McGettrick—baritone sax, bass sax, contrabass clarinet
Scott Thunes—bass
Chad Wackerman—drums, electronic percussion
(Whiff it good!
Well I, you know, it's not really an invasionary thing, it's just—
It's a training exercise and, well . . .)
They got lies so big
They don't make a noise
They tell 'em so well
Like a secret disease
That makes you go numb
With a big ol' lie
And a flag and a pie
And a mom and a bible
Most folks are just liable
To buy any line
Any place, any time
When the lie's so big
As in Robertson's case,
(That sinister face
Behind all the Jesus hurrah)
Could result in the end
To a worrisome trend
In which every American
Not "born again"
Could be punished in cruel and unusual ways
By this treacherous cretin
Who tells everyone
That he's Jesus' best friend
When the lies get so big
And the fog gets so thick
And the facts disappear
The Republican Trick
Can be played out again
People, please tell me when
We'll be rid of these men!
Just who do they really
Suppose that they are?
And how do they manage to travel as far
As they seem to have come?
Were we really that dumb?
Oh, people, wake up
Figure it out
Religious fanatics
Around and about
The Court House, The State House,
The Congress, The White House
Criminal saints
With a "Heavenly Mission"—
A nation enraptured
By pure superstition
Is everybody happy?
When the lie's so big
And the fog so thick
And the facts kept forgotten
The Republican Trick
Can be played out again
(I see you!)
People, please tell me when
We'll be rid of these men!
7. America The Beautiful
3:36

Nassau Coliseum, Uniondale, NY
March 25, 1988
Engineer: Bob Stone

FZ—guitar
Ike Willis—lead vocal
Mike Keneally—rhythm guitar, synth
Bobby Martin—keyboards, lead vocal
Ed Mann—vibes, marimba, electronic percussion
Walt Fowler—trumpet, flugel horn, synth
Bruce Fowler—trombone
Paul Carman—alto sax, soprano sax, baritone sax
Albert Wing—tenor sax
Kurt McGettrick—baritone sax, bass sax, contrabass clarinet
Scott Thunes—bass
Chad Wackerman—drums, electronic percussion

O beautiful for spacious skies,
For amber waves of grain,
For purple mountain majesties
Above the fruited plain!
America! America!
The only place to be
Because we crown thy good with our (because the) brotherhood
From sea to shining sea!

Shining sea!

Oh, I'm talking 'bout the freedom
And shining sea
(Shine, shine, yeah)
Now the sea
(Sea, sea, sea, yeah
Shining sea)
I wanna keep it free, yeah
(Let it shine, yeah)
I wanna keep it free with you and me
(Sea . . .)
Oh no
(Yeah)

Sea to shining sea, yeah
Sea to shining sea, yeah yeah
Oh, yeah yeah, sea to shining sea, yeah
Oh, yeah, sea to . . .

Sea to shining sea . . . oh, yeah yeah . . .

This really is good night. Thanks a lot for coming to the show. See you in the Fall!

All compositions by Frank Zappa except as noted
Site maintained by Román García Albertos
http://globalia.net/donlope/fz/
Transcription for new material by Román with corrections by Charles Ulrich
This page updated: 2018-08-28