Saturday Night Live
October 21, 1978
Saturday Night Live, NBC TV
Includes:
Dancin' Fool 4:31
The Coneheads At Home (sketch) 5:00
Night On Freak Mountain (sketch) 9:52
Rollo 4:25
Closing Credits 1:49
Appears on:
Musicians:
FZ—vocals
Denny Walley—guitar, vocals
Tommy Mars—keyboards, vocals
Peter Wolf—keyboards
Ed Mann—percussion
Patrick O'Hearn—bass
Arthur Barrow—bass
Vinnie Colaiuta—drums
+
Alan Rubin—trumpet
Tom Malone—trombone
Lew Del Gatto—alto sax
Lou Marini—tenor & soprano sax
Howard Johnson—baritone sax
+
John Belushi—Samurai Futaba on "Rollo"
The Coneheads At Home:
Dan Aykroyd—Beldar Conehead
Jane Curtin—Prymaat Conehead
Laraine Newman—Connie Conehead
FZ—himself
Night On Freak Mountain:
Garrett Morris—Wendell
FZ—himself
Bill Murray—Jerry Eldini
Paul Shaffer—Don Kirshner
Dan Aykroyd—Narrator; Jason
Laraine Newman—Chloe
John Belushi—Windowpane Watson
---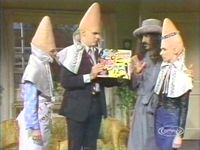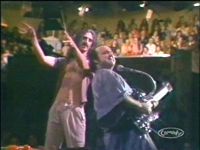 ---
Notes & Comments
My strongest memory is of Don Pardo stopping me in the NBC studio hallway before rehearsal and saying: "Pat! Where's the men? Where's the band!" He was referring to Terry, Eddie Jobson, Ruth Underwood, Ray White—the band members from 1976. I was the only familiar face to him from the earlier Zappa In New York outfit.

Regarding the performance? It was good to see the SNL folks again, and watch all the excitement and energy that goes into live television sketch comedy. But overall it was a more subdued experience for me than the '76 show.
Patrick Neve
This show includes the "Night On Freak Mountain" sketch, a Coneheads sketch where Frank is Connie Cone's date, plus performances of Dancin' Fool, The Meek Shall Inherit Nothing, and St. Alphonzo/Rollo.
Matt Rose
Interesting note: both Patrick O'Hearn and Arthur Barrow were playing bass.
ishmael
Try Doug Hill and Jeff Weingrad's book "Saturday Night Live: A Backstage History." Frank Zappa ruined a Coneheads sketch because he broke character in the middle of the sketch and asked, live and on camera, if he was supposed to read the lines of the cue cards.
Matthew B. Tepper
Was that the one where he merrily joined in with the "consuming mass quantities," opening all the beer cans in a six-pack before drinking from them, etc.? That was the single funniest moment for me in all of the Conehead sketches—and it was UNSCRIPTED?
ishmael
I think the "mass quantities" part was scripted. What he wasn't supposed to say was (not a direct quote, but close) "so what, am I just supposed to read off those cue cards?" Also, there was a line where he plugs his album that had been cut but he went ahead and said the line anyway. The writers and performers were upset because he broke character and asked if he was supposed to read the cue cards. I have an interview with Zappa from a newspaper that I will be posting to my webpage soon. I can post a message when I have it on my page if anyone is interested, along with the passage from Hill and Weingrad's book.
Aykroyd: I remember one awful time, when Frank Zappa was one. We were doing the Coneheads scene, which Frank loved. We were all in position to do it when Frank, said, "What am I supposed to do? Read these cards?" It totally broke the reality; it was awful.

PH: Why did he do that?

Aykroyd: I don't know. Maybe he thought he was above the whole thing or he was nervous or he didn't like the script. Maybe he thought he was being funny. But in fact the audience sort of gasped.
There was a meeting in Frank's room before the show in which he said that he thought the script for the show was weak, and he intended to do something radical to save the show. There was obvious friction between him and some of the SNL people, although he seemed friendly with Dan Aykroyd and Larain Newman. She even came to one of our show later at the Palladium.

[...] Apparently, his big idea to "save the sho" was spitting out some chips in the Coneheads scene, and letting the audience know he was reading from cue cards. I am not sure that did anything to save the show, but it did seem to piss off the SNL people.
FZ, interviewed by Stereo Review, April, 1979
It's a very difficult thing to do; they never make it easy on anyone who hosts the show. All the direction and attention goes to the sketches. They're not called skits—they become "incensed" if you call them skits—and it's all designed to accommodate the people who are regulars on the show, so anybody who goes on there to hosts is at a severe disadvantage. Because they never tell you what camera is on, and you're not supposed to memorize your script because they're rewriting right up to show time. And so you're looking at the cue cards, and unless you're used to acting live on TV, you haven't got a prayer; you'll be looking at the wrong camera. It was really hard.

And the other thing that happened was—and I didn't find out about it until the day after the show—that the first day I went there for the meetings with them they didn't like me and wanted to get rid of me. But no one said anything to my face while I was working on the thing. So they had written dialogue for me to say that I wouldn't normally say; they wouldn't let me write any of my own stuff.

I think I'd be a fantastic television personality. I think I'd be a real good interviewer if I had a talk show, or a variety show. I'd be really good at it. But just to get up there and be the dumbbell in "A Night On Freak Mountain" . . . I mean, sure, I'll do that for a laugh, but I'm not gonna build a life on it.
As far as the skits on Saturday Night Live went, I had nothing to do with them because they wouldn't let me write anything. [...] When we talked about doing the show they said that they would be happy to have me write anything that I wanted. But in practice it didn't turn out that way.

Like for instance, one of the things I wanted to do was have the 1980 Presidential debates, where I debated Carter, with Aykroyd playing Carter. And I had this plan for fighting inflation. You just throw away the income tax and legalize all drugs and tax the use of the drugs based on your age bracket, and the drug you were using. They didn't want to do that because Franken and Davis, who are writers on the show, had this political skit that they wanted to do. And the reason their political had to go on the air that particular day was that they were campaigning for a friend of theirs. They were going to go back to wherever it is they're from to campaign for the friend immediately after the show. So there is a lot of political influence-peddling going on there.

I also happened to be sitting in the office when a phone call came in there. The secretary walks in and says, 'Lorne [Michaels], it's Warners Communications.' He takes the call and the gist of the call was, as he explained to everybody in the office afterwards, they said, 'We've got the governor. When do you want him?' Now, what does Warners Communications have to do with the governor of New York in the first place? In the second place, it was right around election time and they were trying to get the governor to do a guest spot on the show, and Lorne said he couldn't do it because if he did that he would have to give equal time to the other candidate. That's the kind of syndrome that's going on there now; now that their ratings are up they're into the political thing: Stinks.
You're a Saturday Night Live fan?
Yeah, up to a point. Up to the point where they stopped doing funny stuff. The last time I did their show, the only thing they cared about was the ratings and not offending people. I actually sat there and heard a conversation in one of the planning rooms where they said 'We can't put this skit on because it's going to offend women's groups.' I mean if you have to worry about who you're going to offend when you're doing something funny, then . . . see what I mean? It's that same America.

Did you know John Belushi well?
No, I didn't know him very well, but I am sad that he's gone because the guy was a comedy genius. He was great, he had it, he was a funny guy. They don't build them like that too often. Style-wise there was a big difference between Ackroyd and Belushi; I would rate them as equals. Ackroyd was more intelligent and Belushi was more fall-down-and-hurt-yourself.

Did you like the Blues Brothers?
I didn't care for them as a musical act but I did admire the fact that they recorded "Rubber Biscuit." Any person who records "Rubber Biscuit" can't be all bad.
---
Additional informants: Jon Naurin, Brian Lagerman, Richard Kolke, Hoodoo

Maintained by Román García Albertos
http://globalia.net/donlope/fz/
This section formerly maintained by Reverend Neve
This dog last modified: 2019-05-25