Lightning-Rod Man
(Lowell George & The Factory, CD, Bizarre/Straight R2 71563, November 2, 1993)
Lost
Candy Cane Madness
Slow Down
Smile, Let Your Life Begin
Sleep Tight
No Place I'd Rather Be
Crack In Your Door
Teenage Nervous Breakdown
Framed
Juliet
Tracks 9-11
Studio audition for Herb Cohen & Frank Zappa
August 18, 1966
Engineer: Ami Hadani
Tracks 1, 6
Original Sound, LA, CA
Fall 1966
Produced by Frank Zappa
The Factory is:
Lowell George lead vocals, rhythm guitar, woodwinds & percussion
Warren Klein lead guitar & guitars
Martin F. Kibbee bass
Richie Hayward drums & bg vocals
1. Lightning-Rod Man
Original Sound, LA, CA
Fall 1966
Produced by Frank Zappa
Lowell George dulcimer, lead vocals
FZ piano, backing vocals
Original Credits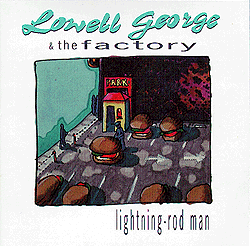 11/02/93 CD (Bizarre/Straight R2 71563)
Cover art by Neon Park.
All songs by permission of Naked Snake Music except: "Framed" (Quintet Music, Inc. Ben Stock Pub, ASCAP) and "Candy Cane madness" (Dutchess Music/MCA Music Publishing, ASCAP)
Tracks 2,3,4,5,7 & 8 courtesy of MCA Records, inc.
Notes & Comments
The Factory
I was in a group in Los Angeles called The Factory that didn't do anything. We made some demos with Frank Zappa, and one of them is appearing on a bootleg album right now . . . a tune called "Lightning Rod Man" that Zappa produced. He did a fantastic job. It's a cross between "They're Coming To Take Me Away" and Ian & Sylvia—somewhere in the middle there.
Martin Kibbee, interviewed by Marty LeGrande, Featprints #12, Summer 1996
We were on Uni Records, an album of which has just been re-released. Actually, we never got an album released in 1967; we did several singles. Last year, Herb Cohen, who was our manager, found an album's worth of material in his closet, and around town we found MCA tapes of an album we'd cut that, honestly, the other band members and I had not even remembered that we'd done. Rhino put it out last year to good reviews and considerable interest. But that [band] was our first effort together. It was interesting because Herbie became our manager almost immediately and, of course, he also managed Frank Zappa. So Frank became our producer and we went on the road with the Mothers [of Invention] for a year or two. I think that was a very important and formative experience for Lowell . . . Frank became his role model in many respects. Richie Hayward also was in The Factory. Richie and I subsequently joined a group called the Fraternity of Man, which lasted a couple of years.

[...] I'm surprised at the reaction people have to it. It was obviously learn while you earn, in our case, but there are a couple of good songs there. It's very interesting because it was, I think, Lowell in a much different mode than the Little Feat mode which we ultimately adopted. It was a more or less Byrds, British-invasion-type, "up" pop record. Marshall Leib, our producer of these Uni sides, was an interesting guy who was a partner of Phil Specter; he was in the Teddy Bears, a group of Fairfax High School graduates like Herb Alpert and Phil Specter. His song choices for our singles were our most psychedelic material. Actually, the unreleased stuff was much better.
AMG Review
Before emerging as a cult star in the 1970s, Lowell George was a presence on the L.A. folk-rock/psychedelic scene in the 1960s. With his group the Factory, he only managed to release one single during this time. Lightning-Rod Man rescues 15 tunes cut by this unit, including the single and over a dozen outtakes and demos. Almost exclusively original material, most of these tracks were recorded in 1966 and 1967. They show the group pursuing a slightly eccentric folk-rock vision that neither bears much similarity to George's more famous work nor matches the best work done in this genre by their L.A. peers. At times they echo Kaleidoscope in their vaguely spacy, good-natured folkish rock; just as often, they take cues from Captain Beefheart and Frank Zappa in their skewed blues rock and obtuse songwriting. In fact, Zappa himself produced and played on a couple of the demos, and one-time Mothers of Invention members Elliot Ingber and Roy Estrada show up on a few others. A few songs cut towards the end of the decade feature a heavier, bluesier sound that show George edging in a different direction. An enjoyable vault find, but not a major revelation.
—Richie Unterberger
"Lightning-Rod Man"
Alain: In a book I seen about a song with Lowell George called Lightning Rod Man. What is that song?

FZ: That was the first record that he made and I produced it. I did 2 or 3 songs for him. One was called "Black Protruding Tongue" ["The Loved One"] and the other one was "Lightning Rod Man."

Alain: Have they been released on any recording?

FZ: No.

Alain: Will those be?

FZ: The problem is that I don't have a mix of those songs. The master tape was recorded on a machine which was a 10-track recorder; a one-of-a-kind machine which doesn't exist anymore and I can't remix the masters.
Joshua A. Solomon (March 9, 2013)
Just listened to ["Lightning-Rod Man"] again. Check out the production at the end (with the flute etc). That's the hippie riff. Earliest example thereof?
"Lightnin' Rod Man," with Lowell strumming a dulcimer and Frank contributing slowed-down Pachuco doo-wops, almost emulates Don Vliet's ramshackle blues. Frank's slowed-down voice is heard on the fade asking, "Why didn't you sing on the last bridge?"
Rocky Karma
While Lowell George was in the Mothers he was also part of an emerging group initially called Rocky Karma. Rocky Karma included most of what later became Little Feat. At the tail end of one session at Whitney, Lowell got Frank to let Rocky Karma come in and lay down a demo of a tune they'd been working on, just to see how it sounded. They particularly wanted to do it at Whitney (studio) because of that incredible organ. It was a really neat tune called "Crack In Your Door." We had a lot of fun recording that. Lowell was in the Mothers for just a short while, but I got to spend some time with him on tour. What a talent!
TTG Studios
Charles Ulrich, December 13, 2019
Lost (Lowell George) The Factory, February/March, 1966 Recorded at TT&G, remixed at Annex. A Marshall Leib production, for UNI records. Ami Hadani, engineer. Fred recordist. Richie, BG vocals.

Richie Hayward didn't join The Factory until after the 66/09/17 Freak Out at the Shrine (where the drummer was Dallas Taylor). And all the other tracks produced by Marshall Leib date from 1967. So I suspect that "1966" is an error and this track dates from February or March 1967, roughly contemporary with Slow Down and Candy Cane Madness.
Well, the first sessions I did with Little Feat—or with Lowell, at any rate—were down at TTG (Studios), with a band that I guess was called The Factory, with Martin Kibbee, Richie, and Lowell. I didn't know that, though! My version of that particular group of recordings was that we were just going in to make some demos. But as for "the four of us," the lineup that was on the album, that didn't happen 'til much later. We went through . . . oh, I'm gonna say between 14 and 20 bass players the first year.
Other Releases
Jan van Kemenade
A couple of these songs were released on the Little Feat album 'Hoy Hoy'. It contains (other) unreleased material, live versions alternate takes etcetera . . .
Patrick Neve
A couple of the Zappa related tracks have been released on a Rhino Handmade 4 CD set called Hotcakes & Outtakes: 30 Years Of Little Feat.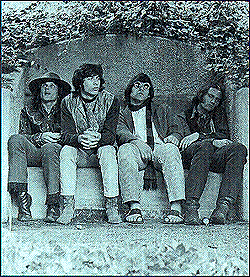 ---
Hotcakes & Outtakes: 30 Years Of Little Feat
09/19/00 CD Rhino Handmade/WEA R2 79912-2
Disc 1: 1970-1975
STRAWBERRY FLATS
HAMBURGER MIDNIGHT
EASY TO SLIP
COLD, COLD, COLD
TROUBLE
TRIPE FACE BOOGIE
WILLIN'
CAT FEVER
SAILIN' SHOES
DIXIE CHICKEN
TWO TRAINS
ROLL UM EASY
FAT MAN IN THE BATHTUB
FOOL YOURSELF
SPANISH MOON (Single Version)
ROCK AND ROLL DOCTOR
OH ATLANTA
SKIN IT BACK
FEATS DON'T FAIL ME NOW
MERCENARY TERRITORY
ALL THAT YOU DREAM (Single Version)
LONG DISTANCE LOVE
DAY OR NIGHT
Disc 2: 1976-1981
HI ROLLER
TIME LOVES A HERO
ROCKET IN MY POCKET
OLD FOLKS BOOGIE
DAY AT THE DOG RACES
FAT MAN IN THE BATHTUB (Live)
ALL THAT YOU DREAM (Live)
MERCENARY TERRITORY (Live)
SPANISH MOON (Live)
20 MILLION THINGS
DOWN ON THE FARM
SIX FEET OF SNOW
GRINGO
LONESOME WHISTLE
FRONT PAGE NEWS
THE FAN (Live)
RED STREAMLINER (Live)
TEENAGE NERVOUS BREAKDOWN (Live)
Disc 3: 1988-1998

HATE TO LOSE YOUR LOVIN'
LET IT ROLL
HANGIN' ON TO THE GOOD TIMES
RAD GUMBO
TEXAS TWISTER
REPRESENTING THE MAMBO
THE INGENUE
SHAKE ME UP
THINGS HAPPEN
BORDERLINE BLUES (Single Version)
CADILLAC HOTEL
AIN'T HAD ENOUGH FUN
CAN'T BE SATISFIED/THEY'RE RED HOT (HOT TAMALES) (Live)
HOME GROUND
THE BLUES DON'T TELL IT ALL
EDEN'S WALL
Disc 4: Studio Artifacts
LIGHTNING-ROD MAN—The Factory (1966) [2:12] First issued on the LOWELL GEORGE & THE FACTORY album Lightning-Rod Man Bizarre/Straight #71563 (11/2/93) Produced by FRANK ZAPPA Engineer(s) unknown Recorded & Mixed at ORIGINAL SOUND STUDIOS, Hollywood, CA (late 1966)

CRACK IN YOUR DOOR (Pre-Warner Recording) [2:31] Lowell George on slide guitar. Roy Estrada on bass. Billy payne, organ. Ritchie on drums. Lowell George, prod., for Herb Cohen, late '69. Lowell note: "needs new vocal."

TEENAGE NERVOUS BREAKDOWN (Pre-Warner Recording) [3:19] (Lowell George, Martin Kibbee & Tom Levy) Lowell George Producer. For Herb Cohen. Billy, Ritchie & Roy. Elliot Ingber, guitar. Lowell note: "add guitar & remix."

JULIET (Pre-Warner Recording) [2:55] First issued on the LOWELL GEORGE & THE FACTORY album Lightning-Rod Man Bizarre/Straight #71563 (11/2/93) Elliot Ingber—Guitar; Roy Estrada—Bass; Billy Payne—B-3; Richie Hayward; Lowell George; Ian Underwood—sax; Lowell note: "add guitar & remix." Produced by LOWELL GEORGE Engineer(s) unknown Recorded & Mixed at T.T.G./SUNSET-HIGHLAND RECORDING STUDIOS, Hollywood, CA (7/22/69)

JAZZ THING IN 10 [3:30] Produced by MICHAEL O'BRYANT & RICHARD MOORE Engineered by RICHARD MOORE Recorded & Mixed at THE VILLAGE RECORDER, West Los Angeles, CA (10/31/69)

RAT FACED DOG (From Sessions for Little Feat) [5:06] Produced by RUSS TITELMAN Engineered by RUDY HILL Recorded at UNITED/WESTERN RECORDERS, Hollywood, CA (4/21/70)

DOGLINES (From Sessions for Little Feat) [2:48]

WAIT TILL THE SHIT HITS THE FAN (From Sessions for Little Feat) [2:51] Produced by RUSS TITELMAN Engineered by BOB KOVACH "Doglines" Recorded & Mixed at UNITED/WESTERN RECORDERS, Hollywood, CA (7/15/70-8/31/70); "Wait Till The Shit Hits The Fan" Recorded at UNITED/WESTERN RECORDERS, Hollywood, CA (8/7/70-10/16/70)

EASY TO FALL (EASY TO SLIP) (Demo for Doobie Bros.) [2:48]

TEXAS ROSE CAFE (Demo for Doobie Bros.) [3:32] Produced by TED TEMPLEMAN Engineered by BOBBY HATA Recorded & Mixed at UNITED/WESTERN RECORDERS, Hollywood, CA (2/5/71)

DORIVILLE (From Sessions for Sailin' Shoes) [2:58]

BOOGIE (TRIPE FACE BOOGIE) (From Sessions for Sailin' Shoes) [3:47] Produced by TED TEMPLEMAN Engineered by DONN LANDEE Recorded at SUNWEST RECORDING STUDIOS, Hollywood, CA (4/7/71-4/14/71)

TWO TRAINS (Lowell Demo) [3:20]

ROTO/TONE (From Sessions for Sailin' Shoes) [4:12] Produced by TED TEMPLEMAN Engineered by DONN LANDEE Recorded at WARNER BROS. RECORDING STUDIOS (AMIGO), North Hollywood, CA (12/8/71-2/6/72)

ACE IN THE HOLE (HI ROLLER) (From Sessions for Dixie Chicken) [3:30]

ELDORADO SLIM (From Sessions for Dixie Chicken) [4:48] Produced by LOWELL GEORGE Engineered by ROBERT APP^ÉRE "Ace In The Hole" Recorded & Mixed at CLOVER RECORDERS, Hollywood, CA (10/21/72-12/4/72); "Eldorado Slim" Recorded at CLOVER RECORDERS, Hollywood, CA (11/22/72)

FEATS DON'T FAIL ME NOW (From Sessions for Feats Don't Fail Me Now)[2:34]

BRICKYARD BLUES (From Sessions for Feats Don't Fail Me Now) [3:31] Produced by VAN DYKE PARKS Engineered by DAVE HASSINGER & JOHN ARRIAS "Feats Don't Fail Me Now" is believed to be from the same sessions that produced "Spanish Moon" & "Brickyard Blues" Mixed later by RON PENDRAGON; "Brickyard Blues" Recorded at THE SOUND FACTORY, Hollywood, CA (1/25/74-3/30/74)

ALL THAT YOU DREAM (From Sessions for Feats Don't Fail Me Now) [3:42] Produced by LOWELL GEORGE Engineered by GEORGE MASSENBURG—Assistant Engineer: DAVE HASSINGER Recorded & Mixed at BLUE SEAS RECORDING STUDIO, Hunt Valley, MD (6/74)

DOWN BELOW THE BORDERLINE (Lowell Demo) [1:57]

ROCKIN' SHOES I & II (Lowell Demo) [2:09] Produced & Engineered by LOWELL GEORGE Recorded at LOWELL'S HOUSE, Topanga Canyon, CA (late 1974/early 1975)

FRONT PAGE NEWS (From Sessions for The Last Record Album) [4:46]

HIGH ROLLER (From Sessions for The Last Record Album) [3:41] Produced by LOWELL GEORGE Engineered by GEORGE MASSENBURG Recorded & Mixed at THE SOUND FACTORY, Hollywood, CA (6/19/75-7/31/75)

ROLL 'EM EASY (From Sessions for Thanks I'll Eat It Here) [2:40] Produced by LOWELL GEORGE Engineered by GEORGE MASSENBURG Assistant Engineer: RAY THOMPSON Mixed later by RON PENDRAGON Recorded at SUNSET SOUND RECORDERS, Hollywood, CA (10/26/76-11/9/76)

BOOGIE WIGWAM (SHORT JAZZ PIECE) (PZM Pressure Mic Demo) [0:45] Produced by LOWELL GEORGE Engineered by RAY THOMPSON Assistant Engineer: BILLY YOUDELMAN Recorded & Mixed at THE PARAMOUNT RANCH, Agoura Hills, CA [w/WALLY HEIDER MOBILE] (1/79)
Informants: Ted Alvy, Greg Russo

Site maintained by Román García Albertos
http://globalia.net/donlope/fz/
This page updated: 2020-02-07