FZ 1961-63
Ray Collins, from Pomona
Now, let's hear it by Ray Collins interviewed by Steve Propes (KLON, August 13, 1989):
I was living in Pomona, Frank was raised in Lancaster, I believe, and he moved to Ontario. But in Pomona, there was a bar I used to frequent with my friends, and I was drinking there one night. Evidently, they hired a band, and Frank's band came in there, and I heard him playing R&B stuff, which I thought was pretty bizarre, because they were playing pretty obscure things—I don't know. I don't really recall what [the name of the band] was. Four pieces—bass, drum, guitar, the basics—maybe two guitars, I guess.

And so I eventually—I just walked in there one night, and asked Frank of I could sing, and he said, "Yeah, great!" And so I got up and sang "Work With Me, Annie" and some R&B ballad things. And we talked a little bit, and I told Frank, "Well, I've got this idea for a song called 'How's Yer Bird?' from the—" It was a Steve Allen saying, and so Frank said, "Oh, great idea! I have access to a studio in Cucamonga. Maybe we'll get together and do it."

So he called me up a couple of days later (we exchanged phone numbers, obviously), and he said, "I have written the song, 'How's Yer Bird?'" So he said, "Would you like to record it?" I said, "Yeah, of course," so we went up to Studio Z and we did "How's Yer Bird?" with Dick Barber, "Gnarler," on snorts and vocal noises. And on the other side was "The World's Greatest Sinner," which was a song written by Frank, having to do, I guess, with the movie, The World's Greatest Sinner, which Frank scored. But it isn't in the film. It was on the "B" side.
Although he doesn't mention any sax player, probably the band he refers to is the one formed by FZ, Ronnie Williams, Dwight Bement & Al Surratt, as they had a gig in Pomona around those times. We'll talk about the studio and the film later. Here's Ray Collins again, interviewed by Dave Porter (KPFK, August 12, 1989):
This was a band of his (at The Sportsman)—his friends. I don't know what they were called—if they had a name or not. I suppose they did. I didn't really pay much attention. I was just drunk, and singing "Work With Me, Annie" and whatever—"Earth Angel" probably, and local R&B favorites. No, it was after Frank and I had recorded for a while that we actually got together, and then were apart for quite a few years, that I got hooked up with The Soul Giants at Pomona, which actually was about two blocks from where Frank and I met in the original bar. And then Frank became part of The Soul Giants.
Pal Recording Studio
There's some footage from around this era in the 1st part of the VPRO documentary Frank Zappa. The Present Day Composer Refuses To Die. There we can see FZ with a hat and the Jazzmaster, between a short-haired singer who resembles Ray Collins a lot and another singer with a nice pompadour: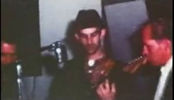 Here are the singers: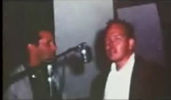 Ronnie Williams is also there: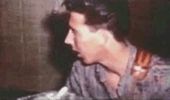 And there's still another guitarist: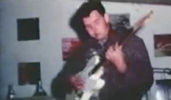 And a wind section which consists in a sax player, which his cousin has recently (May 11, 2010) identified as Tony Rodriquenz, and a trombone player: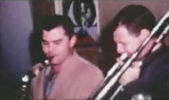 Is this footage from a recording session at Pal Recording Studio?
FZ met Paul Buff, the owner of Pal Recording Studio, Cucamonga, CA, through Ronnie Williams. This is from a 1988 Rolling Stone interview:
I was brought over there by Ronnie Williams, a musician I'd been jamming with in local bars.
Paul Buff recalls their first encounter in the liner notes of The Lost Episodes:
He just came in one day in 1960, when he was around 20, as a person who wanted to record some jazz. He had some musicians, and wanted to rent a studio. Probably for the first year or so I was associated with him was doing a combination of recording jazz, producing some jazz records, and was also writing some symphonic material for a local orchestra that was supposed to record some of it. [Possibly the 1960 soundtrack for The World's Greatest Sinner, recorded by a pick-up orchestra.] he was very jazz-oriented . . . He played clubs, and played all the jazz standards . . . He did a lot of original compositions, and he'd play things like "Satin Doll" for a few dollars and a few beers.
The note about the movie is by Rip Rense, and even if the date is wrong (1961, instead of 1960), he's probably right (unless Buff refers to the Mount St. Mary's College concert on May 19, 1963, which I doubt). One of the jazz songs that FZ recorded was included in that album, Take Your Clothes Off When You Dance, but since Buff mentions explicitly that FZ not only recorded this piece but also produced "some jazz records," there must be some unknown gems from that time. Well, possibly one of them is released officially as part of the Lumpy Gravy album. I mean that sped-up vinyl scratched jazz piece at 5:16 on Part One that has been called It's From Kansas. Geoff Wills interviewed Chuck Foster about these sessions (the complete interview is available at the United-Mutations site):
In January 1961 Chuck got out of the service and was in Los Angeles, and he received a call from someone associated with Frank Zappa to do a recording session. This turned out to be for Take Your Clothes Off When You Dance. He can only remember recording this one track at the Pal Studio session, but he said that they rehearsed tunes for a couple of weeks—"It was real loose, we had a lot of laughs, a very relaxed atmosphere." Interestingly, Chuck also said, "Oh yes, Frank always liked jazz—he was always a fan."

Of the other musicians on the session, Chuck was only acquainted with the alto sax player, whose name was Tony Rodriquenz, not Rodriguez as stated on the Lost Episodes CD. "He was a monster—sounded like Cannonball Adderley," said Chuck, "But he gravitated away from music and became a teacher (not music) and played at weekends." Sadly, Tony Rodriquenz died as a result of cancer in 2007. Chuck also believes that the name of the drummer on the session was Chuck Glave, not Chuck Grove, again as stated on the Lost Episodes CD.
The World's Greatest Sinner
FZ was hired to write the music for The World's Greatest Sinner in June, 1961, and it was recorded later that year at Chaffey Junior College. This is Timothy Carey, producer, writter, director and main character of the film, interviewed by Mike Murphy and Johnny Legend (Psychotronics, 1990):
When I was working with Debbie Reynolds for the second time (in The Second Time Around, a western comedy) at 20th Century Fox, a fellow came up to me and complemented me on my acting. He said he was a composer and the guy he came with, his next door neighbor, played the guitar. I said, "What's your name?" He said, "Frank Zappa." So I said, "OK, I have something for you. We have no music for The World's Greatest Sinner. If you can supply the orchestra and a place to tape it, you have the job." And that's what he did.
The FZ neighbor that played guitar can't be anyone else than Ronnie Williams, as according to Dwight Bement, "Frank lived in this house in Ontario a few blocks up the street from Ronnie." This is from the local newspaper Progress-Bulletin (Pomona, March 9, 1962):
The music was recorded by the Pomona Valley Symphony Orchestra, directed by Fred E. Graff, and augmented by other instrumentalists. (...) Zappa began composing for the film last June. "The score is unique," he said, "in that it uses every type of music."

A small rock-n-roll group—eight musicians—recorded last November. In early December a 20-piece chamber ensemble recorded. The 55-piece orcehstra recorded Dec. 17, putting in a 12-hour stint at Chaffey auditorium.
The article also gives a clue as to who was the owner of the vibraphone in the Mellotones picture:
Zappa, a former Chaffey College student, lives at 314 W. G St. He was graduated from Lancaster High School and began composing there in his sophomore year. He plays guitar, vibraphone, drums and piano.
Dwight Bement was also involved in the sessions, as he told Patrick Neve:
It took FZ 2 months to write 15 minutes of music for the soundtrack. The recording session took 11 hours with the Pomona Valley Symphony. Frank conducted and one mic was used. It was placed above the podium. Aside from Al Sarratt and myself, I don't remember who else played. Maybe Ronnie, but I can't be sure.

I played several instruments during the session including clarinet, rhythm guitar, marimba, snare drum and contra-bass saxophone, a very rare instrument. I have no idea where Frank found it.

I spent a lot of time with FZ and Timothy Carey during post production both at Carey's home in El Monte and in Hollywood at the sound company, Glen Glenn.
This is FZ on The Steve Allen Show, March, 1963 (most of Allen's comments edited out):
FZ: I did the score for The World's Greatest Sinner, the . . . (laughters) That's the name of the film. It's the world's worst movie, and I did the music for it. It's a Tim Carey production, Frenzy Productions. It's an, it's an independent company. (laughters) It's shot in El Monte.

Steve Allen: Who is in it?

FZ: Uh, Tim Carey and a cast of a thousand people that he found down Main St. or something (laughters).

Steve Allen: What instrumentation did you use, three harmonicas and a bicycle or what? (laughters)

FZ: Well uh, we have a 55-piece orchestra and we had a very unusual reed section, we had a contrabass clarinet, two bassoons, no, four bassoons, uh, two oboes, English horn, four flutes and piccolo, four trumpets, four horns, and four trombones and a tuba, and uh, I forget, there's a bunch of it . . . We recorded it in the Chaffey High School, no, the Chaffey College little theater in uh, Alta Loma, California . . . For twelve hours we recorded it.
And Tim Carey again:
That's where our friendship stopped. Steve asked him what films he did. He said, "I did The World's Greatest Sinner, the world's worst film and all the actors were from skid row." It wasn't true. The press said I was the world's greatest ham, and that The World's Greatest Sinner was a travesty of the arts. Zappa didn't like that and he started to get on their bandwagon. The opening night at the directors guild, he was in complete awe. He walked into the window and banged himself in the head. He didn't even know there was a window there.
Don's Garage
In 1962, Don Preston and FZ got together again with a completely different project. This is Don Preston on Billy James' book (p. 30):
Several months after that [the audition for the Santa Ana club] I was having these open free sessions with Bunk Gardner, where we would improvise to films that I would get out of the library. I invited Zappa to come and play, so we jammed for a while. Zappa liked a lot of it and was actually in the process of starting to make films himself, so we would use some of his films to improvise on.
Asked for further details, here's what he said in 2002:
Around May of 1962 I built a rehearsal space in my garage which included a lot of junk percussion equipment. I had several projectors also: a 16mm, a super 8mm and a slide projector that projected 4" x 5" glass slides that my wife and I would paint on with colored inks. I had an experimental music group consisting of myself, Bunk Gardner, Buzz Gardner, Vic Mio—bass, Jack Lake—percussion and sometimes Zappa. Much of the music was done to experimental films or abstract slides some of which Zappa would provide.

The only thing I knew about Zappa at that time was that he was working on some experimental 8mm films and seemed very busy doing that.
Bunk Gardner also recalls they had a local TV audition (Necessity Is . . ., p. 34-35):
Don Preston had a projector set up in his garage and we would improvise on our instruments to the various collages he flashed up there. Frank made an appearance at one of those sessions. He brought his own music, of course—it was a no-holds-barred, do whatever you want kind of set-up, and from those sessions quite a few things evolved. I remember Don showing Frank how you could get quite a lot of different tones out of a bicycle wheel by putting differing tensions on the spokes and playing it with drum sticks. I can vividly remember going down to one of those TV stations to audition for a talent contest. My brother and myself, Don, Frank and a couple of other guys auditioned down there doing all these weird things for the people. They couldn't believe our band. I can remember seeing them calling everyone in to watch and hear us.
Don Preston's account of the same (p. 35):
Somehow Frank's dad had a connection at ABC and we got to audition for this show. We got in there and we were doing this really weird shit. All the musicians that were on the television lot all came in and like stuck their heads around the door, and they couldn't believe their eyes. We were playing this really outside music—of course nothing ever came from that audition.
The Steve Allen Show
On March, 1963, FZ finally appeared on TV playing bicycle at the Steve Allen Show. Asked about the bicycle, Don Preston said:
The bicycle was part of my percussion junk in my garage. The channel 7 audition was probably 6 months before the Steve Allen Show.
On the other side, Candy Zappa, FZ's sister, told Vladimir Sovetov (ARF: The Home Of Frank Zappa Heritage Studie) that the bicycle used in the Steve Allen Show was hers. There were two bicycles onstage anyway.
Paul Buff remembers how FZ got to be in the Steve Allen Show in the liner notes of Cucamonga (Del-Fi, 1997):
After trying to get on the Steve Allen Show week after week as a serious musician, Frank said he was going to take a different approach. He came back that evening and said, "Well, I'm going to be on Steve Allen next week." I asked him how he got on. He said, "I just told them I play the bicycle."
The Cucamonga Singles
Meanwhile, FZ had started a different approach to what he was doing in the recording studio. The first published song in which FZ appeared credited was a R&B instrumental called Breaktime (written by Ronnie Williams, Paul Buff & FZ), recorded at Pal Recording Studio in 1961. It was the B-side of a single released on one of Buff's record companies (Emmy E 1008) by The Masters, who were actually Ronnie Williams and Paul Buff with whoever joined them at the studio. The Masters still released another single with two Ronnie Williams' songs (Emmy E 1009), but without any known FZ involvement.
In 1963 FZ continued working at Pal Recording Studio with Paul Buff and Dave Aerni, and as we said before, he brought Ray Collins to the studio to do some swell vocals. At least 10 singles with FZ involvement were released from Pal Recording Studio on different labels until August 1963.
Love Of My Life by Ron Roman (Daani 101, 1963)
There's not so much information about who was Ron Roman. This is Paul Buff quoted in ARF: Notes & Comments:
[It was done by] a guy named Dave Aerni. I remember recording it, Aerni was manager and probably found Roman. Ron Roman was possibly Hispanic. Backing him are probably Johnny Williams and Ronnie Williams, both great guitar players. (...) That's Ray Collins of the Mothers on falsetto.
And this is David Aerni himself, also quoted in ARF: Notes & Comments:
I barely remember working with Frank on the chord progression on the song, and I believe the words in the song. Ron Roman is probably Frank Zappa or Ray Collins. Paul Buff's Pal Recording Studio was one of the first multi-tracked recording studios in the world, and we had 5 tracks to record with. So the back-up group was any or all of us who happened to be there. I believe it was one of the labels the studio had.
Skip Heller said this about the session on his article Life In The Time Of 8040 N. Archibald (liner notes of an upcoming compilation from this era):
Bassist Dave Aerni, an early Zappa ally who is present on several Studio Z-era sessions, issued the single. It has been suggested that these lyrics were not the correct ones and that Frank was not around when Ron Roman put his vocal on.
And clearing up things, this is Ray Collins (KLON, August 13, 1989):
I think Dave Aerni recorded Ron Roman's voice on top of a track that Frank and I and Paul Buff had done already that already existed, so I'm on there doing falsetto and background vocals.
And this is Dawayne Bailey, on a message to alt.fan.frank-zappa, talking about a conversation he had with FZ about this recording (affz, July 9, 2003):
He said Dave Aerni ripped him off by releasing it without his permission. He also said that despite the fact that the label said "Zappa-Aerni" that Dave didn't write anything. He also said that he had the original recording at his house with Ray Collins' original lead vocals. He said he played drums, fuzz bass and guitar and Paul Buff played keyboards.
Memories Of El Monte by The Penguins (OS 27, April 8, 1963)
The song was copyrighted on February 20, 1963, so maybe that was the actual release date. Here's Ray Collins interviewed by Steve Propes (KLON, August 13, 1989):
That was released on Donna Records, a Del-Fi subsidiary. We just sat down one day. I believe the "Oldies But Goodies" albums weren't even out. I think the "Memories of El Monte" album was first, wasn't it?. From the title of that album, Frank said he and a friend of his had thought of writing a song from that title, so I just sat down at the piano and said, "Let's do it." So we did it. We sat down, and I remember the first line coming out, "I'm all alone, feeling so blue." Then we wrote it, and—actually, Art Laboe's responsible for adding in the different groups' names and The Penguins' impersonating those different groups.
Michael Gray quotes FZ in his book (Mother! The Frank Zappa Story, London, 1996, p. 41) talking about the session:
It features lead singer Cleve Duncan of the original Penguins (their big hit was the original of 'Earth Angel') but for 'Memories Of El Monte', Zappa told Mick Watts, 'the rest of those Penguins were just a bunch of guys from the car wash'.
Steve Propes said this about the band (on Arf: Notes & Comments):
In this case, the Penguins were the Viceroys. Original Sound's Paul Politi noted, Art Laboe "would take Cleve and put the Viceroys behind them," causing some to incorrectly assume this was a pseudonym for the Penguins. With Cleve Duncan singing lead and doing the talking part, they next recorded as the Penguins on the anthemic "Memories Of El Monte" (Original Sound 27) in 1963. That song's writer "Frank Zappa was a young kid, hanging around the studio, (always) trying to sell songs."
From an article called The Recording Of "Earth Angel (Will You Be Mine)" By The Penguins (from The Doo-Wop Society Of Southern California website)
Cleve Duncan, backed by a reconstituted Penguins (Walter Saulsberry and a group called The Viceroys), included the song ["Earth Angel"] in the popular 1961 medley single "Memories of El Monte," produced by Frank Zappa.
Charles Ulrich supported this update about the identity of The Viceroys, from L.A. R&B Vocal Groups 1945-1965 by Steve Propes & Galen Gart (Big Nickel Publications, 2001):
THE VICEROYS (vocal quintet). Consisting of James Conwell, Andrew "Jack" White, Charles Jones, Oliver Williams, and Herbert White, this group attended Jefferson and Cathedral High Schools in Los Angeles . . .

[Art] Laboe paired Cleve Duncan, original lead singer of THE PENGUINS, with The Viceroys as the backing group, and had them perform at live appearances under The Penguins' name. It was this group which recorded "Memories of El Monte" (Original Sound 27) for Laboe's label in 1963. The song, whose nostalgic theme celebrated the famous live shows held at El Monte's Legion Stadium, was the first significant tune written by future rock star Frank Zappa, whom Conwell remembered as a "young kid hanging around the studio, trying to sell songs."
Originally I had other Viceroys listed here, a "rockin' instrumental group" formed by white people from Seattle (Jim "Harpo" Valley, Al Berry, Bud Potter, and Greg Thompson or Fred Zeufeldt) which had nothing to do with this recording, so thank you, Charles! Then there's still the question of who are the players on Memories Of El Monte. There's a vibraphone, supposedly played by FZ himself (Greg Russo, Cosmik Debris, p. 23).
How's Your Bird? & The World's Greatest Sinner by Baby Ray & The Ferns (Donna 1378, April 8, 1963)
Both songs are copyrighted on March 15, 1963, so that could be the actual release date (or just the registration date). This is Ray Collins talking about the session with Steve Propes:
As a matter of fact, the band is called "Baby Ray and The Ferns," and Steve Allen used to say, "How's yer fern?" too, along with "How's yer bird." I was always a big Steve Allen fan. Still am.

[Who was in that group?] Frank, Paul Buff, who owned the studio at the time in Cucamonga, PAL Studio, as you call it, and myself—and Dick Barber was the gnarly-snarler-snort-sound-maker on "How's Yer Bird." I believe that was it. Maybe you recall the guy's name who Frank made "Heavies" with? And a couple of surf records? David or somebody? Dave Aerni.
Paul Buff, asked by Splat:
I wasn't aware of Dick Barber—aka the snorker, and have to take full credit for myself being the godfather of snorks and other such early Zappa noises.
Dear Jeepers by Bob Guy (Donna 1380, April 1963)
Bob Guy was wrongly reported to be a local DJ before. This is Skip Heller with the correct info in the liner notes for that upcoming Del-Fi release:
Bob Guy was the host of a popular local TV show (on Channel 13), Jeeper's Creepers, which showed horror films every Saturday night at 10 pm. At the show's opening, Guy would emerge from a coffin, and would do skits in the course of the program. One weekly feature of the show was the reading of a fan letter to Jeepers, and it was this very thing that "Dear Jeepers" sought to capitalize on. (...) He was in fact the program director at Channel 13. Guy hosted the Jeepers show from September 62 through April 63. He was replaced by a succession of hosts, most famously Ghoulardi.
This is from an article by Tisha Parti on L.A. Horror Hosts (from Local Legends):
Jeepers Creepers Theater began its life on KCOP (a Chris-Craft station) Channel 13 in 1962 with Bob Guy as the horror host Jeepers Creepers. Bob Guy was the program director for KCOP and Jeepers Creepers theater had many spookily fun characters such as a shrunken head named Julie, a lizard named Billy Joe, Boris the stuffed werewolf, Pumpkin the rat, a skull named Aunt Minnie and her smaller skull relative Doris. Jeepers ran around with large bushy brows and bulging eyes.
And this is from Rocco's Da Forty-Fivers site:
Bob Guy was a local horror TV host who wanted to make a record. Zappa let him recite over-loaded monster-movie type letters to and from Count Dracula, over primitive rock vamps. Legend has it that the Guy came driving up to the studio in black sunglasses, a white suit, and/or a white Cadillac
Everytime I See You by The Heartbreakers (Donna 1381, April 1963)
This is Ray Collins, interviewed by Steve Propes:
I had nothing to do with that session, I wasn't there. Frank and I sat down at the same piano in his house in Ontario, and wrote "Everytime I See You," and then he just came one day and said these guys The Heartbreakers, had done the song in Cucamonga.
And Ray Collins again, now talking with Dave Porter:
You know, I didn't really know much about those guys. I think I met them at the Cucamonga studio. But Frank and I had just written "Everytime I See You"—strangely enough, both of those were written on his piano at his home in Ontario, "Everytime I See You" and "Memories of El Monte." I can picture us both sitting there at his piano writing them. And he just gave it to the Hartbreakers, I don't know whether they ever had anything else out or what.
Skip Heller researched about this session for the liner notes of Life In The Time Of 8040 N. Archibald:
The Heartbreakers were an East LA brother duo in the mold of Johnnie and Joe. The misconception about this session is that the backup band was The Romancers, the first of the important East LA bands to emerge in the sixties. Actually, it was a band made up of a couple of Romancers, a Blendell (saxophonist Don Cardenas), and other musicians active on the East LA scene. Another common—and understandable—misconception is that FZ took the guitar solo. The clear influence of Johnny "Guitar" Watson indicate this, but the fantastic little break was played by the Romancers lead guitarist, Andy Tesso (with whom I have played frequently, and he's still fantastic). Also, this session was not cut at Studio Z, but at a more luxuriant facility—Stereo Masters, right in the heart of Hollywood. This may well have been the first non-film score date where FZ produced but didn't play.
Greg Russo (p. 32) adds:
As for the California-based Heartbreakers, this pair of Mexican 14-year olds wandered into Pal Studios to follow-up on their 1962 "Corrida Mash" single on Brent. (...) Frank Zappa's only instrumental contribution was piano on the A-side "Everytime I See You," which he wrote with Ray Collins.
On the other side, Mark Guerrero, from Mark & The Escorts, did interviews to Andy Tesso and Max Uballez from The Romancers, and wrote an article about the band ("The Romancers: The Father of 60s East L.A. Bands," markguerrero.net) in which he says:
On one memorable Del-Fi session, when the Heartbreakers recorded the Frank Zappa song "Every Time I See You," the Romancers backed them up with Zappa on lead guitar.
According to that article, The Romancers were:
Max Uballez—rhythm guitar
Andy Tesso—lead guitar
Chris Pasqual—bass
Armando Mora—tenor sax
Manuel Mosqueda—drums
Then recently (May, 2003), on a personal message, Bruce Whitaker told me this:
Max Uballez recently told me that Zappa played the lead guitar parts on "Every Time I See You." I believe that it is unmistakable Zappa guitar work, and I've read where people have speculated about him doing it after the fact as an over dub, but according to Max, Zappa came into the studio and played with them on just that one song because, as Max put it, "It was his song and wanted to be sure to play on it."
Max Uballez himself later brought still more light to this issue on a series of personal messages (January and February, 2004). This is an extract from them:
Don [Cardenas] Gomez and Andy Tesso were not on the session. Andy Tesso only played on the two instrumental albums released on Delfi and Selma records. Frank did the solo, and piano was Richard Provincio, romancer lead guitar at the time. I played rhythm guitar.

It was Cucamonga. This was the second session we did out in Cucamonga. We were sent there by Bob Keene. I recorded a single for Bob Keene, "Rock Little Darling," released on Donna Records a few weeks prior.

We learned the song in the studio. Frank played it for us on the piano. We went there to record "Cradle Rock." We tracked the song a few times. Bob Keene sent us there, he was not there during the recording. It was like, get in there, do the recording, listen to the play back, let's roll. Just another gig. No official producer per se.

I was working with Bob Keene. I had a contract with Del-Fi at the time. I have a copy of the Brent recording. "Corrida Mash" was produced by "Bumps" Blackwell, who also produced Little Richard.

They [The Hearbreakers] were brothers Benny and Joe Rodriguez. "Cradle Rock" was written by a girl. I think her name was Vangie Gallegos.
On the track, beside the voices, we can hear piano, rhythm guitar, lead guitar, bass, drums, and sax, so probably the players on "Everytime I See You" are:
Benny Rodriguez—vocals
Joe Rodriguez—vocals
FZ—lead guitar
Max Uballez—rhythm guitar
Richard Provincio—piano
Armando Mora—tenor sax
Chris Pasqual—bass
Manuel Mosqueda—drums
The Big Surfer by Brian Lord & The Midnighters (Vigah! V-001/Capitol 4981, May 1963)
FZ on the Rolling Stone interview from 1988:
During that period of time, which was roughly '61, '62, there were these things called novelty records, you know? Like "Please, Mr. Custer." Radio still had a slight sense of humor. So if you could do a novelty record, the chances were you could lease it to a record company. I wrote one, and Paul and I leased the master to Capitol for the unheard-of sum of a $700 advance. I mean, that was a whopper. And the reason was because this record looked like it was gonna be unbelievably hot. You know why? It was called "The Big Surfer," and what it was, it was a guy—a San Bernardino disc jockey named Brian Lord—who could do Kennedy's voice better than Kennedy. It was like a take-off on the First Family album, where Kennedy is judging a surf contest. And totally produced—sound effects, the whole business, okay? The unfortunate part of the record was the punchline: the winner of the contest got an all-expense-paid trip as the first member of the Peace Corps to be sent to Alabama. Well, shortly after we signed the contract, Medgar Evers got killed, and Capitol refused to release the record.
Hey Nelda/Surf Along With Ned & Nelda by Ned & Nelda (Vigah! V-002, June 1963)
Ray Collins, interviewed by Dave Porter:
It was a lot of fun. You can hear Frank crackin' up at the—on the "Surf Along with Ned And Nelda" he went out of control, laughing, which makes the record even more fun.

Ned and Nelda of course came about because of the Paul and Paula pop tune of that era. It was a lot of fun making those tunes of those times.
Grunion Run by The Hollywood Persuaders (OS 39, July 1963)
This song (along with the other side of the single and the two from the next single) was copyrighted on July 15, 1963. This is FZ on his book (p. 42-43):
"Tijuana Surf" (with Paul multitracking himself) became a long-running number-one record in Mexico. I wrote and played guitar on the B side, an instrumental called "Grunion Run." It was released on Original Sound under the name of the Hollywood Persuaders.
This is Paul Buff on a message to Patrick Neve talking about the single:
My stuff: 1964 "Tijuana Surf" The Hollywood Persuaders (all me) Zappa's "Grunion Run" (all Zappa) on the flip side. "Tijuana Surf" was #1 on Billboard and Cashbox for 10 continuous months (1964), with The Beatles "I Want To Hold Your Hand" a meager #2. "Drums A Go Go" again all me as The Hollywood Persuaders (1966/67) became American Bandstand Theme for over a year.
Mr. Clean & Jessie Lee by Mr. Clean (OS 40, August 1963)
Both songs are copyrighted on July 15, 1963. This is Paul Buff talking about the mysterious Mr. Clean in Russo's book (p. 26):
All I recall is that Mr. Clean was a big black dude with a shaved head and (I think) an earring. He looked like the Mr. Clean commercials of the day. the girl singer (on the record) was also unknown to me. It was one of those things where these people came in the studio with Frank, cut a record, and were never seen again.
After the release of Joe's XMASage (2005), Greg Russo mentioned this on the Idiot Bastard Son (Of T'Mershi Duween) site:
We DO in fact know who Mr. Clean was: Lee Davis—leader of Mr. Lee And The Exotics and Mr. Clean & The Cleansers. Both acts were based in Seattle, Washington. Davis had a shaved head and did wear an earring!
And Charles Ulrich pointed up recently to this quote from L.A. R&B Vocal Groups 1945-1965, by Steve Propes & Galen Gart (p.118):
He was in reality a black vocalist by the name of Bob Davis who may have hailed from the Ontario or San Gabriel areas east of Los Angeles. With a familiar background borrowed from RICHARD BERRY'S "Have Love Will Travel" (Flip 321), Mr. Clean's theme song featured strong vocal support from an uncredited female quartet comprising DOROTHY BERRY [Richard Berry's wife] and THE SWEETHEARTS. Zappa, who played guitar and drums and also sang bass on the session, told deejay Barry Hansen [Dr. Demento] in 1970 that Davis joined the Marine Corps shortly afterward, while Berry remembered him taking his act to small clubs in the L.A. area.
And this is Paul Buff again, now talking about "Jessie Lee" to Rev. Neve:
"Jessie Lee" songs and Ray Collins "Fountain of Love" were produced around the same time in Cucamonga. Either one could have been first. Nevertheless, I played the fuzz bass on both (Zappa loved the sound—I thought it was just ugly noise).
There were some more FZ contributions on production and engineering to releases recorded at Pal Recording Studio in those times, like The Tornadoes (you can read with full detail about them in Greg Russo's book, p. 26-29), and The Rotations. This is Bryan Thomas in the liner notes of Cucamonga:
With help from friend Dave Aerni, Buff produced, performed and recorded "Heavies" and "The Cruncher," (the latter featuring Mike Dineri on sax), which were released under the name The Rotations for Original Sound (OS 41).
And this is Greg Russo on his book (p. 27):
Upon meeting The Hollywood Tornadoes, Frank Zappa played "The Cruncher" for The Tornadoes and he told Roly Sanders that the guiro-like percussion sound running throughout the song came from Frank stroking his hair comb across the grid of a small heating unit at Pal Studios. This was his only performance on the single. He also told Sanders that it was recorded about six months before [December, 1962], but it was actually more like four months.
There is also a lot of unreleased stuff and some stuff released recently like the mentioned Fountain Of Love version with Paul Buff on fuzz bass that has appeared in The Lost Episodes, and the original version of Any Way The Wind Blows from the same album, both of them probably recorded around the same time, and Deseri, which appeared in The Grandmothers' Looking Up Granny's Dress (1982), and that was probably recorded way back in 1962. On that album Ronnie Williams is credited with guitar, and FZ with drums. This is Ray Collins interviewed by Dave Porter talking about that song:
Paul Buff owned Studio Z in Cucamonga before Frank took it, and he had a track with no vocal, and it was sort of like a Four Seasons foot-stomp background kind of a track, and he didn't know exactly what to do with it, so I said, "Well, give it to me, I'll take it home and write a song," and so I wrote "Deseri" on top of it. And like we were talking about earlier, I believe the original old version is better than The Mothers' "too clean" version.

I think Francis Vincent Zappa [is the drummer], if I remember right. He's on foot-stomps, too. Or shoe-stomps—I think he didn't use his feet, just his shoes.
Mount St. Mary's College
Meanwhile, FZ found time to rehearse a pick-up orchestra to play some of his orchestral music at Mount St. Mary's College, LA, on May 19, 1963. FZ on the Zappa! tribute special (1992):
I spent $300 and got together a college orchestra, and I put on this little concert. Maybe less than a hundred people showed up for it, but the thing was actually taped and broadcast by KPFK.
This event is pretty well documented (program included) in the "Son of Revised" edition of Greg Russo's book (p. 31-32). Don Preston remembers it:
I have never heard that Zappa used tapes and film projections with that concert. What I remember is that he wrote a score for 4 orchestras to be performed at the same time using 4 conductors in that concert. I was not involved in that concert.
One of the musicians involved in that concert was trumpetist Malcolm McNab, who later worked with Zappa on several projects. He talks about this one in the liner notes of Wazoo (Vaulternative Records, 2007):
In 1963 I performed in a concert at Mount Saint Mary's College in Brentwood where he performed a piece, supervising several sub-conductors and fronting the ensemble with an amplified zither played with a soup spoon.
The Sin City Boys/Loeb & Leopold
Some time around 1962 or 1963 (or even 1964, who knows), FZ & Ray Collins had a duo to terrorize the folk scene. This is FZ interviewed by Pulse! in 1993:
Even before I had this wonderful band called the Mothers, Ray Collins and I used to piddle around in Pomona doing gigs where the two of us would do parodies of folk songs. We sang "Puff the Magic Dragon" as "Joe the Puny Greaser," and we played a perverted version of "The Streets of Laredo" called "The Streets of Fontana." We weren't setting out to make any kind of impact on people. We were just doing it for a laugh, to have fun. If it amused someone else, good. If it didn't, who gives a fuck.
This is FZ at KPPC, November, 1968:
You know, "Memories Of El Monte" was co-written by Ray Collins and myself, and a long time ago, 'bout the same time "Memories Of El Monte" was written, he and I worked at The Troubadour on 'talent night' as Loeb & Leopold. And we went down there and were singing songs about pimples and all kinds of other far out things that seemed like uh, well, that was the basis of some of the things The Mothers eventually wound up doing.
And this is Greg Russo on his book (p. 34):
[Ray Collins] and Frank Zappa had recently appeared in clubs as The Sin City Boys, performing parodies of recent popular folk songs. For example, Peter, Paul & Mary's "Puff The Magic Dragon" became "Joe The Puny Greaser," and the folk standard "the Streets Of Laredo" became "the Streets Of Fontana" in their hands. At the Troubadour in L.A., Zappa and Collins renamed themselves once again as Loeb & Leopold during the club's Talent Night.
The song "The Streets Of Fontana" is also noted in the article about the infamous bust (see ahead) on the Daily Report from Ontario in March, 1965:
Among Zappa's completed musical scores were such titles as "Memories of El Monte," and "Streets of Fontana."

The latter, written before several utility companies had forsaken the budding composer, opens:

'Sweeping Streets'

"As I was out sweeping the streets of Fontana.
As I was out sweeping Fontana one day.
I spied in the gutter a moldy banana.
And with the peeling I started to play . . . "
Original article & compilation by Román García Albertos © 2003
http://globalia.net/donlope/fz/
This page updated: 2015-08-08