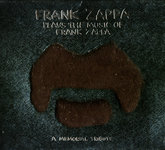 Frank Zappa Plays The Music Of Frank Zappa. A Memorial Tribute
(Frank Zappa, CD, Barking Pumpkin UMRK 02, October 31, 1996)
Produced by Dweezil Zappa
Executive producer: Gail Zappa
Mix engineers: Spencer Chrislu and Frank Zappa
Sequenced and edited by Dweezil Zappa and Spencer Chrislu
Mastered by Spencer Chrislu
Analog tape resuscitation by Dave Dondorf & Spencer Chrislu
Vault meistering and research: Joe Travers
Preliminary research: Mike Keneally
Liner notes: Dweezil Zappa
Hair displacement guidance: Ahmet Zappa
Art direction and design: Tracy Veal
Cover manuscript art by Matt Groening
1. Black Napkins
7:10
Ljubljana, Yugoslavia
November 22, 1975
FZ—lead guitar
Terry Bozzio—drums
Napoleon Murphy Brock—vocals
Norma Bell—vocals
André Lewis—keyboards
Roy Estrada—bass
FZ: Thank you! Now this is a, this is an instrumental song, it's a tender, slow-moving ballad sort of a song, that carries with it the implied message that the complete woman must also have an asshole.
4. Merely A Blues In A
7:26
includes a quotation from Baby It's Cold Outside (Loesser)
Palais des Sports, Paris, France
September 27, 1974
FZ—guitar
Chester Thompson—drums
Tom Fowler—bass
Napoleon Murphy Brock—tenor sax and vocals
George Duke—keyboards and vocals
FZ: Alright, look here folks: We're gonna play another song for ya, but, uh . . .
Napoleon: Well . . .
(FZ: Sharp! A blues in G.)
(Napoleon: Blues in G?)
(FZ: No, in A. Hah?) Merely a blues in A, folks.
Oh, Yeah-uh.
Talk about it.
FZ: Goodnight.
Baby, it's cold outside.
It's up to your knees outside.
Baby, you're gonna freeze outside.
(Cold, yeahuh.
Can y'all feel it?)
Take your clothes off and you'll freeze your balls off outside.
Oh, lord, oh.
Oh, lord, lord, lord, lord,
Wow!!
6. Watermelon In Easter Hay
6:41
Rhein-Neckar Stadion, Eppelheim, Germany
February 24, 1978
FZ—lead guitar, voice
Terry Bozzio—drums
Patrick O'Hearn—bass
Tommy Mars—keyboards
Peter Wolf—keyboards
Ed Mann—percussion
Adrian Belew—rhythm guitar
This is the CENTRAL SCRUTINIZER . . . Joe has just worked himself into an imaginary frenzy during the fade-out of his imaginary song . . . He begins to feel depressed now. He knows the end is near.
7. Watermelon In Easter Hay "Joe's Garage" album version
8:42

FZ—lead guitar, voice
Vinnie Colaiuta—drums/optometric abandon
Arthur Barrow—bass
Peter Wolf—keyboards
Ed Mann—percussion
Warren Cuccurullo—rhythm guitar

He has realized at last that imaginary guitar notes and imaginary vocals exist only in the imagination of The Imaginer . . . and . . . ultimately, who gives a fuck anyway? . . . So . . . So . . . Excuse me . . . Ha ha ha! Mm-mh . . . So . . . Ha ha ha . . . Ha ha ha! Who gives a fuck anyway? So he goes back to his ugly little room and quietly dreams his last imaginary guitar solo . . .

Good night . . .

All compositions by Frank Zappa except as noted
Site maintained by Román García Albertos
http://globalia.net/donlope/fz/
Transcription for new material by Patrick Neve
This page updated: 2019-08-30