Trout Mask Replica
(Captain Beefheart & His Magic Band, 2LP, Straight STS 1053, June 16, 1969)
Produced by Frank Zappa
Arranged by Don Van Vliet
Engineered by Dick Kunc
Special electronic modifications on Captain Beefheart's band equipment by Dick Kunc
Album design/Photography: Cal Schenkel
Photography: Ed Caraeff
Drawings by The Mascara Snake
Musicians:
Captain Beefheart (Don Van Vliet)—guitar, harmonica, bass clarinet, simran horn, mussette, tenor sax, soprano sax, vocal
Rockette Morton (Mark Boston)—bass, guitar, vocals, narration
Drumbo (John French)—drums
Jerry Handley—bass
Zoot Horn Rollo (Bill Harkleroad)—glass finger guitar, flute
The Mascara Snake (Victor Hayden)—clarinet, bass clarinet, vocal
Douglas Moon—guitar on China Pig
Antennae Jimmy Semens (Jeff Cotton)—steel-appendage guitar
+
Gary "Magik" Marker—bass
Captain Beefheart plays tenor & soprano sax simultaneously on Ant Man Bee, simran horn & musette on Neon Meate Dream; Antennae Jimmy Semens sings lead vocal on Pena & plays flesh horn on Ella Guru; special guest artist Doug Moon plays guitar on China Pig.
---
Notes & Comments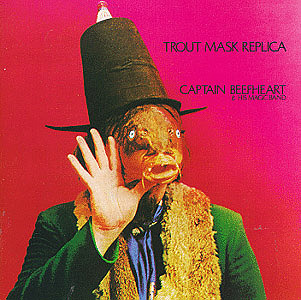 2LP, Straight STS 1053, June 16, 1969

2LP, Straight/Reprise 2MS 2027, February 9, 1970

CD, Reprise 2027-2, March 14, 1989



The Composing & Recording Sessions
Alex Duke and Rob DeNunzio, "Our Day With Zoot Horn Rollo," Hi-Fi Mundo, 1997
Alex: So how did that work, starting with "Trout Mask Replica".

Zoot: 80% of it was done by him kinda beating the shit out of a piano, in a rhythmic sense, and having no idea what any of those black and white things were on the piano. And John French, the drummer, transcribed it, notated it all, and would dole out the parts to the players. So he had a concept of being away from tonality, but using rhythm as the main input, because that's what he had to offer, right—being a non-musician. So John would transcribe it, and then in the process of us working with John to get the parts, you know, when there were seven notes, you'd scratch your head and say, "Well, how do I do seven notes with six strings?" So then we would invert things and mess around, and try to keep it as close to what he played—for what reason, to tell you the truth, I'm not sure, because he didn't know what he played after he played it.

Alex: So when you were working on the parts, was he there, or did he just sort of . . .

Zoot: No, he would bang the parts out and go to bed and sleep.

Alex: So you'd figure out how to do it, and then he'd come back, and then you would all record it?

Zoot: No, then we would practice it for nine months.
The Cover Art
Calvin Schenkel interviewed by Steven Cerio, Seconds #32, 1995
I don't remember whose idea it was to do what we did but I would say it was a collaborative thing. The way it came about, I went and found this carp head at some fish market. We took it back to my studio, which was the same place that I did the Uncle Meat cover—another very interesting thing that happened there was the cover for the Wild Man Fischer album—andI took this trout head and hollowed it out—the thing stank like hell—and Don had to hold it up to his face for a couple of hours while we shot. [...] He was really good-natured about it all. I have this incredible piece of 8mm film of him playing the baritone sax through the trout head. It was like an actual animated version of that cover. That was when I first met him and we had a lot of interesting conversations about art, philosophy and reality. He would come by when I was working on the cover and we would hang out and talk.