THE MASTERS: Breaktime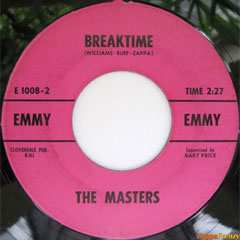 FZ interviewed by Barry Miles, September 13, 1970
The first record I ever made was called "Breaktime," by a group called The Masters, which was me and Paul Buff and Ronnie Williams, who is playing drums and bass on the thing, it was an overdub deal.
knepo (Zappateers, November 27, 2010)
I was just adding the other two Masters singles to ZappaFrenzy. I used the liner notes from The Masters—Singles & Rarities album to check the release years. Then i noticed this about Sixteen Tons/Breaktime:
"In May 1961, Buff invited Zappa to co-write something at Pal for the record's B-side. Buff, Williams and Zappa came up with "Breaktime." The record was released as Emmy E-1008 in June 1961."
The Masters started out as Paul Buff, lead guitarist Ronnie Williams and rhythm guitarist Johnny Fisher. After releasing the single "T Bone"/"Sunday Blues," The Masters were just Buff and Williams on multi-tracked parts. The only exception was "Breaktime," a mid-1961 track that was co-written by Buff, Williams and guitarist Frank Zappa, a friend of Ronnie Williams who first came to Pal Recording Studios in late 1960. [...]

THE MASTERS: Breaktime (2:26)
(Ronald Williams-Paul Conrad Buff-Frank Zappa)
Personnel: Paul Buff (piano); Ronnie Williams (drums, bass); Frank Zappa (lead guitar; rhythm guitar)
Producer: Paul Buff
Engineer: Paul Buff
Recorded: May 1961
Original Release: June 1961 as Emmy E-1008-2 (B-side)

[...] "Breaktime" was an exciting performance by Williams (drums and bass), Zappa (multiple guitar parts) and Buff (piano). The piano, drums and one of Zappa's guitar tracks were laid down first, with Zappa and Williams overdubs following thereafter.
THE PENGUINS: Memories Of El Monte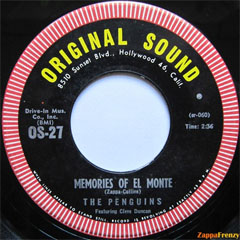 Another early success for Frank Zappa was "Memories Of El Monte," which he co-wrote with Ray Collins for The Penguins. Zappa and Collins signed their publishing agreement for the song on August 23, 1962, but the record was not released until February 1963. Cleve Duncan was the only real Penguins member on board, but no matter. It's a well-known and classic song of the period that recalls the shows that Art Laboe put on at the Legion Coliseum in El Monte, California. Cleve Duncan took the lead with Walter Saulsberry plus The Viceroys providing backup. The song mentions The Five Satins' "In The Still Of The Night" and parts of "You Cheated" (The Shields), "A Thousand Miles Away" (The Heartbeats), "The Letter" (The Medallions), "Cherry Pie" (Marvin & Johnny), "Nite Owl" (Tony Allen) and of course "Earth Angel." Zappa made sure to play on the song he co-wrote, using the vibes at Laboe's studio. [...]

THE PENGUINS: Memories Of El Monte (Single Mix) (2:41)
(Frank Zappa-Raymond Eugene Collins) Drive-In Music Co., BMI
Personnel: Cleve Duncan (lead vocal); Walter Saulsberry (backing vocals); James Conwell (backing vocals); Andrew "Jack" White (backing vocals); Charles Jones (backing vocals); Oliver Williams (backing vocals); Herbert White (backing vocals); Frank Zappa (vibes); other personnel unknown
Producer: Art Laboe
Engineer: Paul Buff
Recorded: January 1963 at Original Sound Recording Studios, Hollywood, CA
Original Release: February 20, 1963 as Original Sound OS-27
Ray Collins, interviewed by Steve Propes, KLON, August 13, 1989
That was released on Donna Records, a Del-Fi subsidiary. We just sat down one day. I believe the "Oldies But Goodies" albums weren't even out. I think the "Memories of El Monte" album was first, wasn't it?. From the title of that album, Frank said he and a friend of his had thought of writing a song from that title, so I just sat down at the piano and said, "Let's do it." So we did it. We sat down, and I remember the first line coming out, "I'm all alone, feeling so blue." Then we wrote it, and—actually, Art Laboe's responsible for adding in the different groups' names and The Penguins' impersonating those different groups.
I'd like to say that Ray Collins and myself wrote that tune a long time ago, and we started hassling it all over town in Los Angeles. This is [...], and we wanted to be teen-age songwriters, and I think it was the first teen-age song that I ever wrote, I thought, "God, I like this stuff so much, and it must be so easy to write those kind of songs." But we really sweated our buns when trying to get it together and make it really swell, so it wound up taken to of all people, Art Laboe, and he says, "Well, I got a group, I got this group called The Penguins, you know, they made 'Earth Angel,' you know, and a few of them are working at the car wash, but I can get them down here to sing this tune." So he actually brought their Penguins, or he purported this people to be The Penguins, to the recording studio, and introduced them to us, and we showed them how the song went, and they sort of liked it, and it took about two or three months to actually get into finally have a session and record the tune. They recorded it, and they put it out on the market, and it sold about four thousand copies in New York, and nobody in El Monte wanted to even know about it, you know, they forget it. They don't like to be reminded that they live in El Monte, I guess.
It features lead singer Cleve Duncan of the original Penguins (their big hit was the original of "Earth Angel") but for "Memories Of El Monte," Zappa told Mick Watts, "the rest of those Penguins were just a bunch of guys from the car wash."
In this case, the Penguins were the Viceroys. Original Sound's Paul Politi noted, Art Laboe "would take Cleve and put the Viceroys behind them," causing some to incorrectly assume this was a pseudonym for the Penguins. With Cleve Duncan singing lead and doing the talking part, they next recorded as the Penguins on the anthemic "Memories Of El Monte" (Original Sound 27) in 1963. That song's writer "Frank Zappa was a young kid, hanging around the studio, (always) trying to sell songs."
Cleve Duncan, backed by a reconstituted Penguins (Walter Saulsberry and a group called The Viceroys), included the song ["Earth Angel"] in the popular 1961 medley single "Memories of El Monte," produced by Frank Zappa.
Steve Propes & Galen Gart, L.A. R&B Vocal Groups 1945-1965, Big Nickel Publications, 2001
THE VICEROYS (vocal quintet). Consisting of James Conwell, Andrew "Jack" White, Charles Jones, Oliver Williams, and Herbert White, this group attended Jefferson and Cathedral High Schools in Los Angeles . . .

[Art] Laboe paired Cleve Duncan, original lead singer of THE PENGUINS, with The Viceroys as the backing group, and had them perform at live appearances under The Penguins' name. It was this group which recorded "Memories of El Monte" (Original Sound 27) for Laboe's label in 1963. The song, whose nostalgic theme celebrated the famous live shows held at El Monte's Legion Stadium, was the first significant tune written by future rock star Frank Zappa, whom Conwell remembered as a "young kid hanging around the studio, trying to sell songs."
Actually I got a BMI statement on "Memories Of El Monte" for 27 cents.
My ASCAP royalty cheque for "Memories of El Monte" was 75 cents.
And the Medallions with "The Letter" and . . .
"Sweet words of pizmotality . . ."
One song was "The Letter," [Vernon] Green's attempt to conjure up his dream woman. The mystery words, J.K. [Fabian] ascertained after talking with Green, were "puppetutes" and "pizmotality." (Green wasn't much for writing things down, so the spellings are approximate.)

"Pizmotality described words of such secrecy that they could only be spoken to the one you loved," Green told [Jon] Cryer. And puppetutes? "A term I coined to mean a secret paper-doll fantasy figure [thus puppet], who would be my everything and bear my children."
BABY RAY & THE FERNS: How's Your Bird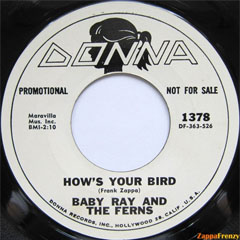 Ray Collins, interviewed by Steve Propes, August 13, 1989
I told Frank, "Well, I've got this idea for a song called How's Yer Bird? from the—it was a Steve Allen saying, and so Frank said, "Oh, great idea! I have access to a studio in Cucamonga. Maybe we'll get together and do it." So he called me up a couple of days later(we exchanged phone numbers, obviously), and he said, "I have written the song, How's Yer Bird?" So he said, "Would you like to record it?" I said, "Yeah, of course," so we went up to Studio Z and we did How's Yer Bird? with Dick Barber, "Gnarler," on snorts and vocal noises.

As a matter of fact, the band is called "Baby Ray and The Ferns," and Steve Allen used to say, "How's yer fern?" too, along with "How's yer bird." I was always a big Steve Allen fan. Still am.

[Who was in that group?] Frank, Paul Buff, who owned the studio at the time in Cucamonga, PAL Studio, as you call it, and myself—and Dick Barber was the gnarly-snarler-snort-sound-maker on "How's Yer Bird." I believe that was it. Maybe you recall the guy's name who Frank made "Heavies" with? And a couple of surf records? David or somebody? Dave Aerni.
Ray Collins, quoted in the liner notes of Rare Meat (1983)
I told him about an idea I had for song. "How's your bird?" was an expression that Steve Allen used to use on his TV show. One day Frank called me up and said, "I wrote it, let's record it." So we did.
I wasn't aware of Dick Barber—aka the snorker, and have to take full credit for myself being the godfather of snorks and other such early Zappa noises.
Uh, how's your fern?
I've always felt that I was an entertainer. Since in High School, no even before that, in Junior High School.

I think the first thing that I did that gave me a clue that I had a career as an entertainer ahead of me was when I was forced to give a lecture in a science class on ferns and got a lot of laughs. Of course, I wasn't trying to be funny, but it was nice experience 'cause all I had to do was talk about ferns and deliver the facts in my own way and people laughed and that was good, so I went on from there.
BOB GUY: Dear Jeepers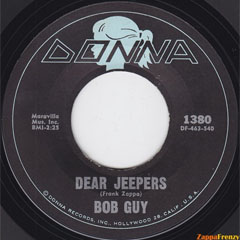 Bob Guy was the host of a popular local TV show (on Channel 13), Jeeper's Creepers, which showed horror films every Saturday night at 10 pm. At the show's opening, Guy would emerge from a coffin, and would do skits in the course of the program. One weekly feature of the show was the reading of a fan letter to Jeepers, and it was this very thing that "Dear Jeepers" sought to capitalize on. [...] He was in fact the program director at Channel 13. Guy hosted the Jeepers show from September 62 through April 63. He was replaced by a succession of hosts, most famously Ghoulardi.
Bob Guy was a local horror TV host who wanted to make a record. Zappa let him recite over-loaded monster-movie type letters to and from Count Dracula, over primitive rock vamps. Legend has it that the Guy came driving up to the studio in black sunglasses, a white suit, and/or a white Cadillac.
For some reason, Ray Collins has claimed that Dick Barber did the snorks on this record. No way—Barber wasn't even on the scene until years later! Remember, Paul Buff snorked all over the place!
THE HEARTBREAKERS: Everytime I See You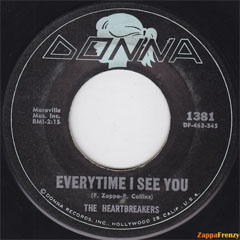 Brothers, Benny & Joe Rodriguez were born in El Paso, Texas. When Benny was 14 and Joe was 12, they moved to East Los Angeles where Benny attended Roosevelt High School. They were discovered by Billy Cardenas (more on Billy later) who was the manager of the group, the Romancers. The Romancers were under contract to producer Bob Keane. At Paul Buff's Pal Studio in Rancho Cucamonga, California they recorded "Cradle Rock" and "Everytime I See You". "Cradle Rock" was a re-make of a song recorded by the Rhythm Heirs on the Yucca label in 1959. The flip side "Everytime I See You" was co-written by Frank Zappa and Ray Collins (of Little Julian Herrera & The Tigers). The record was released on the Donna label (Donna 1381).
Ray Collins, interviewed by Steve Propes (1989)
I had nothing to do with that session, I wasn't there. Frank and I sat down at the same piano in his house in Ontario, and wrote "Everytime I See You," and then he just came one day and said these guys The Heartbreakers, had done the song in Cucamonga.
Ray Collins, interviewed by Dave Porter (1989)
You know, I didn't really know much about those guys. I think I met them at the Cucamonga studio. But Frank and I had just written "Everytime I See You"—strangely enough, both of those were written on his piano at his home in Ontario, "Everytime I See You" and "Memories of El Monte." I can picture us both sitting there at his piano writing them. And he just gave it to the Hartbreakers, I don't know whether they ever had anything else out or what.
The Heartbreakers were an East LA brother duo in the mold of Johnnie and Joe. The misconception about this session is that the backup band was The Romancers, the first of the important East LA bands to emerge in the sixties. Actually, it was a band made up of a couple of Romancers, a Blendell (saxophonist Don Cardenas), and other musicians active on the East LA scene. Another common—and understandable—misconception is that FZ took the guitar solo. The clear influence of Johnny "Guitar" Watson indicate this, but the fantastic little break was played by the Romancers lead guitarist, Andy Tesso (with whom I have played frequently, and he's still fantastic). Also, this session was not cut at Studio Z, but at a more luxuriant facility—Stereo Masters, right in the heart of Hollywood. This may well have been the first non-film score date where FZ produced but didn't play.
As for the California-based Heartbreakers, this pair of Mexican 14-year olds wandered into Pal Studios to follow-up on their 1962 "Corrida Mash" single on Brent. [...] Frank Zappa's only instrumental contribution was piano on the A-side "Everytime I See You," which he wrote with Ray Collins.
In 1963, The Romancers (Max Uballez, rhythm guitar; Andy Tesso, lead guitar; Chris Pasqual, bass; Armando Mora, tenor sax; and Manuel Mosqueda, drums) showed up to record for Del-Fi Records [...].

On one memorable Del-Fi session, when the Heartbreakers recorded the Frank Zappa song "Every Time I See You," the Romancers backed them up with Zappa on lead guitar.
Bruce Whitaker, May, 2003
Max Uballez recently told me that Zappa played the lead guitar parts on "Every Time I See You." I believe that it is unmistakable Zappa guitar work, and I've read where people have speculated about him doing it after the fact as an over dub, but according to Max, Zappa came into the studio and played with them on just that one song because, as Max put it, "It was his song and wanted to be sure to play on it."
Max Uballez, January and February, 2004
Don [Cardenas] Gomez and Andy Tesso were not on the session. Andy Tesso only played on the two instrumental albums released on Delfi and Selma records. Frank did the solo, and piano was Richard Provincio, romancer lead guitar at the time. I played rhythm guitar.

It was Cucamonga. This was the second session we did out in Cucamonga. We were sent there by Bob Keene. I recorded a single for Bob Keene, "Rock Little Darling," released on Donna Records a few weeks prior.

We learned the song in the studio. Frank played it for us on the piano. We went there to record "Cradle Rock." We tracked the song a few times. Bob Keene sent us there, he was not there during the recording. It was like, get in there, do the recording, listen to the play back, let's roll. Just another gig. No official producer per se.

I was working with Bob Keene. I had a contract with Del-Fi at the time. I have a copy of the Brent recording. "Corrida Mash" was produced by "Bumps" Blackwell, who also produced Little Richard.

[The Hearbreakers] were brothers Benny and Joe Rodriguez. "Cradle Rock" was written by a girl. I think her name was Vangie Gallegos.
BRIAN LORD & THE MIDNIGHTERS: The Big Surfer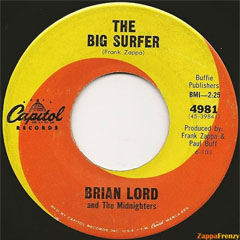 FZ on Rolling Stone, 1988
During that period of time, which was roughly '61, '62, there were these things called novelty records, you know? Like "Please, Mr. Custer." Radio still had a slight sense of humor. So if you could do a novelty record, the chances were you could lease it to a record company. I wrote one, and Paul and I leased the master to Capitol for the unheard-of sum of a $700 advance. I mean, that was a whopper. And the reason was because this record looked like it was gonna be unbelievably hot. You know why? It was called "The Big Surfer," and what it was, it was a guy—a San Bernardino disc jockey named Brian Lord—who could do Kennedy's voice better than Kennedy. It was like a take-off on the First Family album, where Kennedy is judging a surf contest. And totally produced—sound effects, the whole business, okay? The unfortunate part of the record was the punchline: the winner of the contest got an all-expense-paid trip as the first member of the Peace Corps to be sent to Alabama. Well, shortly after we signed the contract, Medgar Evers got killed, and Capitol refused to release the record.
THE HOLLYWOOD PERSUADERS: Grunion Run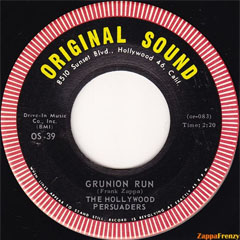 "Tijuana Surf" (with Paul multitracking himself) became a long-running number-one record in Mexico. I wrote and played guitar on the B side, an instrumental called "Grunion Run." It was released on Original Sound under the name of the Hollywood Persuaders.
FZ: I wrote a couple more [songs] that [Original Sound] put out, but all of them bombed except, one called "Grunion Run," which was the B-side of a tune called "Tijuana Surf," which was written by Paul Buff who is the engineer there now. "Tijuana Surf" sold somewhere between five and eight thousand copies in Fresno but was eating it elsewhere in the United States. Then some wise dude said, "This is the kind of record that would be big in Mexico," so they released it and it sold 150,000 copies and was Number 1 in Mexico for 17 weeks.

LC: Did you ever get paid?

FZ, Are you kidding? Actually I got a BMI statement on "Memories Of El Monte" for 27 cents.
"Grunion Run" was a little ahead of its time because of the technique of the fuzztone stuff used in there. The fuzztone used on the guitar on this record was a homemade number. Before they were commercially available, Paul Buff, the electronic wizard who is now the recording engineer at Original Sound records for Art Laboe in Los Angeles, had manufactured this little homemade cheapy fuzztone by accident. He tried to make a transistor amplifier, he didn't know what he was doing, and found that every thing you plugged into it distorted like crazy, so he started running everything through it, the bass, the guitar, you know.
RON ROMAN: Love Of My Life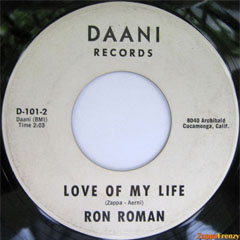 [It was done by] a guy named Dave Aerni. I remember recording it, Aerni was manager and probably found Roman. Ron Roman was possibly Hispanic. Backing him are probably Johnny Williams and Ronnie Williams, both great guitar players. [...] That's Ray Collins of the Mothers on falsetto.
I barely remember working with Frank on the chord progression on the song, and I believe the words in the song. Ron Roman is probably Frank Zappa or Ray Collins. Paul Buff's Pal Recording Studio was one of the first multi-tracked recording studios in the world, and we had 5 tracks to record with. So the back-up group was any or all of us who happened to be there. I believe it was one of the labels the studio had.
Bassist Dave Aerni, an early Zappa ally who is present on several Studio Z-era sessions, issued the single. It has been suggested that these lyrics were not the correct ones and that Frank was not around when Ron Roman put his vocal on.
Charles Ulrich (May 23, 2010)
The music and the real lyrics of "Love Of My Life" were written by FZ alone. For the Ron Roman b-side, Dave Aerni changed the lyrics and credited the song to Zappa/Aerni.
Ray Collins (KLON, August 13, 1989)
I think Dave Aerni recorded Ron Roman's voice on top of a track that Frank and I and Paul Buff had done already that already existed, so I'm on there doing falsetto and background vocals.
Dawayne Bailey (affz, July 9, 2003):
[FZ] said Dave Aerni ripped him off by releasing it without his permission. He also said that despite the fact that the label said "Zappa-Aerni" that Dave didn't write anything. He also said that he had the original recording at his house with Ray Collins' original lead vocals. He said he played drums, fuzz bass and guitar and Paul Buff played keyboards.