Taban Szinpada
June 30, 1991
"Zappapest"
Magyar TV 2
43 min.
FZ in Budapest, 6/30/91. From video of Bucse festival, Frank plays with Hungarian band & conducts interview.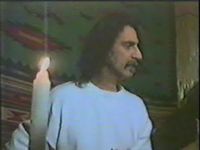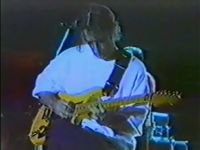 ---
"ZAPPApest" (26:54 min., TV2, Hungary, 1991), hosted by Richard Rifkin, includes scenes of FZ arriving at Budapest, on a ship, first part of an interview with FZ talking about his trips to Russia and Prague, interviews with Demszky Gábor, Kóbor János, FZ & Gail's visit to Bige József, FZ attending a street concert of classical music (including short interviews with Földessy Dalma and Tóth László), FZ arriving at Taban, an interview with Gail Zappa, the concert at Taban, second part of the interview with FZ talking about the Ensemble Modern project and running for president, a short backstage interview with FZ; also includes footage from The Dub Room Special! (1982) (including "Flakes");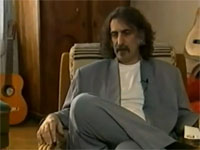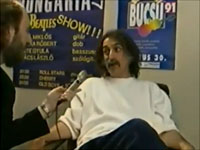 ---
From: Istvan Fekete
Taban Szinpada
6/30/91

Budapest
--------
'Taban' was the location of the concert. It is a part of Budapest where the houses were demolished at the beginning of the 20th century. Now it is an empty hillside which is sometimes used for open-air concerts. Szinpad = stage. 'Taban szinpada' would be 'stage of the Taban'. Neil Slaven in his book gives the location wrongly as 'at the Tabanban'. 'Tabanban' means 'at the Taban'.

The band consisted of FZ and 4 hungarian (gypsy) jazz musicians who were invited to support FZ. So this was a different setup to Prague.

There was a soundcheck in the morning, where they played for about 15 minutes. In the evening, FZ was introduced by mayor Gabor Demszky who had invited him to Budapest for the Summer Festival. Then Frank said the song they're going to play will be called 'One of a kind'. They jammed for about 20 minutes, and they came back for a 10 minute encore. That was it. Frank didn't play too much, most of the time he left the band play (or conducted it) and waited for the right moment to join them. My favorite is the soundcheck, but his other solos are worth a listen too. His guitar sounded really beautiful.

This performance hasn't been officially released. Yet. (Oops, I didn't say anything ;-).) Anyway, I have it all on video along with what was shown on TV in a program titled 'Zappapest': a cruise on the Danube, Frank (and Gail) visiting an old man demonstrating some traditional hungarian instruments, Frank talking about running for president (and admitting he doesn't have a real big chance: 'George Bush has more balloons than I'.), etc. (Looks like Clinton had 99 balloons :-) more than Bush.)

Istvan Fekete
Hungary
From: Eddie Persson
The show.

Me and my ex-girlfriend were in Budapest on holiday. One day downtown Budapest I saw a poster that said "Taban jazzfestival, with special guest Frank Zappa". I didn't beleve it! I ran around in recordstores and tried to find out if it was true. It was, everybody I spoke to told me that it was the truth. I couldn't belive it anyway.

Anyway, my girlfriend and I went to the park where the show was going to be. A stage was built and we were the first people in the audience. It was abuot 10 o'clock AM. A couple of hungaryan freaks came. They had FZ t-shirts on so I felt more sure that it really was true. I tried to speak with them but they didn't understand so much english. At least I understood that this is going to happen, FZ is in town! they showed me pictures of FZ from the airport the night before.

By noon, things started to happen. Movement backstage, people were beginning to get excited, something was going on. Suddenly people ran backstage to welcome FZ as he was getting out of the limo. He entered the stage, as the king that he was, and the soundcheck started. All my pictures is from the soundcheck. There were four musicans on stage excluding FZ. Drummer, base, keyboard and another guitarist. They were all Hungarian jazzmusicans. Gail Zappa stood at the side of the stage during the soundcheck and so did the bodyguard from the 88-tour (Dave?).

FZ left again and there were nothing to do but wait for the concert to begin. The festival started of with a lot of jazz-groups and FZ was the big event that night.

After a very, very, very long time he came!

He and the band from the soundcheck didn't play any FZ-tunes. The band was playing in the background and our common friend played the solo guitar. I cried.

I tried to take some pictures but I had no flash so they didn't get so well. The FZ-gig were about an hour long and then it was over. After the concert I went up to the stage and found one of FZ's smoked cigarettes. I took it as a memory of him and I still have it.
From: Guus Veldhuis
Subject: Re: ? about 91' Bussev Festival jam w/FZ
I think it was called the pech festival
From: Istvan Fekete
It was called Budapesti Bucsu (both u's in the second word should have an accent (Bu'csu')—if you have the video, you can see the name displayed on a board in front of the stage), i.e. Budapest Kermis, which has been held every summer for the last 10 years or so.

There are all kinds of music, theater and other events all through the city—the FZ jam was just one of these.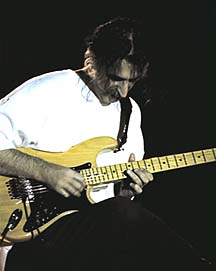 ---
We had used to play in Merlin Theatre's jazz club those days, and the organizer told us one day "Guess what, Demszky invited Frank Zappa to Budapest, he's already arrived and will come down this evening". He was already told about us, about our group, as it was made up then by Szakcsi on keyboards, Egri on bass, Babos on guitar and me on drums. The organizer guy asked us, what about choosing us to play with him...?

So he came down, [...] and then we played music for a while. "You are the ones", he said, "so we're gonna play tomorrow". [...] Someone came up with the idea of having a short rehearsal the other day. "Right", he said, "it's not that important, but anyway, let's do it". [...]

We went out to the Tabán, at about 11 a.m., the stage was just being built, there was no audience yet only some people walking up and down in the park; well, we said, let's give it a try then. It was just a kind of jam-session of course; playing his music was out of question as we would've needed much more than 10-15 minutes in that case [...]. We had a chat, we played several rythmic and harmonic schemes—it was damned good, just playing around.

That was all very well, but! Useless to say, in the evening concert we didn't play a hint of what we had rehearsed in the morning... [...] So we went up to stage, I was sitting quite far from him, on a kind of a small platform, down there was Szakcsi sitting, then Egri, and right in front there was Frank with Babos behind him. There he was, with his cigarettes put among the guitar strings all the time. [...] We kept an eye on him, on his gestures—he wanted to show that the music should flow freely, like a permanent humming noise. By this he wanted to imitate the withdrawal of the soviet military troops from Hungary. It was a march-like tempo. We couldn't talk to each other, he was quite far away, but during the decades of the professional career one gets used to be able to accompany somone only by seeing his hair moving. I can even follow a singer if I can't hear him just see him taking breath. So I kept watching his foot clapping the rythm, I followed the tempo, we started to play...

He conducted like a mime does—and then a wonderful thing happened. I still cannot understand this even today—this is quite a particular thing, but you'll see what I mean. We played in 4/4, you know this kind of rhythm. We changed it here and there, to a more rock-like style—then suddenly he showed us the palm of his hand wide open, with the five straight fingers. Well, one could've thought that he wanted to catch a fly, or say farewell...

He meant a 5/4 rythm. 5/4! Just by showing this, we changed to 5/4. I started it, this was my task as a drummer. And it worked perfectly. It went on like knife cutting the butter. Even today I can't recall for how long it lasted—30 minutes, or an hour? I swear I could never tell how much we played, for me it was like a whole life, or one hundred years.

It was just marvellous.
---
additional informants: Brian Lagerman, Javier Marcote

YouTube: Frank Zappa & Big "pipe" József, 1991 in Budapest, Hungary (3:32 min.) · Frank Zappa & Politic '91 in Budapest (8:46 min.) · Frank Zappa—(1.) Tabán 1991, in Budapest, Hungary (3:57 min.) · Frank Zappa—(2.) Tabán 1991, in Budapest, Hungary (9:31 min.) · Frank Zappa in Hungary 1991 june 28-30., Budapest, Taban (31:24 min.) · Frank Zappa in Hungary 1991 june 28-30., Budapest (13:51 min.)

Maintained by Román García Albertos
http://globalia.net/donlope/fz/
This section formerly maintained by Reverend Neve
This dog last modified: 2015-07-19