Derailroaded. Inside The Mind Of Larry "Wild Man" Fischer
Premiere:
March 13, 2005
SXSW Festival
Austin Convention Center, Austin, TX
86 min.
Includes footage from:
---
Cast & Crew
Featuring:
Wild Man Fischer
Frank Zappa
Bill Mumy
Weird Al Yankovic
Mark Mothersbaugh of Devo
Dr. Demento
Gail Zappa
Solomon Burke
Original music by:
Wild Man Fischer
Director of phtography: Bryan Newman
Editor: Howard Leder
Edited by Josh Rubin and Jeremy Lubin
Produced by Jeremy Lubin
Directed by Josh Rubin
---
Links
---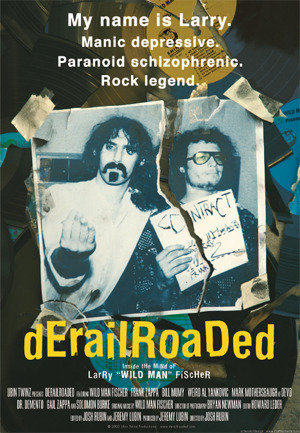 ---
DVD
Plexi 802
2006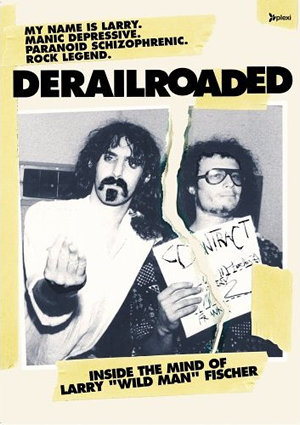 ---
Comments
From the official press kit:
de·rail·road·ed (di rāl'rōd ed) pt., a neologism; one man's psycholinguistic and schizo-musical metaphor for derailed, to have caused a train, mind or life to go off the tracks

In this shocking and sensitive 86-minute journey through the thunderstorms of the mind of paranoid-schizophrenic Larry "Wild Man" Fischer, we follow his discordant encounters in the music business. Institutionalized at 16 after attacking his mother with a knife, Fischer wandered the mean streets of L.A. singing his totally unique brand of songs for 10¢ to passersby. Discovered by Frank Zappa, with whom he cut his first record album, Fischer became an underground club and concert favorite, earning him the title of "godfather of outsider music." Over the course of 40 years, he appeared on national television ( Rowan & Martin's Laugh-in ) and the Top 50 music charts in England, was the subject of his own comic book, was the first artist to be recorded on Rhino Records, and sang a duet with the late Rosemary Clooney.

Extensive archival footage from Fischer's early days, including his TV and club performances, trace his life from neglected child to tortured genius. We visit him at home, follow him on the streets, and speak with those who over the years witnessed—and survived—his erratic behavior: his family, his doctor, and industry professionals (including Frank and Gail Zappa, Weird Al Yankovic, Devo's Mark Mothersbaugh, Solomon Burke, Dr. Demento, and Billy Mumy). You will be moved, amazed, repelled, and ultimately come to know what it is like to be profoundly DERAILROADED.
Showings
Due to overwhelming demand, Ubin Twinz Productions is proud to announce the CABLE PREMIERE of:

DERAILROADED
Inside the Mind of Larry "Wild Man" Fischer

MONDAY MARCH 5th [2007] @ 9PM on
THE SUNDANCE CHANNEL
Maintained by Román García Albertos
http://globalia.net/donlope/fz/
This section formerly maintained by Reverend Neve
This dog last modified: 2012-11-14