Lucille Has Messed My Mind Up
(Jeff Simmons, LP, Straight/Reprise RS 6391, February 9, 1970)
Appian Way

2:30

Zondo Zondo

1:49

Madame Du Barry

2:42

I'm In The Music Business

4:05

Raye

4:40

Wonderful Wino

2:56

Tigres

3:14

Aqueous Humore

3:28

Conversations With A Recluse

3:51
Produced by La marr Bruister & Chris Huston
Recorded at Mystic & Whitney studios
Engineer: Chris Huston
Director of Engineering for Bizarre/Straight: Dick Kunc
Master of Bizarre & Straight Business Also: Herb Cohen
Design & Photography: John Williams
Jeff Simmons electric bass, piano, organ, accordion & vocals
Craig Tarwater guitars
Ian Underwood saxophones
Ron Woods drums, tambourines & maracas
FZ lead guitar on "Lucille" and "Raye"
John Kehlior drums on "Lucille" and "Raye"
5. Lucille Has Messed My Mind Up
Lucille
Has messed my mind up
But I still love her
Oh I still love her
Lucille
Has messed my mind up
But I still need her
You know I need her
Whatcha tryna doota me
Whatcha tryna doota me
Whatcha tryna doota me
You got me goin' outa my mind
Lucille
Has tore my heart up
But I still love her
I really love her
Lucille
Has tore my heart up
But I still want her
I really want her
She treats me like my heart
Is made of stone
She runs around
And leaves me home alone
She doesn't answer
When I call her on the phone
She messed up my mind
I'm cryin' alla the time
Lucille
Has messed my mind up
But I still love her
I still love her
Lucille
Has tore my heart up
But I still want her
Hey, I still love her
Lucille
Has tore my heart up
But I still need her
I really need her, baby
Oh, Lucille
Has tore my heart up
But you know I still love her . . .
7. Wonderful Wino
L.A. in the summer of '69
I went downtown and bought some wine
Wasted my head on three quarts of juice
And now the grapes won't turn me loose
I'm a wino man
Don't you know I am?
36, 24, hips about 30
I seen a fine lady and I start talkin' dirty
She looked at me and raised her thumb
And said: "Jam down the road, you funky-ass bum"
I'm a wino man
Don't you know I am?
I, I went to the country
And while I was gone
A roller-headed lady
Caught me weedling on her lawn
I'm so ashamed, but I'm a wino man
I can't help myself
HELP ME SOMEBODY!
My saxophone playing
And my wino career are in a slump
'Cause I find myself now living
In a cardboard refrigerator box down by the Houston dump
And I'm so ashamed
I've been drinkin' all night and my eyes are all in red
Crashed in the gutter and bugs in my head
Bugs in my clothes, been scratchin' like a dog
I can't stand water, and I stink like a hog
Give me fi-i-ive bucks and a hot meal
Give me FIVE bucks and a hot meal
Oh, maybe an overcoat or two
---
Notes & Comments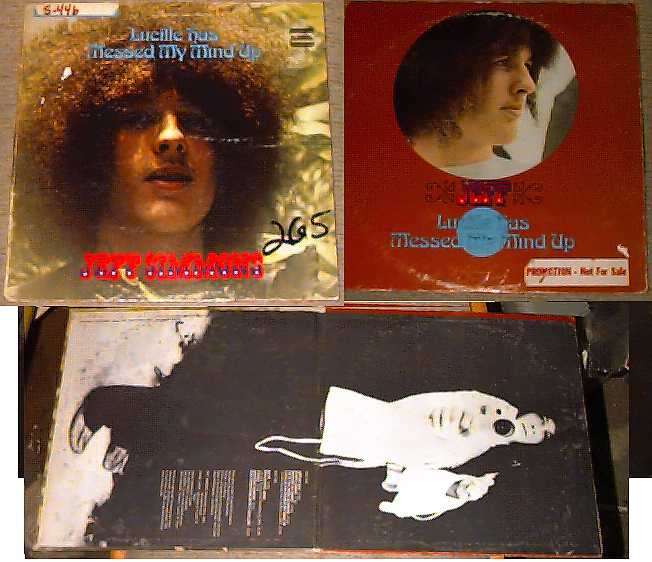 LP, Straight/Reprise RS 6391, February 9, 1970

8-Track, Reprise 8RM-6391, 1970

LP, Straight STS 1057, February 16, 1970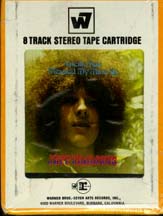 What About This Album?
RDNZL88
There's an online auction of old records at letitbe.com, and I saw a copy of Jeff Simmons' "lucille has messed my mind up" LP on straight records (or was it bizarre...I forgot). Anyway they were asking for a minimum bid of $50.00. Figured somebody here might be interested. By the way, anybody know anything about this album? Is it any good, or is it just a Hard-Core's curiosity?
Patrick Neve
It's both. The music in its own right is not bad at all, it's pretty decent bluesy psychedelic sounding stuff. My favorite song is "I'm In The Music Business". It involves losing all of one's money while trying make a career in the music industry, and resorting to roles in porno films to make ends meet. Then out of nowhere, Jeff sings, "Ah, I need a sandwich." For some reason I find this very funny.
Zappa Involvement
Patrick Neve
The stuff of interest to Zappa fans are:
1. Includes the songs "Lucille has messed my mind up" and "Wonderful Wino", both of which are good versions.
2. Frank plays guitar on "Lucille" and "Raye."
3. It's produced by FZ
4. Ian Underwood is on it.
Simmons is from Seattle, on the West Coast, and began playing bass in 1967, and had a band of his own in his town called Easy Chair, with a two-guitar/bass/drums line-up.

He met Zappa when Easy Chair played a gig with the Mothers in Seattle, after which they gigged at the Tropicana Motor Hotel in Los Angeles.

Then he made the album, with several friends including guitarist Craig Tarwater, formerly a member of San Francisco bands The Daily Flash and the Sons of Adam, and drummer Ron Woods, who was with Buddy Miles and is now with Pacific Gas and Electric.

"Frank helped me to finish the album," he says. "He played on a couple of tunes, 'Raye' and the title cut, and you might say he re-produced it after we'd done quite a lot." Frank is credited on the sleeve under the name "LaMar Bruister " for contractual reasons. Jeff's verdict is: "Some of it's good and some is a little too sensitive, you know, that philoso-rock bullshit."

The band broke up after the album, however, because of hassles with the Bizarre management, and Jeff joined the Mothers this summer, appearing with them at the Bath Festival.
"I was producing an album for a guy named Jeff Simmons," he recalls, "and I changed my name to Lamar Brewster for the record jacket. The reason I changed my name was because he was doing something that, well, maybe it had some radio potential. It wasn't commercial, but it had potential to go into radio. Everybody felt that if my name wasn't on it—even though I did the work—he'd have a better chance."
The Recording Sessions
Chris Huston
What can I tell you? This album was recorded at Mystic, my studio in Hollywood. It was the same room that I also did some of Led Zepplin's second album in. Also, the H.P. Lovecraft "Mountains of Madness" and Screaming Lord Sutch with Jeff Beck.

Jeff Simmons was great to work with and very talented as were Ron Wood and Ian Underwood. My favorite song was "Appian Way" (after a little road that runs along the top ridge of the Hollywood Hills. overlooking the Sunset Strip and West L.A. The album was recorded on a 16 track Ampex MM1000 (one of the first big multi-tracks and real a dog of a tape machine). The sessions were easy-going and fun. Everything was fun back in the '60's. This was the time when the music still ran the business. Now, unfortunately, the business runs the music. The only negative memory that I have of the project was that I loaned Craig Tarwater two of my Gibson guitars. One was a beautiful ES175. He pawned them. I didn't find out until it was too late to redeem them and they had already been sold—Bummer! I still haven't caught up with him. I'm suprised to find a copy of the album displayed on the Internet after all this time.
When I went to Herb [Cohen] with the completed album he was heard to remark: "If I want instrumentals . . . I'll listen to Mantovani!! Get back in the ##$%% studio!!" But I never went back to Mystic . . . in fact I was so broke and things looked bleak . . . so I bought a pack of Winstons . . . and went to Frank's pad and played him the record . . . at some point I got up enough courage to blurt out: "Frank can I borrow $100 bucks?" He filled his cheeks with Winston smoke and replied: "Gail make Jeff some spagetti!"

I guess he had enjoyed what he heard because he grabbed his guitar and showed me "Lucille HMMMU" and said "I'll help you finish this album and you can sing my song."

We went to Whitney Studios in Burbank . . . cut Lucille and Raye (why he liked that I'll never know it makes me cringe) plus we on the spot wrote the lyrics to "Wino Man" (for which Craig [Tarwater] kinda got "Shemped") and changed my instr, to "Music Biz."
Re-Release
J.L. Simmons
Dear Patrick, With Rhino Handmade poised to re-release STS1057 and Naked Angels online, I feel the time is right for me to say, "Send $17.95 and I won't master or release my second album".
---
The Original Soundtrack From Naked Angels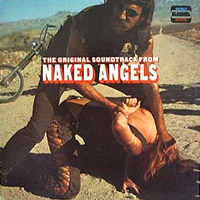 NAKED ANGELS / Original Sound Track
Music by Jeffrey Simmons and Randy Steirling
Music Production by Randy Steirling
Technical Production and Engineering by Chris Huston
Mixing and Editing by Barry Keene and Randy Steirling
Photography by Karl Leopold Metzenberg
Graphics by John Williams
Recorded at Mystic Studios, Hollywood, California
All selections copyrighted for the world by Bizarre Music, Inc. (BMI) 1969
Naked Angels Theme 4:10
Ride Into Vegas 1:16
Vegas Boogie 3:05
Vegas Pickup 4:05
Cop Out 1:12
First Desert Ride 1:45
Rank 2:00
Boinin' (Third Ride) 3:32
Scots Breath 1:40
Rat Grind 2:05
Bar Dream 3:36
Camper Scene 2:25
Toccata for Truck 3:35
End Theme 1:12
unionman (January 21, 2007)
Jeff Simmons OST album for Naked Angels has been reissued on CD in the UK on Fallout FOCD 2035.
---
Jeff Simmons The Straight Years
WIS-1035/36 JEFF SIMMONS—(THE STRAIGHT YEARS) NAKED ANGELS SOUNDTRACK & LUCILLE HAS MESSED MY MIND UP (US 1969) 2CD

This 2CD set presents the Straight label years of Zappa's multitalented "sideman", Jeff Simmons. In 1968 in Seattle Frank Zappa was in the audience after his sound check, and was listening to "Easy Chair", Jeff's group (soon to be released on WIS). Fascinated by his talent, Jeff was signed for Straight records. Both albums, "Lucille Has Messed My Mind Up" and "Naked Angels" were recorded in 1969 and have been produced by Chris Huston (Led Zeppelin II, Undertakers, Young Rascals) CD #1 The Lucille album was co-produced by Frank Zappa under the synonym "La Marr Bruister", who wrote the title track, played lead guitar on two tracks and co-wrote "Wonderful Wino". Lucille contains 10 catchy and heavy Blues-Rock and Folk cuts, Jeff is "playing a hard-driven and groovy bass, piano, organ and accordion and singing in a stly similar to that of Jack Bruce with Cream. Simmons presented a brace of strong, harmonically sophisticated songs that have some of the explosive, multi-hued impact of the Jimi Hendrix Experience.

"No one knows it... not even him... but someday that kid's gonna be a great R&B singer" (Frank Zappa). Jeff was in the Mothers of Invention at the time of 200 Motels and also played rhythm guitar on Waka/Jawaka and clown about with Frank and George Duke on Roxy & Elsewhere. -----CD #2 Naked Angels, a soundtrack for a biker movie is a sequence of mostly instrumentals that combine melody and fuzz guitar; heavy, psychedelicate surf-rock.

This 2 CD-set presents in a 20p. booklet with all original artwork, lots of memorabilia from Jeff's vaults (posters, cool photos, linernotes). The music was carefully re-mastered to sound today as fresh as it was 20 years ago, plus 2 bonustracks. Lucille was rated in Mojo Magazine as the 2nd best release on Straight Records... Strange Things Art Magazine mentions it as "the closest in execution to contemporary Mothers", but Jeff's individual talent made this album to an all time masterpiece. Never has a musician in psychedelic Rock 'n Roll captured the essence of deep emotion and soul like the "sideman"!
Additional informant: Charles Ulrich

Site maintained by Román García Albertos
http://globalia.net/donlope/fz/
Original transcription by Román
Corrections and additions by Charles Ulrich
This page updated: 2017-11-01