Zappa Illness
Jon Naurin
'Tis the Season to be Jelly: Stockholm 1967, from an FM broadcast in 1979. Excellent sound, but not too interesting performance. FZ is sick and absent most of the time.
Joe Franks
Most likely, FZ was playing guitar for the entire show. Now if it was Ian Underwood playing Guitar (which it very well could be I spose, maybe I'll listen to it again) fine, I stand corrected. But I'm pretty sure that's Frank playing Rhythm Guitar on King Kong. I don't know about the pop covers, but Frank makes random appearences throughout the CD.
This show was televised or broadcast on radio, so Zappa tried to play even though he was very ill. He soon left the stage, however, and the band carried on without him. What remains is not a very good performance at all.
The Cover Drawing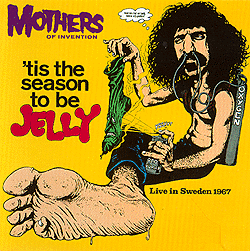 The color cover shows a caricature of Zappa with a huge right foot, spraying a sweaty sock with deodorant, thinking "Warum tut es weh, wenn ich pinkle?" (German for "Why does it hurt when I pee?"). Back cover has a short story called 'Tis the Season to be Jelly by science fiction writer Richard Matheson, beginning "Pa's nose fell off at breakfast, it fell right into Ma's coffee and displaced it" (a line which later became the title of another bootleg). Artwork for re-issues completely unkown.
Kristian Kier
If this is the painting where Zappa is sitting on the floor with an oxygene tank on his back, this painting is (was) part of a comic strip here in Germany. One of the painter of the "U-Comix" made a comic about the song Stinkfoot way back in the early eighties or maybe at the end of the seventies.
Christophe Gauthier
The drawing of "'Tis the Season to be Jelly" (at least for the BTB version) is a defacement of a french cartoon made during the 70's. It is featured in a comic stip book called "Pop & Rock & Colegram", by Jean Sole (main cartoonist), Alain Dister (author/translator) and Marcel Gotlib (additional cartoonist). Solé (sorry if you can't get the accute accent, we french people have such weird habits) drawed images for Stinkfoot, and this one is the opening image. If you compare the cover and the original drawing, it's clear that some little alterations have been made.

The book also features drawings about some others 70's popstars like the Beatles, Genesis, Pink Floyd, Roxy Music, or musical movements like punk, disco or Krautrock (german progressive music).

Also, Marcel Gotlib made a comic strip book named "Hamster Jovial et ses Louveteaux", a parody of a scout chef who discovers pop music. There's a page dedicated to Zappa (Hamster Jovial listening to Penis Dimension), and another one about Beefheart (where he tries to sing a boy scout song with a "I Wanna Booglarize You Babe"-like voice). The centerfold features some parodies of album covers of the 70s, among them 200 Motels (re-titled 200 Hamsters), The Spotlight Kid (re-titled "Captain Hamster—The Jovial Kid") ; IMHO, the best one goes to the fake King Crimson's In The Court Of The Crimson King cover.
Stentor
I also heard somewhere that the artist who did the painting for "'Tis The Season To Be Jelly" tried to sue Zappa, who basically laughed and said "Yeah, right."
JMK, June 10, 2006
It is absolutely wrong [that the artist tried to sue Zappa]. The 4 pages strip by Jean Solé (the artist) was published in "Fluide Glacial" #3, 4th quarter 1975.

In a 1992 reprint of his work ("Melodimages"), Jean Solé says about this picture, "recently, I had the surprise to see that this drawing has been used for the cover art of a bootleg"

Jean Solé is a talented artist who really loves music. He has done many wonderful drawing about musicians and songs. Here are some samples:
Record Covers Drawn/Desgined by Comic Artists: Jean Solé [France]

No way Jean Solé would sue Frank Zappa for using one of his drawing for a cover (he would have been very honoured). Moreover, I don't think Zappa would have use a work of somebody else without asking. And finally, 'tis the season is NOT a record produced by Zappa (tho it has been integrated in a beat the boot later).

The comment made by Stentor is really not serious and makes no sense at all.
Solé, Fluïde Glacial #3, 3rd quarter 1975 (thanks to JMK)

Panther organs ad, c. 1968