FZ & The Chieftains
We play together here nearly every time they're in town and I love the sounds these guys make. I love the melodies, the chord changes and especially they way their music is performed. Each member of the group is expert on his instrument, not just in terms of technique, but in terms of the concept they have of what the final ensemble product is supposed to sound like. That is something you are only going to get with a group that has been together 30 years.

The Chieftains are their own culture and I hear traces of not only Celtic history but global history in their work, echoing back to the beginning of time. I've noticed that when they play here in my home with ethnic musicians from all over the world.
Bob Meyrick (quoted in Splat's Zappapage)
Reading through the page reminded me of an occasion about ten years ago, summer '89 or '90, when I was listening to the "Midweek" progamme on BBC Radio 4. This was hosted by Libby Purves and was the sort of show where various guests would come in to be interviewed about their latest book/film/play/record/whatever. Much to my surprise, FZ was one of the guests and he talked about his involvement with the then new government of Czechoslovakia led by Vaclav Havel, a noted Zappa fan. The Cheiftains were also on the show, promoting their latest project, and in the general discussion at the end of the show, I remember Frank suggesting that they get together to record something the next time they were in the States. Maybe that's where it all started...
Bill, a.f.f-z, September 24, 1997
Excerpt from "The Chieftains The Authorized Biography" by John Glatt, 1997 ISBN 0-312-16605-2

"In December, while the Chieftains were in Los Angeles on their 13-city US Christmas tour, Paddy Maloney called Gail Zappa to arrange to see Frank. Gail told him that Zappa was very ill but invited the Chieftains over for Sunday lunch.

"'Frank died the day before,' say Maloney. 'We heard the sad news and decided we would still go.'

"When they arrived Maloney commiserated with Gail and her two sons Dweezil and Ahmet and later they all went into Frank's studio to record a special tribute which is due out on a future album."
The Celtic Harp
(CD, RCA Victor 09026-61490-2, February 9, 1993)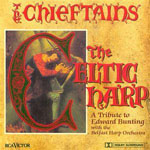 MacAllistrum's March-Máirseail Alasdroim—with the Belfast Harp Orchestra
Tribute To Bunting
The Parting Of Friends/Kerry Fling—Matt Molloy, flute solo
Planxty Bunting—with the Belfast Harp Orchestra
Madame Cole—Derek Bell, harp solo
The Blackbird
Táimse 'im Chodladh—Paddy Moloney, pipes solo
Sonny Grogan's Mazurkas—with the Belfast Harp Orchestra
The Wild Geese
The Green Fields Of America—Kevin Conneff, solo song
Carolan's Concerto—with the Belfast Harp Orchestra
The Lament For Limerick
Recorded in Windmill Lane Studios, Dublin, on August 25, 1992, and at UMRK, Los Angeles, on June 24, 1992, engineered by Spence Chrislu; Assistant engineer: Dave Dondorf · except: tracks 1 & 4 were recorded live at the National Concert Hall, Dublin, on May 23, 1992 and tracks 8 & 11 were recorded live at the Barbican Hall, London, on August 1, 1992.
Five of the tracks on this album were recorded in Frank Zappa's home studio before he died, 'The Green Fields of America' sung by Kevin Conneff being a personal favourite of his. Two months later, the album was completed in Windmill Lane Studios with The Belfast Harp Orchestra with whom they had played and recorded a very successful show in London's Barbican Centre a few months previously.

'The Celtic Harp' won a Grammy Award for 'Best Traditional Folk Album' in 1994.
May 23-August 25, 1992:
The Chieftains
Excerpts from the CD
The Celtic Harp: A Tribute to Edward Bunting
(Issued March 8, 1993)

Five tracks, including The Green Fields Of America, recorded at UMRK
The Long Black Veil
(CD, RCA Victor 09026-62702-2, January 24, 1995)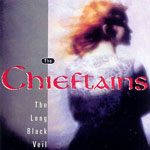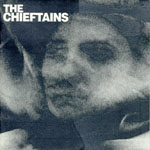 12. Tennesse Waltz / Tennesse Mazurka 3:58
with Tom Jones, vocals
(Redd Stewart-Pee Wee King) / (Paddy Moloney)

A most memorable session with our Celtic cousin, Mr. Tom Jones, recorded at the Zappas' residence under the bemused and watchful eye of Frank himself.
In memory of Frank Zappa
February 25, 1993—The Chieftains & Tom Jones at UMRK
Technically, what follows is not an interview at all, rather the result of an unplanned and hastily improvised conversation that took place in the Hollywood Hills, overlooking Los Angeles, on the morning after the Grammy Awards [the 35th Grammy Awards were held on February 24, 1993]. It also is a conversation which was conducted in relatively minor, muted tones with a visibly weakened and sallow-skinned Frank Zappa who, only moments before, had been forced to break away from a recording session with Tom Jones and the Chieftains. Taking Paddy Moloney to one side in the studio he'd quietly explained 'that because of the illness I have to go back my room.' Frank Zappa has been diagnosed as suffering from prostate cancer.

Even though he hadn't been producing the session, or playing on it, Zappa's presence was clearly felt by all, as he sat in an armchair in the control room soaking up the richly resonant tones of Jones singing Tennessee Waltz while Moloney, Martin Fay, Kevin Conneff, Matt Molloy, Derek Bell and Can Keane set the Welsh singer's voice back in the Celtic soil, where it belongs. [...] Zappa's innate musical talent is irrefutable. At one point during this session, when a particularly unyielding and tangled sequence of orchestrated notes was getting the better of Paddy Moloney, Zappa seemed to just breathe in that direction, gently suggesting 'why not try it this way?' and within minutes the music was flowing again.
Reuters article quoted in a.f.f-z, February 8, 1995
The oddest reunion, with Welsh pop balladeer [Tom] Jones, took place at Frank Zappa's in-home studio, Utility Muffin Research Kitchen. Zappa worked with the Chieftains during the last months of his life and sat in on this recording of "The Tennessee Waltz."

"That took the biscuits," said Moloney. "Tom is one of ours, and this was like going back to the Welsh pubs in the '60s. We were up at Frank's house and he was just sitting back watching us, puffing away on his cigarette."