FZ 1956-65
The Blackouts from Lancaster
The Zappa family came from San Diego to Lancaster "in the fall of 1956" (David Walley, No Commercial Potential, p. 20). Zappa entered the Antelope Valley High School, and there he formed his first band, The Blackouts. (I have tried before to figure out about the Blackouts, but that article is now obsolete, so here we go again).
Who were in the Blackouts is difficult to say. We've got some different and contradicting sources. First, FZ's own words in his book (The Real Frank Zappa Book, p. 45):
When I was in high school, in Lancaster, I formed my first band, the Black-Outs. (...) This was the only R&B band in the entire Mojave Desert at that time. Three of the guys (Johnny Franklin, Carter Franklin and Wayne Lyles) were black, the Salazar brothers were Mexican and Terry Wimberly represented the other oppressed peoples of the earth.
On page 16 of Greg Russo's book (Cosmik Debris: The Collected History And Improvisations Of Frank Zappa), there are two pictures with their correspondent captions:
The Blackouts (l. to r.): Wayne Lyles (with bongos), Frank Zappa (drums), John Franklin (sax), Ernie Thomas (trumpet), Dwight Bement (sax)

The Blackouts (clockwise): Dwight Bement, Ernie Thomas, Terry Wimberly, John Franklin, Frank Zappa, Wayne Lyles
Then on p. 15 he gives another list of members:
Zappa's next experience was with the eight-piece R&B band The Blackouts, formed in 1956 while he attended Antelope Valley. This band was unusual at the time, in that it was racially integrated—three blacks (Johnny Franklin, Carter Franklin and Wayne Lyles), two Mexicans (the Salazar brothers—horn player Fred and guitarist Wally) and three whites (Zappa, pianist Terry Wimberly and unofficial member Euclid James "Motorhead" Sherwood [born May 8, 1942 in Arkansas City, KS], who used to dance "The Bug" in front of the group). Sax player Dwight Bement (an original member), saxists Steve Wolfe and Jerry [Reutter] and trumpeter Ernie Thomas also made their way through the group during its lifetime.
Asked by Splat about the High School times, trumpet player Ernie Thomas said this:
Let me say that Frank and I got along OK. We played together in High School band and with our group called the Blackouts. As you probably know, Frank was an innovator. He created a thing called the "Bug." What we would do while playing, we would toss an imaginary "Bug" at people in our audience and they would go along with the "gag" and start doing this weird kind of dance, indicating that they were "overcome" with this bug thing. (...) Again, the only time I ever heard from Frank Zappa after graduating from High School was through mutual friends who stayed in touched with him.
Denny Walley, interviewed by Andrew Greenaway (The Idiot Bastard, August, 2008), remembers some of the singers:
The first time I ever heard a live band was in an assembly at Antelope Valley Joint Union High School (AVJUHS). The band was The Blackouts: Frank Zappa on drums; Terry Wimberly on piano; Fred Salizar on baritone sax; Fred's brother Wally on guitar; and three soulful vocalists, Henry Strawberry, Chuck Spencer, and a third singer whose name I don't recall at the moment but I will get it from my yearbook. At the time that was the first mixed band I or anyone else had EVER seen.
Alex Snouffer (quoted in the Grow Fins booklet) adds some more names to the list:
He [FZ] started his band, the Blackouts, and he had guys like Junior Madeo playing with him and Steve Wolfe, and Jerry [Reutter], and Johnny Franklin on horns, I forget who all was in the band.
The mention of Junior Madeo needs some clarification. On The Lost Episodes there's a track called The Blackouts, and in the liner notes of the album Rip Rense says:
Musicians:* WAYNE LYLES (vocal); TERRY WIMBERLY (piano); ELWOOD JR. MADEO (guitar); FZ (drums)

*It should be noted that Elwood Jr. Madeo was mentioned in The Real Frank Zappa Book as the leader of The Ramblers—not The Blackouts—and was in fact, according to a 1981 FZ interview, the guy who fired Frank for his cymbal work. (...) It can only be assumed that Madeo's inclusion is either an error by FZ, or that this is yet another version of The Blackouts.
In personal correspondance with Splat, Elwood Madeo Jr.'s own brother said that:
I remember when my bother, Elwood Madeo, Jr. fired Frank Zappa. Frank was great but he did often play too loud then. The band's name was The Ramblers (not the Black Outs). It was the best teen band in town (San Diego), and won all the battles of the bands except one. I think they lost to the Velvetones at the Palladium when that band featured two female singers that night.

It took a while before Frank persuaded El to let him join the band. It was during our teens and it was the first band Frank ever played in. Most of the time, they practiced in our garage.

El plays lead guitar, formed and was the leader of the Ramblers. I think the battle they lost was in 1959 at the Shrine Auditorium instead of the Palladium, I was there but I cant remember which. I'll find out. Those were memorable days, we were all so young in many ways. Frank had a lot of respect for Junior as a guitarist. Years later Frank flew him from San Francisco to Los Angeles several times for album recording session.
Then, the transcription of The Blackouts in The Lost Episodes is something like:
I'd just like to tell you about a little incident at Shrine Auditorium. See, we made the scene down there, we walked in, and this . . . this place is big! You know, real big, you know? An' everybody was gonna be—Louis Armstrong and his boys were gonna be there, and The Titans, and The Velvetones, and The Blackouts, so let me tell you about this scene . . .
Though The Ramblers and The Blackouts are known to have played together at least a couple of times (see the ad in the first picture above), it seems like Madeo was actually part of the Blackouts on that particular "battle of bands" at the Shrine Auditorium, which was probably the one they lost against The Velvetones. Johnny Franklin, quoted in John "Drumbo" French's book Beefheart: Through The Eyes Of Magic (2010), p. 43, talks about a picture taken that day in which he identifies at least nine people: Joe Adams (an LA DJ who later was to become Ray Charles' manager), himself, his brother Carter, his cousin Sonny (Freddy Louis, guitar), Wayne Lyles (spelled "Rawls"), Charles Reid (spelled "Reeves"), Junior Madeo, Ernie Thomas and FZ (the drummer).
This is probably the picture he mentions (from Splat's):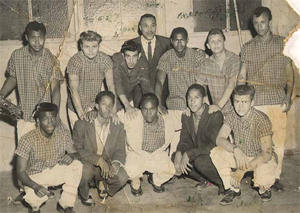 Let's take a closer look to some of those faces, to see if we can guess who they are. One of the easiest ones to identify is the one standing up on the left. He has a saxophone in his hand and he looks a lot like Johnny Franklin:


Probably his brother Carter is one of these two (the one third on the right standing up, or the one seated in the middle, though my vote would go to the last), and maybe cousin Sonny (Freddy Louis) is the other one:


Ernie Thomas seems to be the one seated on the left side:


Wayne Lyles, the bongo guy, must be the one seated second on the right side:


Then, we've got Terry Wimberly, of whom we have two pictures:


On a recent personal e-mail (February 13, 2007), Sharva Maynard has confirmed Terry Wimberly is the one on the left picture (second from left, top row on the big picture).

If Dwight Bement was there in that picture (I'm not so sure that he was there at those times, as he probably went to high school in San Diego, see next chapter), he should be the one sitting on the right, as he's the only one close to the other pictures of Bement:


But most probably Bement is not in the picture, as Sharva Maynard has identified this one (front row, right end on the big picture) as Jerry Reutter, sax player in The Blackouts. The man in the picture on the right, taken from a promo card of Tom Kendall And Gentrys, is definitely Dwight Bement, but the one on the left, from a picture of The Blackouts (see above) available on Greg Russo's book, is identified as Bement on the book, but most probably he's Jerry Reutter.
Standing up in the middle there are FZ and someone who formerly I thought would be a teacher at the school (but then I thought this picture was of the high school band mentioned by Ernie Thomas), but who most probably is Joe Adams, Ray Charles' future manager:


Here's an old picture of Adams which Charles Ulrich has recently found (June 25, 2010):
Jim Sherwood is not there, and Sharva Maynard has confirmed neither Fred or Wally Salazar are in the picture, so probably the other three players on the picture are Steve Wolfe (mentioned by Russo and Alex Snouffer), and the other two mentioned by Johnny Franklin: Charles Reid and Junior Madeo


The Blackouts' audience
One of the members of the Blackouts' audience was Bill Harkleroad aka Zoot Horn Rollo from The Magic Band (quoted by Joe Gore, Guitar Player Magazine):
One of the first bands I remember seeing live was the Blackouts with Frank on drums. When I was 14 or 15 and Frank and Don [Van Vliet] were in their early 20s, I started meeting them at jam sessions.
And once again, Bill Harkleroad (from "Zoot Horn Rollo. An Interview With Bill Harkleroad" by David Gabrielsen, DISCoveries vol.1 #7, December 1, 1988):
I grew up in the same town [as Don Van Vliet]. I used to see his group and Zappa, when he was just starting out, in a group called The Blackouts, playing dynamite blues guitar. They would rehearse in the Junior High gymnasium, and I'd sneak in and listen to them. Here were these old guys and a nineteen-year-old playing this blues music.
And this is from an anonymous e-Bay seller, an actual fan of the Blackouts at the time, who was selling her 1957 & 1958 High School Year Books, with included two pictures of FZ each:
Frank Zappa's band during high school was called The Blackouts, and they played fabulous down and dirty rhythm & blues. We loved it when they were allowed to play at assemblies. They didn't play too often because we students would go crazy with joy, and the faculty thought we were having way too much fun. We loved that band!

Frank Zappa's Blackouts were never allowed to play at evening high school dances because some of their music was just too suggestive for the faculty. So Frank organized his OWN dances at the town fairgrounds! Many of us girls were forbidden by our parents to attend the "wild" Blackouts dances, but of course we went anyway. The dances were great fun—the lights were low, the r&b music loud, rhythmic & wonderful, the dancing nonstop. And of course the local police always cruised by Frank Zappa's dances. After all, he was the town Bad Boy. Our own James Dean.

I didn't know Frank personally, but I loved his band, The Blackouts, and was disappointed that his band wasn't allowed to play for school dances. One Saturday in 1957, the boy who lived across the street brought Frank Zappa over to my house. They asked if they could play my piano. I said sure! Wow, to have a member of the infamous Blackouts play on MY piano! Yes! They came in and played music for a long time.
These are the two pictures of FZ with The Blackouts that appear in the 1957 Year Book. The people on the first one look like, from left to right, Jim Sherwood on baritone sax, Ernie Thomas, trumpet, Jerry Reutter, tenor sax, Johnny Franklin, alto sax, and FZ (as the seller claims) on piano:
The Blackouts, a Junior combo, play for one of the Junior assemblies. The group was headed by Frank Zappa.
On the other one we see, from left to right, apparantly Jim Sherwood on baritone sax, Johnny Franklin, alto sax, Jerry Reutter, tenor sax, Wayne Lyles (almost hidden), probably sit with his bongos, Terry Wimberly, piano, and FZ, drums:
The Blackouts entertain during a Junior assembly.
The first guitar, the graduation & The Omens
While FZ played drums in the Blackouts, he began playing guitar too. His first guitar was an old acoustic one. FZ talks about it in a Guitarist Magazine interview (June, 1993):
It had been kinda sandblasted! My brother got it for $1.50 at an auction and it was an archtop, f-hole, ugly motherfucker with the strings about a half-inch off the fingerboard. I liked it because it was so tinny-sounding. It was just an acoustic guitar, but it was moving closer to that wiry tone I liked with Johnny Guitar Watson, especially if you picked it right next to the bridge.
More about that guitar by Jim Sherwood (from "Motorhead Speaks: The 1993 Electric Yak Interview," by Billy James, T'Mershi Duween Magazine #31, June 1993):
Frank used to sit out on the front lawn at the high school when I was a freshman and he had this old beat-up guitar. It was an old acoustic, with the frets really high. It had been in a fire and was all burnt up. I think his uncle gave it to him. Frank used to sit out and play all the time, because he was in sophomore year (that's the second one in England) and didn't have any classes, so he'd sit out and play guitar most of the time.

I found out later on that Bobby Zappa was in one of my classes. Bobby found out that I collected blues records and he introduced me to Frank, and Frank and I sort of got together and swapped records. We've been friends ever since. This was in 1956.
Now, this is a picture from the 1958 High School Year Book, where FZ is seen playing another guitar, a Supro Dual Tone (thanks to Randy Albright for the identification—at first I thought it was the old acoustic one!), that I've never seen mentioned anywhere else. Maybe he borrowed it from someone:

Here's a picture of a 1960 Supro Dual Tone, manufactured by Valco, that I've found somewhere around there doing a web search:

Here is the famous picture of his graduation, from the same '58 year book:

Contrary to what is usually stated, the end of the Blackouts (or at least, the end of the career of FZ as their leader), came before the graduation. This is from a local newspaper from when FZ won the state painting competition (date unknown, c. 1958) reprinted in Russo's book (p. 17):
Highly versatile, young Zappa does not confine his artistic pursuits to painting although he will study at Idylwild this summer on a scholarship obtained through the good offices of Mrs. Amy Heydorn, Antelope Valley high school teacher under whom he has studied. Currently, he is in Shirley Eilers' class at the Lancaster high school.

He is presently engaged in writing a book, but his reply to a query as to whether painting or literature would be his chosen career was "Music."

A performer on the drums, vibes and guitar, he is the former leader of the jazz combo known as the Blackouts. But he enjoys musical composition, and his efforts along this line are on the classical level.
More about the end of the Blackouts by Jim Sherwood (T'Mershi Duween Magazine #31):
Frank had a band at that time called the Blackouts. I went over and saw them at the Moose Lodge or something, and the group disbanded right after that. Frank and Bobby moved down to Ontario, and I started playing with the band. We called it The Omens, and I was with them for quite a while.

Frank had formed a few groups down in Ontario, and he would come up for battles of the bands all the time. It was kind of a kick. It was mostly involved with swapping records. Frank was working at the record store, and we'd go down and try to get all the blues records we could before Frank got a hold of them.
Alex Snouffer again (Grow Fins booklet):
Then, I teamed up with (Terry) Wimberly (keyboardist). We formed the Omens ('58 or '59 through '62), essentially. I was LEAD guitar, right? (Laughs.) Then of course, the Salazar Brothers, Fred played horn and Wally, his brother played guitar, so me and Wally were an act. We had Stan Mitchell, and Fred Salazar and Pete Lovio, on tenor. Had Gary Burkey on alto, Jim Sherwood on baritone, David Griego on trumpet, Frank Lynch on trombone. And Pat Prue on drums . . . (We played) early Rhythm and Blues.
Gary Burkey also remembers The Omens (from a comment on The Captain Beefheart Radar Station, April 15, 2008):
I played with "Butch", the Salazar brothers, Terry Wimberly, Don van Vliet, Jim Sherwood, et al as a drummer in one of "The Omens" iterations prior to joining the Navy in the fall of 1960.
More about The Omens, courtesy of Sharva Maynard (on a personal e-mail, February 10, 2007):
I sang with the Omens during their time together . . . Many gigs around Antelope Valley in 1960-62. Jim Sherwood used to borrow my hairspray as we'd cruise out toward Pearblossom, Littlerock or some other obscure little burg around the valley. We did R&B, and "Louie Louie" was my song . . . can't remember how many times I sang THAT one. Terry Wimberly was on keyboards with Jim (I guess they called him Motorhead later) Sherwood on sax, with Fred of the Salazar brothers on sax too and Wally Salazar on guitar. Alex (we called him "Butch") Snoufer on lead guitar. Pat Prue was the drummer later on. I remember Don Vliet played too and we rehearsed in everyone's garage we could get our hands on. Loved it . . . (...) I remember the first time I sang with them they passed the hat after so I could get a little "bread" for my effort. I think they came up with ten bucks. Wow! . . . but I was all of sixteen or so then and thought the world was sweet indeed! That was at the old Exhibition Hall at the fairgrounds.
On the short FZ movie Burnt Weeny Sandwich there's some B&W footage of a band with matching suits featuring at least a pianist, a singer, a guitarist, and both tenor & baritone sax players. The baritone sax player is a short-haired Jim Sherwood, who puts his horn aside and begins dancing "The Bug." Parts of this footage also appear on the BBC The Late Show special from 1993.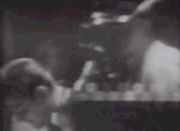 Pianist, Motorhead, a tenor sax and a guitar.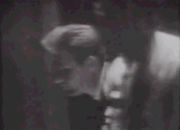 Pianist (Terry Wimberly?) and Motorhead.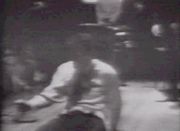 Motorhead has caught the bug.

This band can be either The Omens, the original 1957 Blackouts, or even the 1962 Blackouts (more about them later).

Original article & compilation by Román García Albertos © 2003
http://globalia.net/donlope/fz/
This page updated: 2015-09-03