You Are What You Eat
September, 1968
75 min.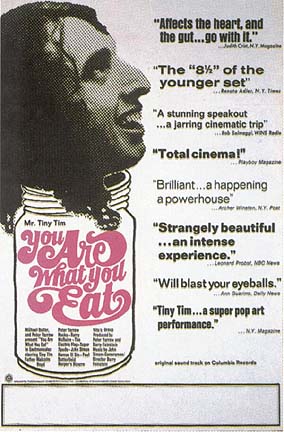 Cast & Crew
Directed by Barry Feinstein
Animal Huxley
Cape Crusader
Bobbi
Tiny Tim
Carol Wayne
Frank D. Porter
Jay & Joey
Leiber & Stoller
Bill Powell Jr.
Scott Ross
Goo
Jackie Lanvin
Kitten
Andy Yarrow
Haydée
Father Malcolm Boyd
Sophia
Arty Schlackman
Barry McGuire
Judy MacDonald
Hewland
Robie Robertson
Gabi Ulrich
Carl Franzoni
Dino
Peggy & Pam
Ted Markland
Green & Stone
Susan Kemp
Kyle
Hamsa El Din
Vito Sue & Godo
Rick Danko
Cyrus & Rene
Von Dutch
Linda Lawrence
Cathy Cozzi
Valerie Seluis
Tex's Motorcycle Gang
Paul Stookey
Woodstock N.Y.
John Court
"The Electric Flag"
Luana Anders
Lisa Law
Varroom
Greta Garbo House
Chet Helms
Little Patti
Eleanor & Barbara
Bonnie Dewberry
Michelle
Garth Hudson
John Giles
Frank Zappa
Harpers Bizarre
Frannie
John Herald
Tom Law
Sue Grayson
Beatle Bob & Karen
Del Close
Dave Dixson
Family Dog
David Crosby
Linda Moss
Paul Butterfield
Shellako
Countess St. John
Winona
Mary At A&R
Richard Manuel
Shelly Jaman
Rosko
Stanley Amos
Sundown Sundown
Larence Schmidt
Includes footage from:
Parts appear in: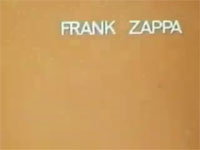 ---
Comments
With a grovin' 60's sound track this blast from the past is the quintessential 1960s counter-culture experience, capturing swinging lifestyles and trends, including be-ins, body painting, surfing, pot smokers, hippies, freak-outs, stoners and loners with the one and only Tiny Tim. Bonus feature: Theatrical trailers ; excerpt from "Rock stars '69 studio sessions." Photography, Barry Feinstein ; music score, John Simon ; music, Peter Yarrow, David Crosby, The Electric Flag, Frank Zappa, Barry McGuire, Paul Butterfield and others. Originally released in 1968. 75 min.
Barry Feinstein was married to Mary of Peter, Paul, & Mary. He later did 'You Are What You Eat', the movie. (...) He was a strange looking guy, he was bald-headed, had a broken nose, little pudgy guy with a lot of money and she was the money. Peter, Paul, & Mary gave him the money to do 'You Are What You Eat' and then dumped it.

If you ever get to see this movie you'll understand what 'freaks' are. It'll let you see the LA freaks, the San Francisco freaks, and the New York freaks. It was like a documentary and it was about the makings of what freaks were about. And it had a philosophy, a very definite philosophy.

That you're free-spirited, artistic; it went intoVito's studio, they did a piece on New York, it followed me most of the time except I didn't go to New York. But it followed me to San Francisco and some of the stuff we did there, and then we went into a place Greta Garbo's Home For Boys & Girls. It wasn't an acid house, it was a speed house. It had rooms and (laughs) there's a vignette he does in the lobby of this hotel and he's talking to some of these kids and they're so loaded they're (munchkin speedfreak blabber), y'know, he does a comp on them, and then they take us up to the roof and Peter did a song about Carl and about 'this is Carl and this is Maggie' and this is San Francisco and the camera pans in on us and the logo for the movie is my tongue. That's where the Rolling Stones got the idea for the tongue. They were gonna buy the movie then come out with the tongue with the idea of 'Why?'. But they declined to buy it because I talked to the bass player as a small movie showing at someone's house—no the one that's the craziest looking, the one they say is like the Mummy (Keith Richards), he was there and he was checking out the movie and he thought it was a fine movie. We had already had a preview at a preview house on Sunset Boulevard with one movie star after another, Tony Curtis came up and shook my hand, lots of people like that were there. There was a five minute ovation of clapping after the movie was shown. Steve McQueen refused to shake my hand. (...)

It played in third-rate houses, like I remember it opened on Fairfax and Pico.

(...) The movie 'You Are What You Eat' ended with us—Vito, myself, and a guy by the name of Sheldon Jaman who's one of my best friends, we're the same age. He was with Vito before me, he was a hairdresser in Beverly Hills. (...) The movie ends onstage with Frank Zappa in black light and strobes. So, you see us only in part, here and there and we're moving so fast it's almost an unbelievable thing that you're seeing. And the audience sees this crazy thing that's happening in front of them. This music, this powerful music, it's probably blues, I'm sure it's a blues number because it's as high as it can go and the flash of this light...Barry Feinstein is onstage with other cameras on the stage and they're shooting from all angles as this thing ends in 'You Are What You Eat'. (...)

Well, my tongue was noted in the movie 'You Are What You Eat', they used it as a logo. The Rolling Stones at the same time were coming out with a tongue and they didn't want to infringe on us—because the Rolling Stones are very straightfoward, right on people. They always have been that way. There's no bullshit about the Rolling Stones. That's why they're still together and that's why they can do whatever they've done. So they came to director Barry Feinstein and they said "Listen, we want to use the tongue as our logo. We're gonna buy your movie."

So they set up a meeting. I was in the screening room and they showed the movie and here's one of the Rolling Stones sitting next to me, checking the movie out. So he says afterwards "I think we'd like to buy this movie." I said "Wow, that's great." I didn't know why, I didn't understand why, but later on...they knew that we weren't gonna give them any shit if they used the tongue, you understand? When the movie came out in New York and in LA if you went to the front of this movie theater you saw a tongue 10 feet high. My mouth's got this tongue out and they do an elongated poster and it's got my tongue! So that was the story on the Rolling Stones so in my estimation the Rolling Stones are using my tongue as their logo. Or the idea of the tongue. Because if you see the movie, several times in the movie I'm sticking my tongue out.
From computeruser (June 30, 1999)
Has anyone here seen this film?

I just ran across an ad for this one.

it says:
"A montage of musical and cultural highs and lows capturing the more whimsical side of the 1960's rock scene. Novelty warbler Tiny Tim gets a good share of the spotlight here, but there are also appearances by more legitimate musical artists, including FRANK ZAPPA, The Jefferson Airplane, Paul Butterfield, David Crosby, Robbie Robertson and Rick Danko of The Band, Peter Yarrow, The Electric Flag and more. Director Barry Feinstein secured his counterculture credentials as a cameraman on Easy Rider and Monterey Pop."
From computeruser (March 16, 2000)
I finely decided to buy the "You are What You Eat" video. It contains an lot of footage of Carl Franzoni and Vito. Frank Zappa is shown playing Guitar on stage at a wild "Freak Out" concert Carl F. is in attendance and on stage.

The following names appear in the credits and are also on the Freak out list.

Tiny Tim
David Crosby
Barry McGuire
Animal Huxley

and from "The Mothers' Auxiliary "
Carl Franzoni
Vito

the film was produced and directed by Barry Feinstein.
From computeruser (July 25, 2000)
The FZ performance looks to be from a bar on the Hollywood strip. I am not convinced any of the music on the film is actually FZ. You can see Carl Franzoni freaking out (he's the one with the Gene Simmons tongue).

The person responsible for this film is Barry Feinstein who took some
photo's for "Absolutely Free".
HauntedStudios (YouTube user) (February 6, 2010)
This clip from You Are What You Eat is the best surviving examples of Vito's Dancers in action. This was shot when the Mothers were playing at The Shrine Auditorium in Los Angeles. The producers of the film could not get the rights to Zappa's music, so they replaced it with some Paul Butterfield stuff. No matter, this is classic Vito's Dancers.
Charles Ulrich (February 9, 2010)
Actually, the music in this clip is by the Electric Flag (featuring Mike Bloomfield, formerly of the Paul Butterfield Blues Band) and John Simon (producer of The Band, Big Brother, etc.). Paul Butterfield is heard elsewhere in the film, as is Tiny Tim (backed by The Band!).
---
For information about the album with the original soundtrack (no FZ content), check here:

Additional informant: Charles Ulrich

YouTube: Vito's Dancers Freak Out With The Mothers Of Invention (04:58 min.) · Painting For Freakout (07:19 min.)

Maintained by Román García Albertos
http://globalia.net/donlope/fz/
This section formerly maintained by Reverend Neve
This dog last modified: 2014-03-26