The Simpsons
Milhouse Guidry (January 22, 2002)
Furthermore, how come there's never been any concrete Zappa reference on The Simpsons?
Patrick Neve (January 22, 2002)
I'm convinced that in one variation of the opening sequence, Lisa plays a few bars of King Kong as she walks out of the classroom. I've seen it a couple of times now, but haven't managed to get a tape of it yet for group verification.
Patrick Boie (January 22, 2002)
i'll second that observation; i've seen it too. it is most certainly "king kong". i wish i could remember what episode it was in.
Gos (November 20, 2005)
Lisa plays some notes of King Kong (very fast) in these episodes:

AABF14 Simpsons Bible Stories—season 10
CABF01 Lisa the Tree Hugger—season 12
CABF02 The Computer Wore Menace Shoes—season 12
CABF06 Skinner's Sense of Snow—season 12
Francis P. Paquin (August 3, 2006)
There is actually a Mothers of Invention reference in the very last season of the simpsons ("The Girl Who Slept Too Little", Season 17, episode 02). At approximately 7 minutes and a half, you could see a sign in the entrance of the stamp museum that says "Fathers of Invention" in big letters. Over it, there is a graffiti saying "and Mothers". Therefore it says "Fathers (and Mothers) of Invention" ...
Speedy (affz, March 19, 2011)
Last weeks Simpsons with Cheech & Chong

At about 2:46 the Crawdaddy Magazine on the floor features FZ on the cover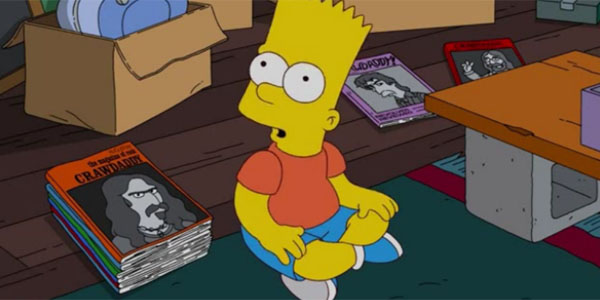 The Simpsons #480, Season 22, Episode 16, NABF09, "A Midsummer's Nice Dream," March 13, 2011—3:28

Maintained by Román García Albertos
http://globalia.net/donlope/fz/
This section formerly maintained by Reverend Neve
This dog last modified: 2012-11-14