The Steve Allen Show
March 14, 1963 (first aired on March 27, 1963)
ABC Channel 5
17 min. B&W
Appears on: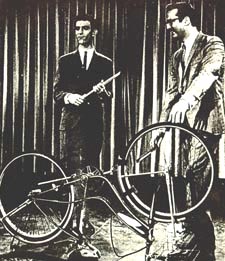 FZ—bicycle
Steve Allen—bicycle
Johnny Jacobs—poetry
+
Instrumental Ensemble
Pre-recorded Tape
---
Screen Shots
From David Willis (October 31, 2003)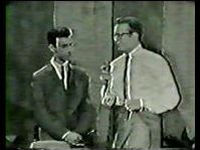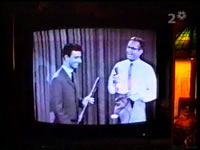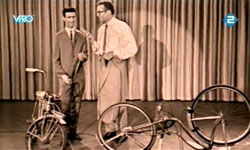 ---
YouTube: Steve Allen Show—Part 1 (07:49 min.) · Part 2 (08:30 min.)
---
Comments
In the early 60's when Frank was on the Steve Allen show, he was showing everyone how the bicycle was a musical instrument and the bike he used was mine!!
From: Robbert Heederik
Frank's first television appearance was in the early 60's on the Steve Allen Show. He played a "bicycle concerto".
From: Jay B.
Did anyone see the old Steve Allen show (w/ Zappa)?

It was a very young (high school aged) Frank playing a bicycle with the show's band. Frank looked real young and innocent without any facial hair. Does anyone know if the whole clip is available anywhere or know the year it took place?
From: AJ Wilkes
About fifteen minutes or more—from 1963. Zappa seems to start off quite shakily but once he's got in his plug about the movie he's making he relaxes and actually throws back some one liners to the stuff that Steve Allen says.

BTW—this is probably the only time I've ever seen FZ not 'in control' of an interview/performance. He seems quite humble compared to Steve Allen, who has a quick witted mind.
From: AJ Wilkes
Did FZ ever meet/appear with Steve Allen again after this?
From: John Henley
---
From: "R. Kane"
In praise of Steve Allen

Thanks to someone named "Robert" who posted the video of FZ's appearance on The Steve Allen Show into the 'alt.binaries.fz' newsgroup, I got to see this wonderful bit of archived entertainment. I saw it when it was originally broadcast and it stuck in my mind even though I knew nothing of Frank Zappa before then, or for a few years afterward, until I got turned on to "Help I'm A Rock" and other absurdities. After that I began buying his record albums in about 1968.

It is odd to see FZ in his clean-cut formative years before he freaked out and became somebody. In the video it seemed that Steverino was more "hip" than FZ although Frank rolled with the flow quite well and was not in any way intimidated by what was one of the biggest television celebrities of the era. It was also odd to hear Allen pronounce Frank's surname as "ZAH-pa" instead of the way we all say it, ZAP-pa.

I say "In praise of Steve Allen" although that is an overstatement. Television in that day was so much more innocent than today's tightly scripted and market-researched crap. "In Praise of Steve Allen and Television of the Early 1960s" might be more apppropriate. I don't recall how long each episode of The Steve Allen Show ran, but, I'd surmise 90-minutes (I could research it but I haven't) instead of 60 minutes as is popular these days.

I despise late night chat/variety shows these days because whenever there is a musical guest on them, unless a certified superstar individual or group, they are relegated to less than five minutes at the very end of the show. At that, quite often, a singular musician or stand-out member of the group MAY get to sit by the host's desk for an all too quick new-album plug.

"In Praise of Steve Allen and Television of the Early 1960s"....thanks to television programming of nearly four decades ago, and Steve Allen for actually being hip back then, to allow a full 20 minutes of air-time to some nearly indescribable individal with a taste for the bizarre to do his thing. Without that venue, without the innocence of television of the era, without the open-mindedness of a hip tv host in his prime, that early Frank Zappa television appearance would have never been broadcast.

By the way, what's the difference between "Louie Bellson drumsticks" and ordinary ones. They looked to be a bit fatter to me. Is that it? And why? Just more comfortable to play with by certain individuals?
---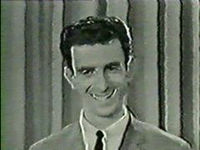 Maintained by Román García Albertos
http://globalia.net/donlope/fz/
This section formerly maintained by Reverend Neve
This dog last modified: 2013-02-11