Alaska: Outrage At Valdez
Release date: March 25, 1990
Formats:
VHS-NTSC (English)
VHS-NTSC (French)
Laserdisc
Time: 48 Minutes
Music: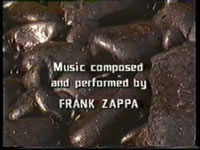 ---
---
Notes & Comments
From: Dave Jones
Jacques Cousteau's documentary on Alaska: outrage at Valdez when the supertanker Exxon Valdez ran aground & dumped 11 million gallons of crude oil in the Prince Williams sound & destroying its natural habitat, music was done for this film by Frank Zappa (I'm pretty sure this music by Frank was exclusive to this film documentary at the time it was done in 1990). 48 minutes extended play digital sound stereo.
From: Patrick Neve
Jean-Michael Cousteau, son of Jacques Cousteau, investigates first-hand the devastating impact of the U.S.'s largest oil spill. Frank produced the music for this film, it is all unreleased Synclavier music of very good quality. There was a Dutch radio broadcast of the music, which by itself lasts 14:18. But the film is moving, and worth owning in its own right, or for completionist sake. Up until recently it was still readily available from Bennett Marine Video, which was distributing the Cousteau films: http://www.cousteausociety.org

However I can't seem to find any mention of it online now. I ordered it from Bennett Marine Video by telephone. Here is their information, you might give them a call:

Bennett Marine Video Inc
8436 West 3rd Street, Suite 740, Los Angeles CA 90048-4100, telephone: 800/733-8862 or 213/951-7570

or:

Movies Unlimited 6736
Castor Avenue, Philadelphia PA 19149, telephone: 800/523-0823 or 215/722-8298.
Maintained by Román García Albertos
http://globalia.net/donlope/fz/
This section formerly maintained by Reverend Neve
This dog last modified: 2009-06-07