Baby Snakes
Premiered:
December 21, 1979
Victoria Theater, NYC, NY
165 min.
Includes:
The music:
(From The Palladium, NYC, NY, October 28-31, 1977, except where indicated)
Musicians:
FZ—lead guitar, vocals
Adrian Belew—guitar, vocals
Peter Wolf—keyboards
Tommy Mars—keyboards, vocals
Ed Mann—percussion, vocals
Patrick O'Hearn—bass
Terry Bozzio—drums, vocals
+
Roy Estrada—vocals, gas mask
Crew:
Photographed by:
Dick Pearce
Phil Parmet
Rob Leacock
Edited by:
Klaus Hundsbichler
Sound:
Kerry McNab
Joe Chiccarelli
Lighting by:
Coy Featherston
Art Direction:
John Williams
Animation:
Bruce Bickford
Associate Producer:
Bennett Glotzer
Written, Produced, Directed & Music Composed by:
Frank Zappa
Cast:
(in order of appearance playing themselves):
Frank Zappa
Adrian Belew
Tommy Mars
Terry Bozzio
Kerry McNab
Ron Delsener
Bruce Bickford
Rob Leacock
Ed Mann
Warren Cuccurullo
Chris Martin
Klaus Hundsbichler
Roy Estrada
John Smothers
David Ditkowich
Bill Harrington
Patrick O'Hearn
Phil Parmet
Peter Wolf
Dick Pearce
Angel
Janet The Planet
Donna U Wanna
Phil Kaufman
Tex Abel
Dale Bozzio
Diva
John
Chris
Nancy
Brian Rivera
Joey Psychotic
---
The Premiere
December 21, 1979
Victoria Theater, NYC, NY
The film had particular trouble finding a distributor. Frank Zappa tried to interest Untied Artists, the company that released 200 Motels (1971). Fearing that they were about to be embroiled in the Heaven's Gate (1980) fiasco, they turned him down. Other studios followed in United Artists' footsteps, fearing that Zappa's trademark cinematic style had lost considerable appeal in post-'70s pop culture. Several European distributors told Zappa that there might be interest if it were cut from its original 168-minute running time. The film was cut to 90 minutes and still there were no takers. Even after Bruce Bickford (I)'s sequences won first prize at a French animated film competition, there was no interest. Eventually Zappa took it upon himself to distribute the film independently via his own Intercontinental Absurdities production company. The film ran 24 hours a day at the Victoria Theater in New York City and made a handsome profit.
From: Ben Watson
Billed as 'a movie about people who do stuff that is not normal', the film Baby Snakes was premiered on Dec 21 1979 at the Victoria Theater, New York. Although it received the Premier Grand prix for musical film in Paris in 1981, it was not a success and rarely shown.
From: Ebay seller "sdfgh88541"
When it was first released, it ran 24 hours a day and achieved box office gross receipts (on a theater to theater basis) which exceeded all other major studio releases in the metropolitan area.
From: Lewis Saul
It ran 24 hours a day at the Victoria Theatre around Christmas 1979.

Plot-line:

Police yell, "come out with your hands up!"
Band plays music.
Clay people kissing turn into hamburgers.
Police yell, "come out with your hands up!"
From: Jeff
I saw the world premiere of Baby Snakes on Frank's birthday—Frank was in the lobby handing out slices of birthday cake shaped like a snake, a nice touch, and I think wearing a chef's hat. A few minutes later, Frank stood off to the side with a microphone and introduced the movie. From where I was sitting I could pretty much see him—and he seemed unusually happy and excited, almost like a proud kid. The way I was able to get into the premiere was easy—I faked out The Wartoke Concern by calling them and telling them that I'm a reviewer and need tickets. In good conscience I made it a point to "review" the movie by describing it to a friend.
FZ quoted by Michael Bloom, "Interview with the Composer," Trouser Press #47, February, 1980
So far it's just playing New York, because I'm paying for everything and don't have a distribution deal yet. If the lines form around the block I'll have a deal, and then go out to the world at large.
It's called Baby Snakes, and it'll be coming out in June.
---
Other Screenings
Zappa's latest movie is called Baby Snakes, "a movie about people who do stuff that is not normal." He refused to comment on the plot, but added that it received favorable response when shown at Cannes at the [Midem] Convention. However, since it is without a distribution arrangement, Snakes has been shelved at the moment—a situation Zappa is trying to change.
---
The Production
FZ quoted on Rock et Folk, June, 1980 (translation by A. Murkin)
I paid for it all out of my own pocket. I got in touch with Polytel, they saw about 20 minutes, were delighted with it, wanted to finance it, but demanded in return the rights to my records throughout the whole world. That was quite possible, I hadn't yet signed to CBS (outside the American continent). But they didn't offer enough, and I didn't want to put my musical career in jeopardy for the film. So I've done more concerts to finance it. It's cost me $500,000.
---
Bruce Bickford
Zappa explains that there was one eight-month period when he gave Bickford, on Zappa's payroll since the early '70s, a storyboard to complete while he was on tour. When Zappa returned, he found Bickford hadn't done any of the assignment, but instead spent the time making little clay scientists with lab smocks and slide rules as well as little girls in period costumes. "He hadn't done any of the job, but he'd accumulated all these boxes of people and people parts."

"Sure, Frank's a real dictator," says Bickford, admitting Frank was somewhat tee-ed off that the storyboard wasn't done. "But sometimes with me, he gets something much better than what he asks for," as in the cheeseburger sequence. "So sometimes it's to his advantage to ease off and get something else."
---
General Notes
From: JWB
The live material on Baby Snakes was recorded on October 30 & 31, 1977. The recording studio footage is from Summer 1977 (Lather link track and claymation soundtrack sessions) and Summer 1978 (Sheik Yerbouti overdub sessions).

The interview and shopping footage was filmed in Munich, Germany in September 1978. (Zappa edited the large amount of unused material into a German TV special called "We Don't Mess Around".)

And the claymation is either from Summer 1977 or Summer 1978.
From: "G.D. Pratt"
Baby Snakes also exists as an edited down version, running 90 mins or so.
From: Patrick Neve
By now you probably know that Janet The Planet married Denny Walley.
From: Bill
There was one (Zappa's Universe) show at Lincoln Center in Feb 93. I sat 2 seats away from Janet the Planet who was sitting next to her husband Denny Walley. Did I talk to them? Nah ... I may have said hello or nodded my head in greeting.
From: Patrick Neve
I believe Brian Rivera is a musician of some sort and may actually have an album called "Tragedy At Hand." Nice fingernails, Brian. Was that his tragedy? :)
From: Dan R. Priebe
Bruce Bickford's outlandish clay animation is beyond belief with zooms, morphings, etc. And actually, it doesn't even look like clay, it looks like meat.
---
The Short Version
Following the timing code from the DVD release, the 90 min. version of the movie went something like this:
0:00:00-0:02:10 [Baby Snakes Rehearsal/Kerry McNabb]
0: 07:47-0:16:25 [Warren/Baby Snakes/Bruce Bickford/"Disco Outfreakage"]
1:01:05-1:11:29 [Disco Boy/"Give People Somewhere To Xscape Thru"]
1:35:07-2:08:55 [Titties 'N' Beer/"Audience Participation"/The Black
Page #2 & "The Dance Contest"/Jones Crusher/Broken Hearts Are For Assholes/Punky's Whips]
1:29:34-1:34:15 [John Smothers/I'm So Cute]
2:10:35-2:37:08 [Dinah-Moe Humm/Camarillo Brillo/Muffin Man//San Ber'dino/Black Napkins]
1:34:15-1:35:07 ["Entertainment All The Way"]
2:39:18-2:40:40 [Credits]
2:43:47-2:44:10 [End]
---
The Video
October 28, 1987
Honker Home Video/MPI, #MP 4000
Video was packaged with Honker "No-D" Glasses (source: Kier)
Running time: 183 minutes
MPAA Rating: R for Language
Formats: US NTSC and international PAL.
From: Richard Fox
A 3 1/2 hour feature based around the Halloween concert in 1977 in NYC. There is about 1 1/2 hours of concert footage and the rest is composed of the typical Zappa wierdness, noise, crowd scenes, backstage scenes, claymation scenes and a look at Barking Pumpkin's warehouse.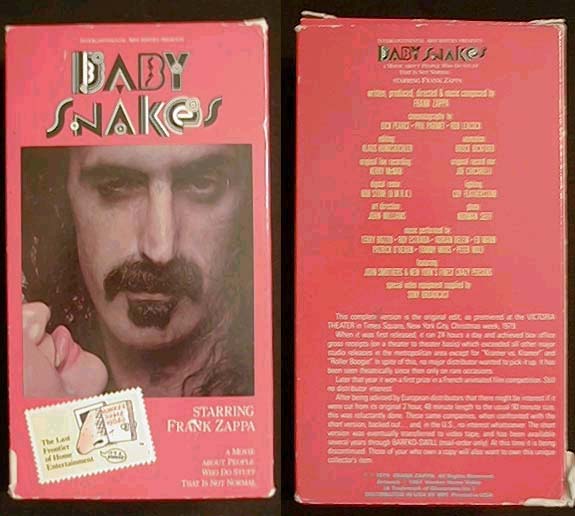 ---
The DVD
December 8, 2003
Eagle Vision EREDV371
All Regions
December 9, 2003
Eagle Vision
Region 1
From: Corné van Hooijdonk (December 6, 2003)
It's got a great booklet type thing: 'Department of Entertainment Security' with leaflets, photographs etcetera. Also a set of NO-D glasses. http://www.department-of-entertainment-security.com/
From: Jon Naurin (December 8, 2003)
Seeing the Roxy Trailer in DVD quality sure is a tease. No release date mentioned, though. Is it really the same trailer they had up on zappa.com (which I lost in a hard drive crash)? I thought this one felt longer. Haven't had the time to watch the whole movie yet, but what I've seen looks great. Two Zappa DVDs within one month—who'd expected that?
From: BengoFury (December 8, 2003)
The zappa.com trailer is 3:14, although in crappy .mov format...
From: Jon Naurin (December 8, 2003)
Ah, so is the one on the DVD. 3:14, that is.
From: Sergio Martorelli
In the main menu, highlight the "Eyes Only" stamp. You'll hear an interesting soundbyte.
The release date of the DVD was first announced as November 18, 2003; then changed to December 9, 2003. Here's the cover art (sent by Sergio Martorelli):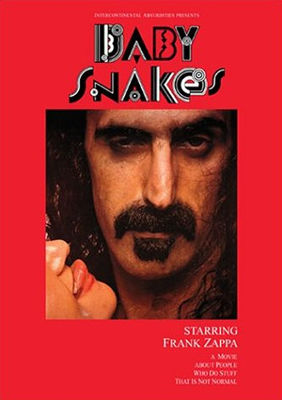 And here is the cover of the Brazilian edition of the DVD, courtesy once again of Sergio Martorelli: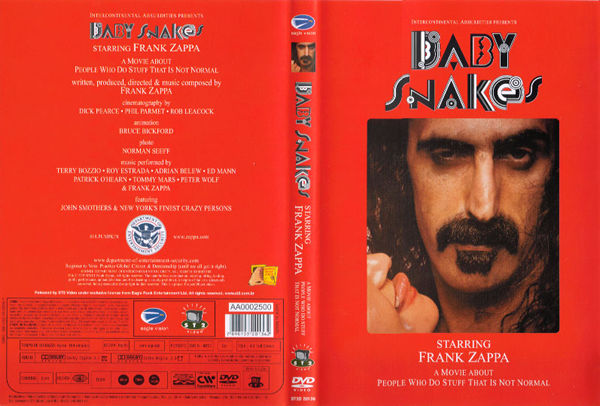 More info (?) about the DVD at zappa.com.
---
Bootleg Versions
Here is a bootleg version of this video which has been seen on Ebay: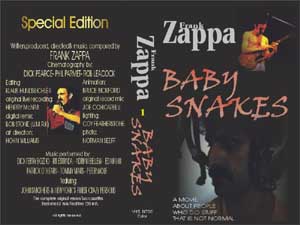 ---
Additional informants: Joe Franks, Kristian Kier, Milhouse

Maintained by Román García Albertos
http://globalia.net/donlope/fz/
This section formerly maintained by Reverend Neve
This dog last modified: 2013-04-20