Bobby Jameson
"Reconsider Baby"
(7" single, Penthouse 501, 1966)
Reconsider Baby
Arranged by FZ (uncredited)
"Gotta Find My Roogalator"
(7" single, Penthouse 503, August 8, 1966)
Gotta Find My Roogalator 2:30
H & R Studios, LA
June 21, 1966
Produced by Norm Ratner
Arranged by FZ
Bobby Jameson—vocals
Louis Morell—guitar
Robert West—guitar, bass
Carol Kaye—guitar
FZ—lead guitar
Larry Knechtel—piano
Gene Estes—drums, tympani
John Guerin—drums
---
Notes & Comments
06/21/66 (9:30PM-12:30AM) H. & R. Studios, Hollywood—Girl From The East; Roogalator (final title: Gotta Find My Roogalator)
MUSICIANS: FZ (leader and arranger), Benjamin Barrett (OM), Louis Morell (guitar), Robert West (guitar, bass), Lawrence Knechtel (piano), Gene Estes (drums, tympani), Carol Kaye (guitar), John Guerin (drums), Billy Hughes (copyist), R.D. McMickle, Robert Gibson (copyist), Russell Brown (copyist)
Bobby Jameson on I Bobby Jameson (MySpace, 2007)
"GOTTA FIND MY ROOGALATOR/LOW DOWN FUNKY BLUES" on Penthouse Records. And "RECONSIDER BABY/LOW DOWN FUNKY BLUES on Penthouse Records. "RECONSIDER BABY" was arranged by FRANK ZAPPA, as was "GOTTA FIND MY ROOGALATOR" and I will always consider myself lucky to have worked with FRANK ZAPPA on those 2 records. Both Penthouse records had the same b sides. [...]

"COLOR HIM IN" was recorded in 1966 with CURT BOETTCHER and was released on Verve Records in 1967. Curt and I met at the offices of OUR PRODUCTIONS, which had just had a hit called "AND ALONG COMES MARY". [...] CURT BOETTCHER and I went through the songs I had written and decided on the final selections for the album "COLOR HIM IN". The record was picked up by VERVE RECORDS, thanks to FRANK ZAPPA'S input to TOM WILSON, who produced "THE MOTHERS OF INVENTION" along with FRANK ZAPPA for VERVE RECORDS.
Bobby Jameson (YouTube, June, 2008)
Frank arranged the session and the players, (The Wrecking Crew), he also played guitar on the session. This was the second record Frank and I made together, "Reconsider Baby" was the first.
It was early 1966 and a lot of things happened in that year. When "Vietnam" was recorded with The Leaves, Bob Cohen, filmed it for a movie he was making called "Mondo Hollywood". I never thought much about it at the time, it was just something I did, because somebody asked if I wanted to be in a movie and I said, "yeah ok," It was just about that simple. I signed a release form, not a contract, but a release form saying it was ok to show me in the movie and use my songs. "Wham Bam Thank You Mam," kind of stuff. You would have to get Bob Cohen to show you the piece of paper and I do mean piece (1) of paper. They put out a soundtrack album and I got nothing and they're still selling the movie and I get nothing. So who knows what that little piece of paper says?

[...] I had moved out of Lois Johnston's house again and was going out with a girl I'd met at "The Trip" on Sunset Blvd. It was a new rock n roll club on the strip and she was a cocktail waitress there, her name was Gail Sloatman. If you ever watched "Mondo Hollywood", an depending on which version you watch, there is a scene at the beach where I am with a girl, that's Gail, I drive away with that girl in a Corvette.

[...] Another regular occurrence were the "love ins" that happened mostly at Griffith Park, this was where I got to know Frank Zappa, because he'd show up just about everywhere and play. That is how he became known in the beginning. Try to imagine a time before Frank Zappa was famous, that's what I'm talking about. Before "Mothers Of Invention". Frank would show up at the Whiskey A Go Go if he could or a parking lot gig, which he did. He'd just show up and play and that's how he got noticed. I would pretty much go to all the same places, so we just got used to seeing each other and started talking. I liked Frank and he liked me and we decided that we ought to make a record together, in fact we made more than one.

[...] After "Vietnam" Randy [Wood] got involved with the distribution of a new label called Penthouse Records that was started by Ken Handler and Norm Ratner. [...] I made 2 records for Penthouse. The first was "Reconsider Baby", which I had written after hearing Percy Sledge's "When A Man Loves A Women". This is when I went to Zappa and asked him to work on the record with me, he agreed without a hitch, because amongst other things, Frank was a musician and an arranger. He was a Union member and he did dates, so I got Penthouse to hire Frank to work on "Reconsider Baby". Frank did everything. I played him the song and told him about the Percy Sledge record and he understood completely. He put together the band, got the girl backup singers, The Dixie Cups (I could be wrong on the name) and he wrote all the charts. He basically arranged and produced it, but received no label credit at all from Penthouse, who printed on the label that the record was produced by Handler and Ratner, which is bunk, they did shit. Frank and I made the record along with the players and other singers. [...]
[...] I talked to Frank about doing another record and told him Handler was sorry for not giving him credit on "Reconsider Baby". Frank really didn't seem to care all that much about it, but I assured him he'd get credit if we did anything else. I asked Frank to listen to "Gotta Find My Roogalator" and he liked the song. He said he knew exactly who he would use on the session. Who he chose to use on "Roogalator", became known as the "Wrecking Crew". They were, Louis Morell on guitar, Carol Kaye on guitar, Larry Knechtel on piano, Gene Estes on drums, and Jon Guerin on drums. Frank played guitar and arranged the song. In reality, Frank and I produced the record, but of course were not given credit, but Frank was at least credited as the arranger. We recorded it at HRT Studios and got a good sound out of the that room. Another song was cut with it, which has never been released, and that was my song "Girl From The East" off the Chris Lucey album. It has never been used, so that is why "Low Down Funky Blues" is the b side of both "Reconsider Baby" and "Gotta Find My Roogalator". I must not have been too happy with the way "Girl From The East" came out, or it would have been the b side of "Roogalator". "Low Down Funky Blues" was just a song I made up on the spot for the b side of "Reconsider Baby" when we cut that record, it got reused as the b side for "Roogalator", because we had a shortage of songs that I was willing to use. This is the best recollection I have of how that happened. Someday I will release "Girl From The East" by me and Frank. [...]

From Greg Russo, author of Cosmik Debris, on the old rumour that "Gotta Find My Roogalator" was a 1962 release:
Concerning the Bobby Jameson single, I have confirmed that it is a 1966 release, not 1962. The release date is shown in my book. The Bobby Jameson record number is Penthouse 503, and the previous record (502) was "The River Is Wide" by The Forum. That record was recorded in 1966 and hit the US singles charts that year when re-issued on the Mira label (the distributor of Penthouse). So, it's not possible that Bobby Jameson's record came from 1962—he had released other records before "Gotta Find My Roogalator", but they don't go back that far! I believe the earliest one was in 1964.

( . . . it could not have been recorded in Cucamonga in 1966—the studio had just been torn down based on paperwork I accessed through the Ontario Public Library in California.)

One more thing . . . it has a B-side, "Lowdown Funky Blues". Most people who have this single (of which I'm not one) do not have it with a B-side. However, it was listed with this B-side when shown in the trade publication One-Spot Reporter.
Mondo Hollywood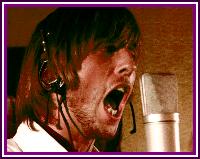 Photo (c) 1999 Robert Carl Cohen
From: robert cohen
Bobby Jameson, like Vito et al, became part of MONDO by fulfilling one or more of the three required criteria: 1. Be typically Hollywood (ie trying to live-out a dream self-image in the LA Area) 2. Or be very WEIRD, or 3. Be both 1. and 2. (I may also still have interview tapes with him) [...]. There are several good scenes of him which were cut from the release version of MONDO. I met him at Pacific Jazz Records in 1965-66 through the late Phil Turetsky.

Originally I was only going to use the visuals of his recording session of his song "Viet Nam," but after filming the session silent I was told by Phil that he'd decided not to release the tune, and I could use it in the film. So I had to lip read the silent shots of the recording session to try and cut it to match Jameson's words in the song. Difficult since it wasn't shot with that it mind, but it worked out ok.
From: Randy Cech (November 2, 2003)
In addition to the single which was arranged by FZ. Bobby Jameson also appeared on the Mondo Hollywood soundtrack album.
Mondo Hollywood
(Tower T-5083, 1967)

Side One

1. The Mugwump Establishment—Mondo Hollywood (City Of Dreams)
2. Mike Clifford—The Magic Night
3. Davie Allan and The Arrows—Moonfire
4. The Riptides—Last Wave Of The Day
5. Bobby Jameson—Vietnam

Side Two

1. God Pan—Great God Pan
2. Darrell Dee—You're Beautiful
3. 18th Century Concepts—Magic Night March
4. Teddy and Darrell—Beast Of Sunset Strip
5. The Mugwump Establishment—Mondo Hollywood Freakout
Discography
Site maintained by Román García Albertos
http://globalia.net/donlope/fz/
This page updated: 2014-12-10